4 MINUTE READ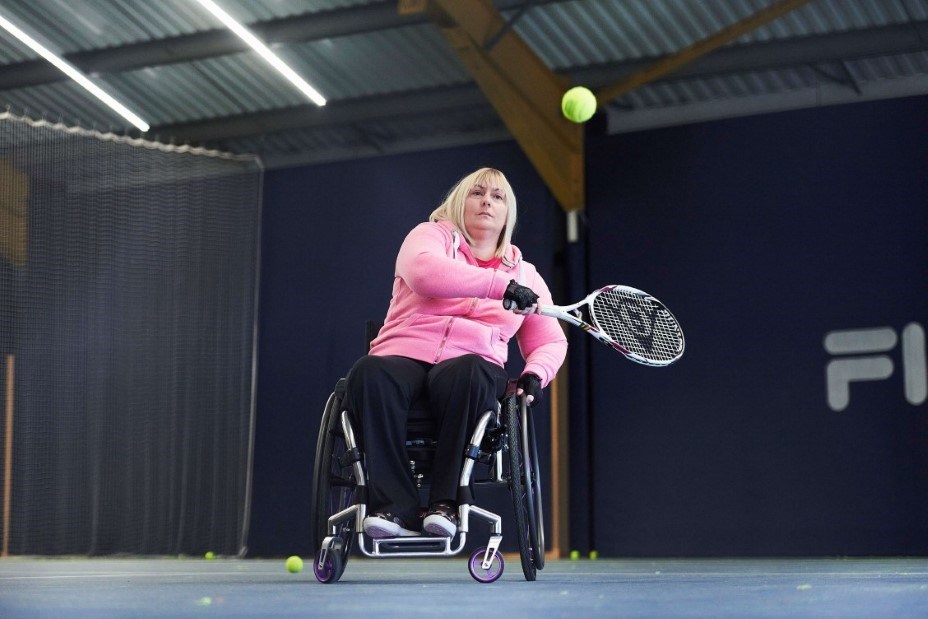 Our Open Court programme is a national programme funded in partnership with the LTA. We collaborate, train and invest into partners across Wales to open tennis up to disabled people of all ages, abilities and impairments.
The investment we make provides disability-specific sessions. This includes learning disability tennis, wheelchair tennis, visually impaired tennis and deaf tennis. Tennis is also expanding its offer into other long-term health conditions such as Mental Health and Dementia.
Visit Open Court Tennis Programme | LTA to find Disability Coaching resources and Disability flyer and poster templates.
Take a look at coaching tip worksheets we have produced on:
Physical impairment and wheelchair tennis
Information for venues and partners wishing to join the Open Court programme
If your venue would like to be part of the Open Court programme and give disabled people more choices, please email our Open Court Lead Stuart Stuart.Baker@tenniswales.org.uk
Information for participants
Below are the Open Court Programmes in Wales that Tennis Wales is supporting. These are venues who have signed up to the Open Court Programme. Many other tennis venues offer inclusive sessions. You can contact any of the venues and organisers below, or contact Tennis Wales at tenniswales@tenniswales.org.uk to support you on your tennis journey.
LEARNING DISABILITY TENNIS
Contact: Steven Davies
Email: Steven.Davies@ceredigion.gov.uk
WHEELCHAIR, LEARNING DISABILITY AND WALKING TENNIS
Contact: Nigel Hunter
Email: nigel@wedotennis.co.uk
LEARNING DISABILITY TENNIS
Contact: Nigel Hunter
Email: nigel@wedotennis.co.uk
LEARNING DISABILITY AND MENTAL HEALTH TENNIS
Contact: John Whitehall
Email: john@firstadvantagetennis.com
WALKING TENNIS
Contact: Jonathan Morgan
Email: jonathanmorgan@caerphillytennis.co.uk
WHEELCHAIR TENNIS
Contact: Will Croft
Email: will.croft@tennissquad.net
LEARNING DISABILITY TENNIS
Contact: Chris Hill
Email: chrishilltennis@aol.com
MENTAL HEALTH AND WALKING TENNIS
Contact: Nigel Hunter
Email: nigel@wedotennis.co.uk
WALKING TENNIS
Contact: Richard Owen
Email: dickyowen@btinternet.com
LEARNING DISABILITY, DEAF, WALKING AND MENTAL HEALTH TENNIS
Contact: Nigel Hunter
Email: nigel@wedotennis.co.uk
VISUAL IMPAIRMENT TENNIS
Contact: Robert Wedlake
Email: robert.wedlake@tennissquad.net
LEARNING DISABILITY
Contact: Glyn Walters
Contact: davidglyn33@gmail.com
MENTAL HEALTH AND WALKING TENNIS
Contact: Nigel Hunter
Email: nigel@wedotennis.co.uk
WALKING AND MENTAL HEALTH TENNIS
Contact: Nigel Hunter
Email: nigel@wedotennis.co.uk
WALKING TENNIS
Contact: Dominic Smith
Email: heathparktennis1@hotmail.com
DEAF, WALKING AND MENTAL HEALTH TENNIS
Contact: Nigel Hunter
Email: nigel@wedotennis.co.uk
LEARNING DISABILITY TENNIS
Contact: Steven Davies
Email: Steven.Davies@ceredigion.gov.uk
LEARNING DISABILITY AND WALKING TENNIS
Contact: Nigel Hunter
Email: nigel@wedotennis.co.uk
LEARNING DISABILITY AND WALKING TENNIS
Contact: Nigel Hunter
Email: nigel@wedotennis.co.uk
LEARNING DISABILITY AND WALKING TENNIS
Contact: Nigel Hunter
Email: nigel@wedotennis.co.uk
WALKING TENNIS
Contact: Rhys Morgan
Email: tenniscoach@mackintoshsportsclub.org
WALKING TENNIS
Contact: Kari Davies
Email: karidaviestennis@gmail.com
WHEELCHAIR, LEARNING DISABILITY AND WALKING TENNIS
Contact: Nigel Hunter
Email: nigel@wedotennis.co.uk
WALKING TENNIS
Contact: Nigel Hunter
Email: nigel@wedotennis.co.uk
WHEELCHAIR, VISUAL IMPAIRMENT AND LONG TERM HEALTH
Contact: Luke DiFranco
Email: luke.difranco@newportlive.co.uk
LEARNING DISABILITY AND WALKING TENNIS
Contact: Nigel Hunter
Email: nigel@wedotennis.co.uk
WHEELCHAIR AND LEARNING DISABILITY TENNIS
Contact: Robert Wedlake
Email: robert.wedlake@tennissquad.net
MENTAL HEALTH AND LONG TERM HEALTH
Contact: Robert Wedlake
Email: robert.wedlake@tennissquad.net
Contact: Alwyn Davies Email:
Alwyn.Davies@ceredigion.gov.uk
LEARNING DISABILITY TENNIS
Contact: Stefano Antoniazzi
Email: Stefano.Antoniazzi@ceredigion.gov.uk
LEARNING DISABILITY, WALKING AND MENTAL HEALTH TENNIS
Contact: Nigel Hunter
Email: nigel@wedotennis.co.uk
Contact: John Whitehall
Email: john@firstadvantagetennis.com
LEARNING DISABILITY AND WALKING TENNIS
Contact: John Whitehall
Email: john@firstadvantagetennis.com
WHEELCHAIR TENNIS
Contact: Lee Jones
Email: lee@swanseatenniscentre.co.uk
LEARNING DISABILITY, WHEELCHAIR , VISUAL IMPAIRMENT AND LONG TERM HEALTH TENNIS
Contact: Jenny Broughall
Email: jenny.broughall@wrexhamtenniscentre.co.uk