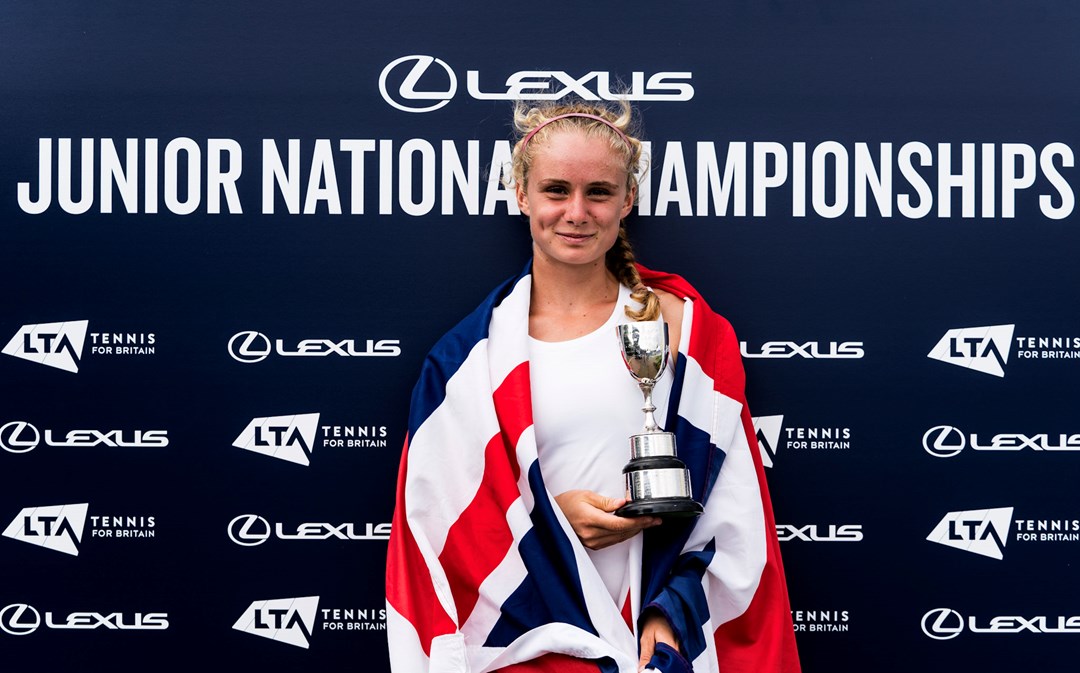 Domestic Competition
Winners crowned at the 2023 Lexus Junior National Championships in Nottingham
• 2 MINUTE READ
The Lexus Junior National Championships, one of the highlights in the British tennis calendar, concluded over the weekend, with players from all over Great Britain competing at the Lexus Nottingham Tennis Centre.
The event gives players the chance to compete at the right level, challenge themselves and develop the skills to become the best players they can be. This year's entry list welcomes the very best in British talent, including many players who are currently supported by our Regional Player Development Centres (RPDCs) across the country.
Each age group consisted of a singles and doubles draw. The 14U main draws are decided based on player rankings and are a straight knock-out tournament, with the losers in the first round going into a consolation draw. The 12U and 11U singles draws consisted of a round robin qualifying round with the top two players in each group reaching the 16-player elimination draw.
Hollie Smart who competed in the 14U girls' team at Tennis Europe's Summer Cup, was victorious in her age category overcoming teammate Edie Griffiths. In the 12U event, Liv Zingg, who was part of the team who finished second at Tennis Europe's Summer Cup comfortably defeated Khadija Adeniran 6-3, 6-0 to claim the title.
On the boy's side, seventh seed Niall Pickered-Barua won the 14U draw, with Kamran Arif impressively taking the 12U title defeating Samuel Riley 5-7, 7-5, 6-3.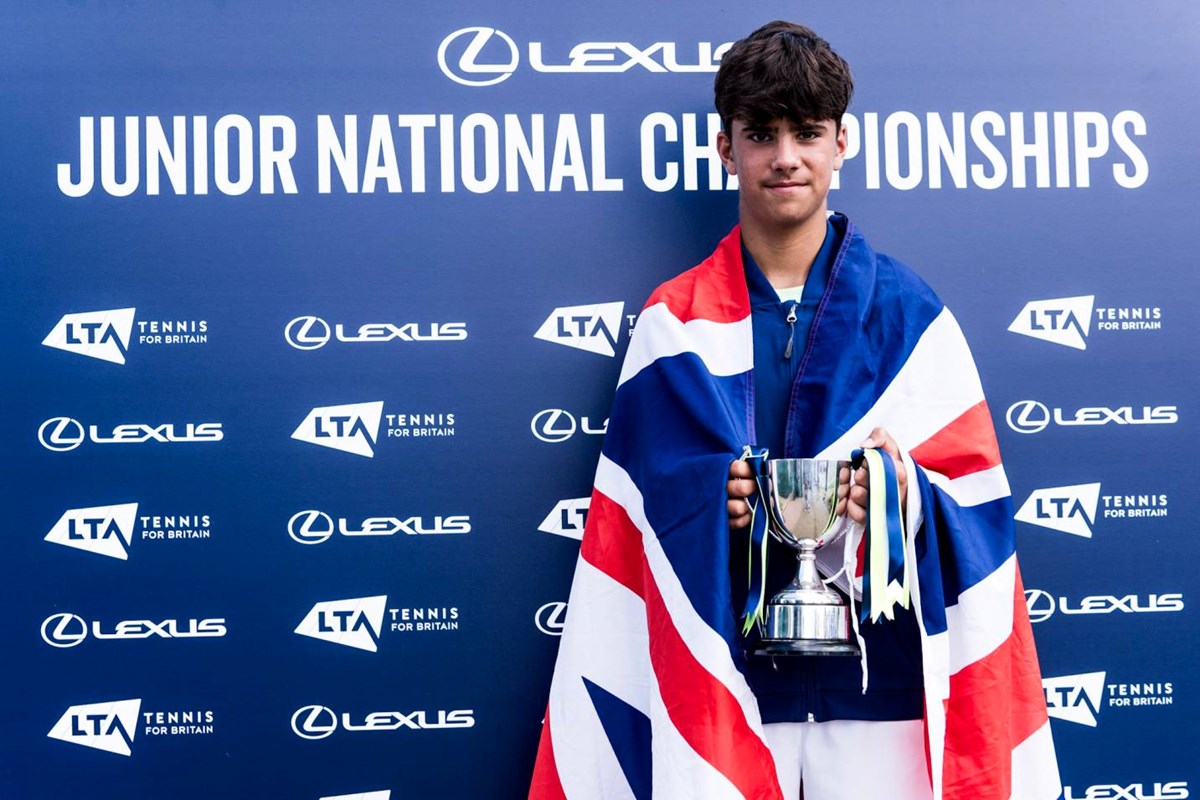 LTA's Competition Manager Hollie Milligan reflected on the event saying: "A huge congratulations to all the players who competed in this year's Lexus Junior National Championships which is the flagship event of the domestic tournament calendar. It was fantastic to see so many coaches supporting their players and helping them to learn and develop through competition which is one of the key drivers of the LTA's performance competition calendar."
Singles champions
| | | | |
| --- | --- | --- | --- |
| | Player | Coach | Trains |
| 14U Boys' singles winner | Niall PICKERD-BARUA | Phil Thomas | Cardiff Met University |
| 14U Boys' singles finalist | Eric LORIMER | Jordan Frederick, Chris Starkey | Bath RPDC |
| | | | |
| 14U Girls' singles winner | Hollie SMART | Jamie Evans, Davor Baretic, Ian Crump | Batchwood RPDC |
| 14U Girls' singles sinalist | Edie GRIFFITHS | Helen Parish, Davor Baretic, Jamie Evans | Billericay LTC, Bathwood RPDC |
| | | | |
| 12U Boys' singles winner | Kamran ARIF | Chris Craig | Bromley RPDC |
| 12U Boys' singles finalist | Samuel RILEY | Ruaridh McLeod | Dukes Meadows RPDC |
| | | | |
| 12U Girls' singles winner | Liv ZINGG | Harry Bushnell, Victor Benea | The Parklangley, Virgin Active Chiswck |
| 12U Girls' singles finalist | Khadija ADENIRAN | None | None |
| | | | |
| 11U Boys' singles winner | Frederick FABRICIUS | Lauren English | Bath RPDC |
| 11U Boys' singles finalist | Max HODKINSON | Richard Crabtree | Leeds Beckett University |
| | | | |
| 11U Girls' singles winner | Sophia CUNINGHAME | Shaun Malcom, Nick Jones, Ben Haran | Reeds RPDC |
| 11U Girls' singles finalist | Ginny CHEN | Chris Daw, Nick Jones | Reeds RPDC, All England Club Community Sports Ground |
Doubles champions
| | | | |
| --- | --- | --- | --- |
| | Player | Coach | Trains |
| 14U Boys' doubles winner | Rhys LAWLOR | Jamie Evans | Batchwood RPDC |
| 14U Boys' doubles winner | Leo WRIGHT | Neil Bamford | Dukes Meadow RPDC |
| 14U Boys' doubles finalists | Jomi AMINU | Danny Wyatt, Matthew Lowe | Culford RPDC |
| 14U Boys' doubles finalists | Pavana NRSHINGA | Sam Hutt | Dukes Meadow RPDC |
| | | | |
| 14U Girls' doubles winner | Edie GRIFFITHS | Helen Parish, Davor Baretic, Jamie Evans | Billericay RPDC, Batchwood RPDC |
| 14U Girls' doubles winner | Hollie SMART | Jamie Evans, Davor Baretic, Ian Crump | Batchwood RPDC |
| 14U Girls' doubles finalist | Celine RICAUD | Jamie Evans, Davor Baretic | Batchwood RPDC |
| 14U Girls' doubles finalist | Daisy WOOTON | Sabrina Federici | Bolton Arena RPDC |
| | | | |
| 12U Girls' doubles winner | Leah BUSH | Mike Peel, David Brewer, Simon Dickson | Edgbaston Priory RPDC |
| 12U Girls' doubles winner | Liv ZINGG | Harry Bushnell, Victor Benea | The Parklangley, Virgin Active Chiswick |
| 12U Girls' doubles finalist | Macy GEORGE | Davor Baretic, Christian Colvin, Jamie Evans | Batchwood RPDC |
| 12U Girls' doubles finalist | Tanishka NAVEEN | Mike Peel, David Brewer, Simon Dickson | Edgbaston Priory RPDC |
| | | | |
| 12U Boys' doubles winner | Samuel RILEY | Ruaridh McLeod | Dukes Meadows RPDC |
| 12U Boys' doubles winner | Harry SWAIN | Nicholas Morris | Nottingham RPDC |
| 12U Boys' doubles finalists | Myles KIELY | Andrew Fisher | All In Tennis Academy Cote D'Azar |
| 12U Boys' doubles finalists | Oliver WESTBROOK | Mike James | Everyball Tennis at Halton Tennis Centre |
| | | | |
| 11U Boys' doubles winner | Oskar LASKOWSKI | Jamie Evans | Batchwood RPDC |
| 11U Boys' doubles winner | Pekko PFUNDSTEIN | Shola Roper, Lewis Whiteley, Jonny Delgado | Ealing LTC, Delgado and Lee RPDC |
| 11U Boys' doubles finalists | Frederick FABRICIUS | Lauren English | Bath RPDC |
| 11U Boys' doubles finalists | Joseph KNIGHTLEY | Simon Thornewell | Bolton RPDC |
| | | | |
| 11U Girls' doubles winner | Ginny CHEN | Chris Daw, Nick Jones | Reeds RPDC, All England Community Sports Centre |
| 11U Girls' doubles winner | Isabella REBEL | Helen Parish | Billericay LTC |
| 11U Girls' doubles finalist | Lola BROWN | Alison Taylor | Roehampton Club, Dukes Meadow RPDC |
| 11U Girls' doubles finalist | Naina KAPOOR | Sabrina Federici, Danielle Gallagher | Bolton Arena RPDC, South Ribble Tennis Centre |