Officials
Wimbledon: New Line Umpires on their first taste of The Championships
• 2 MINUTE READ
It is not just the players who might feel a few nerves on the first morning of Wimbledon. Three new Line Umpires tell Chris Drew about their experience of The Championships for the first time.
The thrill of walking out onto the hallowed turf at Wimbledon for the first time is not a buzz reserved only for the best tennis players in the world; it is also an excitement shared by the on-court Officials selected to officiate at the Championships.
That buzz is shared between all Officials from Chair Umpires to Referees, to Review Officials, to the 285 Line Umpires whose calls echo round the grounds during the fortnight.
Among those Line Umpires at the 2018 Championships were Jack Askew, Piera Carugno and Chantal Garman who were all experiencing the excitement of officiating at Wimbledon for the first time.
All three are in an LTA Umpire Development Group for promising up-and-coming Umpires and explained what the experience of their first Wimbledon as Officials was like.
Aerospace Engineer Piera, 28, explained: "There was a lot to do on the first day, learning how everything works, where everything is and then I was straight on left base on court 9! I didn't know anyone else in my team but everyone was supportive."
Management Consultant Chantal, 26, explained how she initially felt: "I was a little overwhelmed on the first day, like an excitable child, but remembered that it is just the same as what I had been doing at tournaments for the past few weeks but on a bigger scale."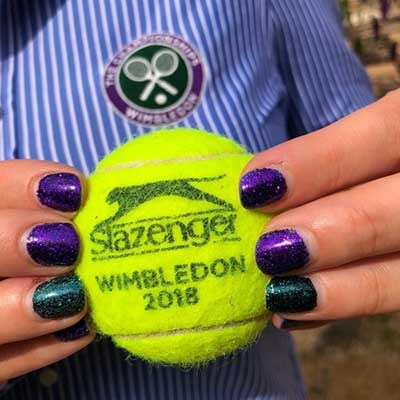 The pre-Wimbledon British Tennis grass-court events serve as a warm-up for the players but also the on-court Officials and this is something from which Jack and Piera felt they benefited at Wimbledon.
Jack, 22, who qualified as an Umpire at a student course at Loughborough University in 2017, said: "Walking onto court at Wimbledon for the first time I was surprisingly not as nervous as I thought I would be. I had been more nervous being on Centre Court at the Nature Valley Open in Nottingham, which was good practice."
Piera agreed: "Working at the Nature Valley Open and the Nature Valley Classic helped to prepare me for the atmosphere and vibe at Wimbledon and being on court in front of a large crowd."
Like many people Chantal found the extreme heat during the fortnight difficult to cope with at times. Another challenge when line umpiring on the outside courts proved to be noise from excitable crowds. As Chantal explained: "There was a lot of loud cheering from the next court meaning I couldn't hear the calls properly on my court. It took some getting used to but is part of Wimbledon."
In the second week there are fewer Line Umpires on court for a number of matches meaning that some Line Umpires have to concentrate on both sides of the net as Jack found. "I was calling through the net for the first time in a junior's match which was a bit trickier".

Chantal fully embraced the Wimbledon spirit with appropriately coloured green and purple nails. "A couple of times during play I heard comments from the crowd over my shoulder about them. I had to go all out for Wimbledon!"
Piera summed up the feeling of working at the Championships for the first time: "It's hard to take it all in. I think I'll realise in a month or so what I've achieved."
Jack and Chantal moved from Wimbledon to Nottingham to line umpire at the British Open Wheelchair in Nottingham while the next officiating focus for the trio is progression as Chair Umpires.
All will one day be aiming to emulate British Gold Badge Chair Umpire James Keothavong who chaired his second Gentleman's singles final on Sunday, having recently chaired the Women's singles final at the French Open.
Get involved in umpiring!
Interested in what you've read here? Find out about how you can get into umpiring by clicking here!