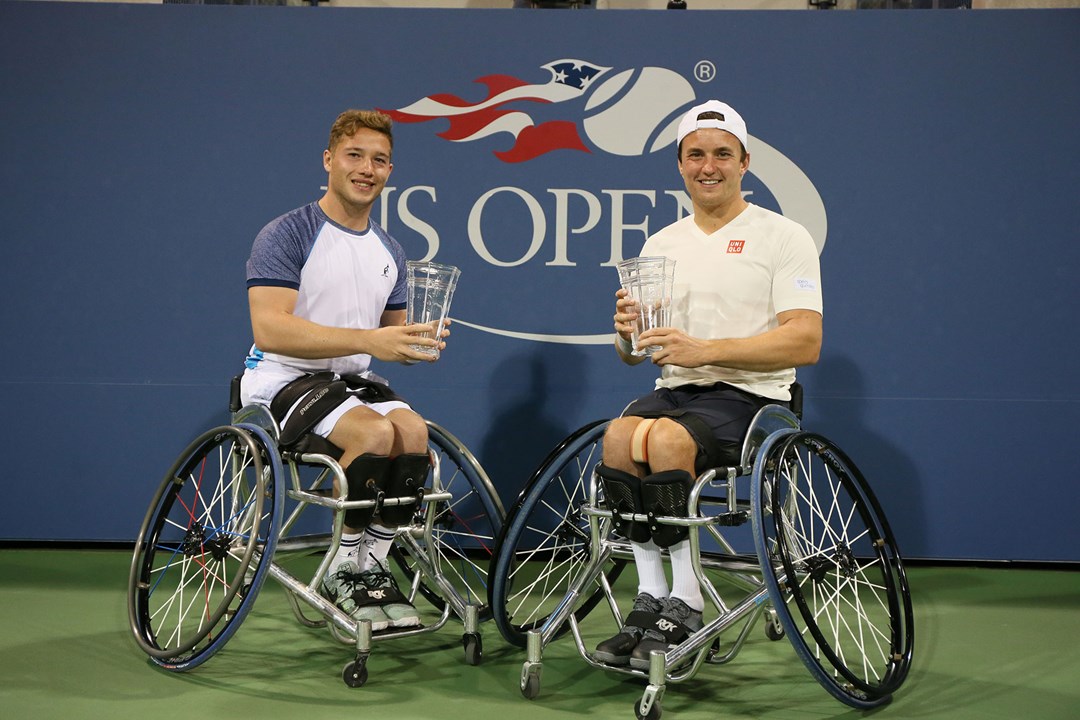 Grand Slam
Sensational Saturday for Brits as Hewett, Reid and Lapthorne claim 2017 US Open titles
• 3 MINUTE READ
Great Britain's Alfie Hewett, Gordon Reid and Andy Lapthorne all added doubles titles to their growing collections of Grand Slam wins on a sensational day of wheelchair tennis action at the US Open in New York that also saw both Hewett and Lapthorne reach their respective singles finals.
Hewett and Reid were looking to follow up their doubles success at Wimbledon against the pair they had defeated at SW19, top seeds Stephane Houdet and Nicolas Peifer of France. The quartet have developed quite a rivalry within the game, with the Brits having won both of their last two Wimbledon final encounters, but the French prevailing at both Roland Garros this year and the Rio Paralympics final last year.
In the event however, a performance featuring lots of energy and creative play from the British pair proved too much for the French on this occasion, with Hewett and Reid claiming a straight sets 7-5, 6-4 victory in less than two hours. It is a title Reid was defending from 2015 and is the Paralympic gold medalist's ninth career Grand Slam crown, while it is a fourth for US Open debutant Hewett.
Speaking after the match, Scotland's Reid said "I felt like we played a really composed match and we deserved to win today", with Hewett adding thanks to Reid and saying "It's my first US Open and I'm loving every minute of it!"
'A truly epic encounter'
What makes the win even more remarkable is what had come before it. The day had started with world No.3 Hewett and world No.2 Reid battling it out in a truly epic all-British men's singles semi-final that enthralled the watching crowd for over three hours. It was an encounter full of drama and momentum swings with 19 year old Hewett racing into a 3-0 lead in the first set, before Reid hit back to lead 5-3 with Hewett serving to stay in the set. Hewett then reeled off four games in a row to take the first set. He looked to be on course to claim a place in Sunday's final as he led throughout the second, but he failed to convert three match points at 5-3 and Reid bounced back to force a decider.
It then looked to be Reid who would claim a place in his first US Open singles final as he led 4-0 in the third set and had two match points when leading 5-3, but he too failed to convert the opportunity and the marathon match went to a tiebreak.
In the breaker, Hewett saved three match points, starting at 6-4, before failing to take two of his own at 7-6 and 8-7. The classic match came to an end as Norfolk's Hewett took the win 10-8 to set up a final against Houdet, who defeated Argentina's world No.1 Gustavo Fernandez in the other singles semi-final.
Watching courtside at Flushing Meadow, Tennis Foundation Executive Director Geoff Newton emphasised the outstanding quality that had been on display, commenting:
'One last big effort to go'
London's Andy Lapthorne followed Hewett into a singles final as he defeated the USA's Bryan Barten 7-5, 6-2 to claim his second win of the quad division's round robin matches. After a tentative first set, world No.2 Lapthorne settled down and picked his shots well to prove just too good for the American.
Lapthorne will face quads world No.1 David Wagner from the USA in Sunday's final. That match will not be the first final the pair have been on court for this weekend as they rounded off Saturday by teaming up to defeat Barten and Australia's Dylan Alcott in the quad doubles final. Having scrapped through the first set 7-5, Lapthorne and Wagner played some smart tennis with good team work and movement to take the title in straight sets. It is Lapthorne's seventh career Grand Slam title and his first US Open quad doubles title.
Speaking after the match, Lapthorne said:
Your chance to watch the world's best!
Following on from New York, the world's best tennis players will be showcasing their skills in the UK at the NEC Wheelchair Tennis Masters at Loughborough University from 29 November – 3 December in what is the culmination of the 2017 season.
Get involved in disability tennis
All of the British players in action in the wheelchair tennis at Flushing Meadow are part of the Tennis Foundation's world class performance programme. The Tennis Foundation is Great Britain's leading tennis charity with a vision to make tennis a sport which is inclusive and accessible to all. It works to open up tennis to its priority audiences of disabled people, young people in education and in lower socio-economic communities – making it possible for them to enjoy the many health and social benefits of the sport whilst maximising their personal potential.
There is already a record number of disabled people playing tennis across the Tennis Foundation's network of venues, but the success of the likes of Hewett, Reid and Lapthorne on the world stage is used by the Tennis Foundation as a platform to both raise the profile of tennis as a sport for disabled people and encourage even more disabled people to pick up racket and give tennis a go.