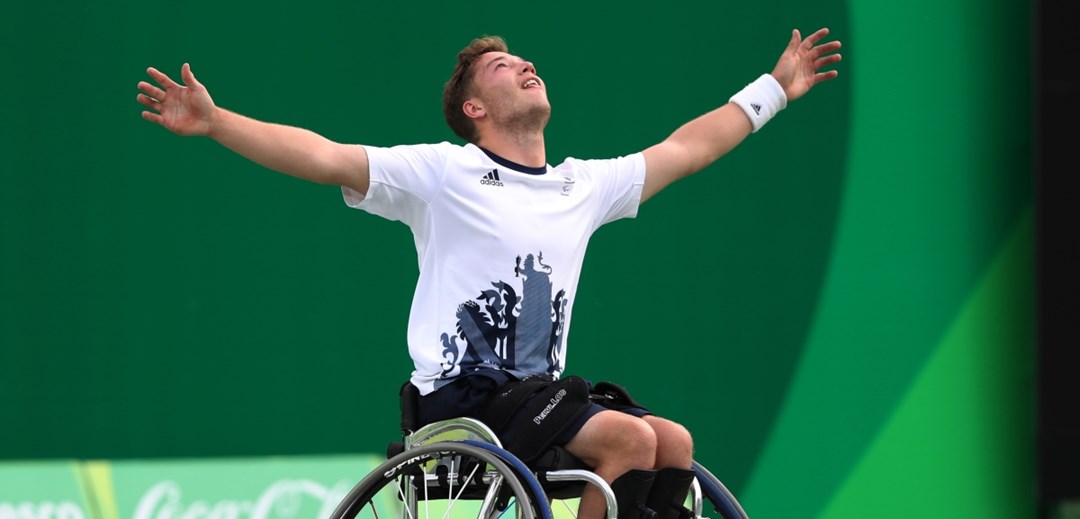 GB Teams
Reid and Hewett reach historic Rio Paralympic Games men's singles gold medal match
• 5 MINUTE READ
Gordon Reid and Alfie Hewett continued to make history on Wednesday's sixth day of the Rio 2016 Paralympic Tennis Event when they both reached Friday's men's singles gold medal match.
Reid and Hewett's straight sets wins over the world's top two ranked players, Stephane Houdet of France and Joachim Gerard of Belgium, ensured that players on the Tennis Foundation's Wheelchair Tennis World Class Programme selected to represent ParalympicsGB would finish the Rio Games with six medals.
Five wins from five matches on the fifth day of play meant that at least five ParalympicsGB medals would be an unprecedented return from the Olympic Tennis Centre in Rio. However, Reid and Hewett's respective victories took that tally to six before they both get their first opportunity to claim a gold medal when teaming up in Thursday's men's doubles final.
Reid snatched the opening set against world No. 1 Houdet 7-5 and made it five games in a row as he opened up a 3-0 second set lead over the London 2012 silver medallist. Reid, the reigning Australian Open and Wimbledon champion then maintained his cushion to make it 4-1 with his second ace en route to closing out a 7-5, 6-2 victory.
"There was so much at stake in that match and even though it looked like I was in control the whole time, I could really feel the pressure. He's the world No.1 and has been a top player for a long time, but winning the Australian Open and Wimbledon this year has given me so much confidence," said the 24-year-old.
"I can't wait to get back out on court for the final in the singles and the doubles! The rest of the ParalympicsGB team have been smashing it so far so to contribute two medals to the GB tally is a fantastic feeling.
"I really hope Alfie can win his semi-final now. We never would've dreamt of an all British final so if we do it, it'll be incredible. He's playing amazing tennis so there's no reason why not."
Reid's confidence in his doubles partner proved well-founded as 18-year-old Hewett's fearless spirit shone through and he battled back from 3-0 down in the second semi-final. Hewett converted his fifth break point opportunity in the eleventh game to lead 6-5 and served out the set at the second time of asking.
Hewett built on a 2-0 second set lead and maintained his momentum to book his place in the gold medal match 7-5, 6-3 at his very first Paralympics.
"I'm utterly speechless, it's just the most amazing feeling," said 13th seed Hewett, who had beat world No. 4 Nicolas Peifer of France and world No. 6 Stefan Olsson of Sweden to reach the semi-finals.
"I started off really badly and that's exactly what I didn't want to happen and I found myself 3-0 down so quickly. So I went back to basics and tried to make him play a bit more and hit my shots.
"I've never really come close to beating Jo before and he's really peaked in the last year, winning the Masters in London last December. It's the best thing that's ever happened to me reaching the Paralympic final in singles and doubles!
"I've always had belief in myself but if you'd asked me during our holding camp in Sao Paulo, I never would have predicted this. And to play Gordon in the final is just ridiculous! We've both done so well and it's tough now knowing only one of us will get gold. We know each other's games so well but we'll put on some great entertainment for everyone.
"I was actually in the crowd at London 2012 for the final [Shingo Kunieda played Stephane Houdet] and I knew then I wanted that to be me one day. I always thought it would be in Tokyo but now I'm here in Rio, I'll take it!"
Gordon and I will talk tactics tonight ahead of our doubles match tomorrow and then we'll have to come up with our own game plans on how to beat each other," added Hewett.
Lapthorne put up a battling performance against Australian world No. 1 Dylan Alcott in the quad singles final and retrieved breaks of serve against him on several occasions. However, Alcott ultimately proved strongest on the day to take the gold medal 6-3, 6-4.
"I surpassed my own expectations to get to this final really, but once I beat the world No.2 in the semis I really thought I had a chance at gold," said world No. 4 Lapthorne, who completed his second Paralympics with two medals after partnering Jamie Burdekin to win the quad doubles bronze medal.
"Yesterday's epic doubles match has taken it out of me physically and emotionally but that's no excuse, Dylan was great out there and I didn't execute my game quite as I would have liked. I'm used to being in physical pain but mentally I was pretty much out tonight.
"I've had my redemption since London and I'm so proud to leave Rio with two medals and my first in singles. Three-time Paralympic medallist has a pretty good ring to it. The ParalympicsGB motto of talent, pride and determination has really stuck with me since then and I've worked even harder to get to where I am today on the podium.
"I've been cheered to the rafters here and I can't wait to get back to London, head over to West Ham for a game and some normality with my friends and family."