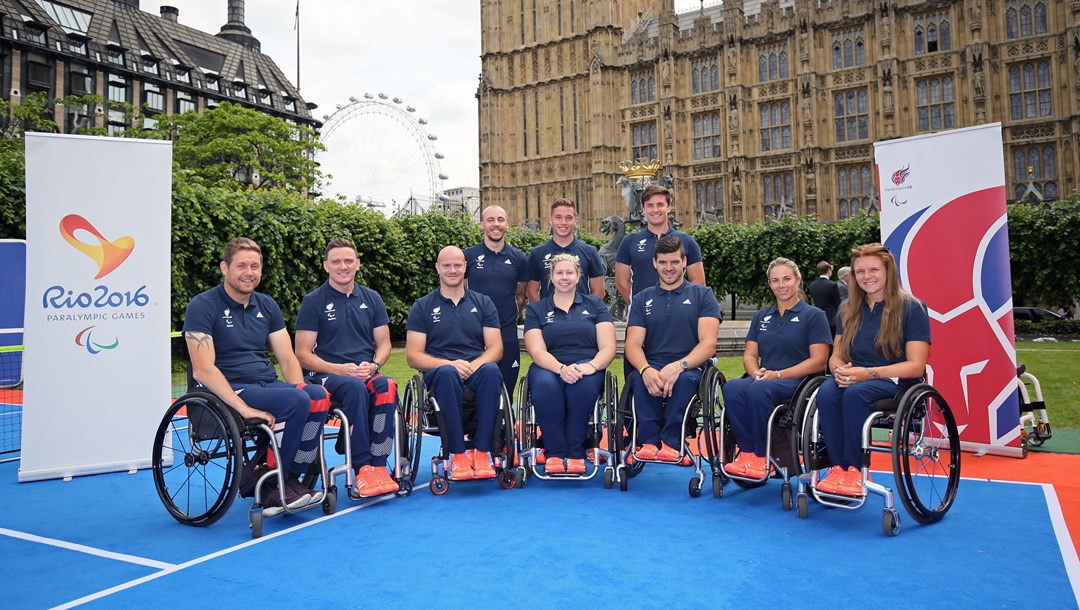 GB Teams
Rio wheelchair tennis selections inspire local school children under Big Ben
• 3 MINUTE READ
The Tennis Foundation is thrilled to see that ten wheelchair tennis players from their World Class Programme, including Grand Slam champions Jordanne Whiley, Gordon Reid and Andy Lapthorne, have been selected to ParalympicsGB and will represent Great Britain at this September's Rio Paralympic Games.
The team announcement was made earlier today by the British Paralympic Association (BPA) from New Palace Yard under Big Ben in the Houses of Parliament as part of an inclusive schools tennis festival.
The Tennis Foundation, Great Britain's leading tennis charity, funds opportunities for disabled people to enjoy all the health and social benefits of playing tennis from grassroots through to performance level. Their vision is a sport which is inclusive and accessible to every kind of community and all of the wheelchair tennis players selected for ParalympicsGB have been directly funded by the Tennis Foundation, with support from UK Sport.
As part of their mission to make tennis accessible to everyone, the Tennis Foundation invited local school children to be a part of the ParalympicsGB team announcement. Disabled children from Paddock School in Roehampton met the players and were inspired by their stories of success.
They were joined by pupils from Willowfield Humanities College in Walthamstow, which is part of the Tennis Foundation's innovative School of Tennis programme aiming to radically change the way tennis is delivered in secondary schools.
Australian Open 2016 champion and world No.3 Gordon Reid gave some top tips to pupils and said:
"It's such an honour to be chosen to represent my country again but it's also fantastic to be able to spend some time with the kids from local schools, see how much pleasure they get from playing tennis and hopefully inspire them to play more regularly with family and friends."
Rahul Hore, Head of PE at Willowfield Humanities College in Walthamstow, said:
"It's been a great opportunity for the kids to be present here for the event at the Houses of Parliament. They've had a fantastic time and to be a part of the ParalympicsGB team announcement has been amazing. The kids love tennis and the funding from the Tennis Foundation has been made such a difference to the school. The equipment we've been able to supply has made such an impact on the kids' learning and development."
Emily Hayward, Head of Paddock School in Wandsworth, said:
"It's been an amazing opportunity for my students to come here today. They love tennis and really enjoy many different types of sport where they can play outside. They've all had such a brilliant day here at the Houses of Parliament with the Paralympic players. Seeing what can be done with Tennis Foundation funding makes me think that we really do need to need to get pop up courts at school. It's shown me that we could probably devote our playground at school to a pop up court for a couple days a week; it's really going to change our practice."
Geraint Richards, Team Leader for wheelchair tennis, said:
"I'm very proud of the ten players selected from the Tennis Foundation's world class performance programme not just because of their success on court but because they are all fantastic role models and encourage people of all ages and abilities to get on court, try tennis and enjoy all the amazing things you get from playing the sport. I'm sure their success at Rio 2016 will inspire even more people to pick up a racket and give tennis a go."
The selected athletes are:
Men's division:
Gordon Reid
Alfie Hewett
Marc McCarroll
David Phillipson
Women's division:
Jordanne Whiley
Lucy Shuker
Louise Hunt
Quad division:
Andy Lapthorne
Jamie Burdekin
Antony Cotterill
The announcement brings the number of selected athletes for ParalympicsGB to 171 across 14 sports.