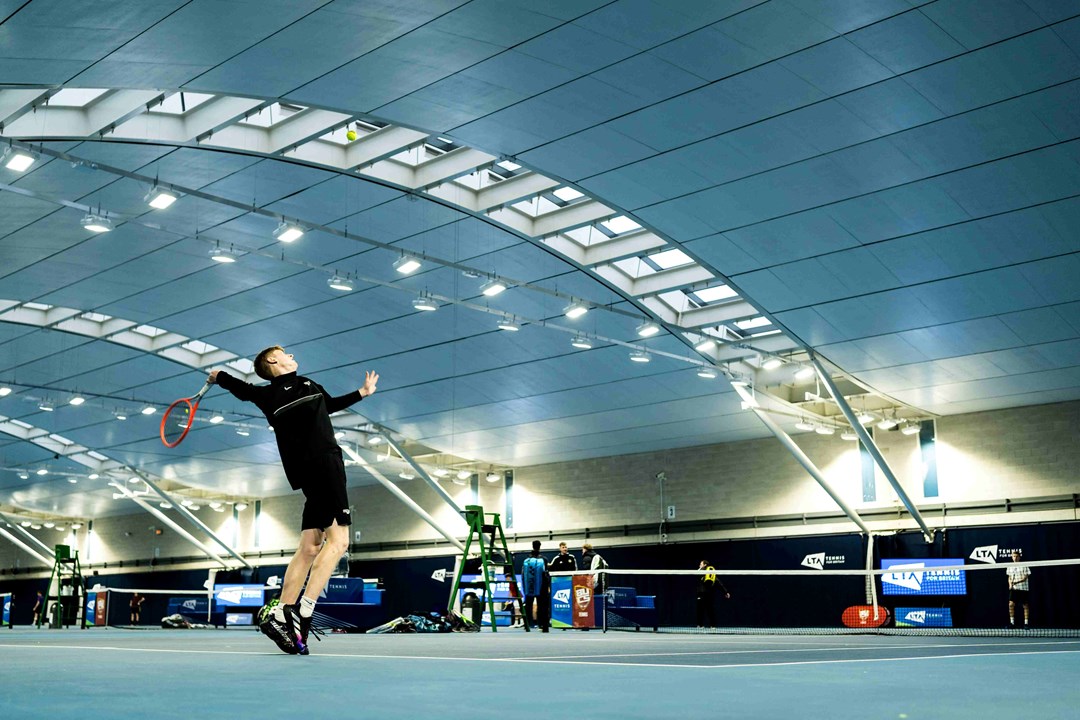 Nottingham and Bath victorious as BUCS National League concludes at National Tennis Centre
• 3 MINUTE READ
The highest level of university team tennis, the Teach First National League, drew to a close over the weekend, with the University of Nottingham and Team Bath coming out on top in the men's and women's competitions at the National Tennis Centre - finishing ahead of the Universities of Loughborough, Stirling, Leeds Beckett and Durham.
Nottingham, whose team this season has included recent M25 Loughborough doubles winner Tom Hands, pipped Stirling's Ewan Moore to the post with a 4-2 victory over Bath on Saturday, confirming their status as champions.
The East Midlands side went into Sunday aiming to achieve a remarkable 10 wins out of 10, but were upset by local rivals Loughborough 4-1 in their final fixture. Battling performances from Llewellyn Bevan and Joe Young, who both came from a set down to win their singles rubbers, helped Loughborough clinch the win, to secure third place overall this season.
On the women's side, Bath came into the weekend hoping to preserve their unbeaten status, and Freya Davies' side did just that. With strong victories over Stirling on Saturday and Nottingham on Sunday, Bath finished their outstanding season with nine victories and just one draw to their name.
At the other end of the tables, Durham's men and Leeds Beckett's ladies finished bottom of their respective tables, meaning they face relegation play-offs to preserve their status in the National League for another year. Both will face strong Exeter sides, who performed strongly in this year's Premier South division, at the start of April.
LTA Universities Manager Alistair Higham said, "The atmosphere was great and with the event being live streamed, more people can now watch the highly competitive matches as well as see the high level in the National league."
2022 Billie Jean King Cup star and former Loughborough University player, Olivia Nicholls, said, "I played in that event, 2013-2016. University tennis in the UK has come a long way in the last ten years. I think the level is constantly improving, the professionalism around it is improving, and it was really cool to see all the teams competing.
"It seemed like really competitive environment, and it is nice to know there are multiple pathways into high level, professional tennis. You don't have to go straight into it, university is not for everyone, but you have the British university pathway, the American university pathway and it's good to see that it's all going well.''
Find out more about university tennis
University tennis gives you the opportunity to make your mark in the sport - so find out everything you need to know to get started.