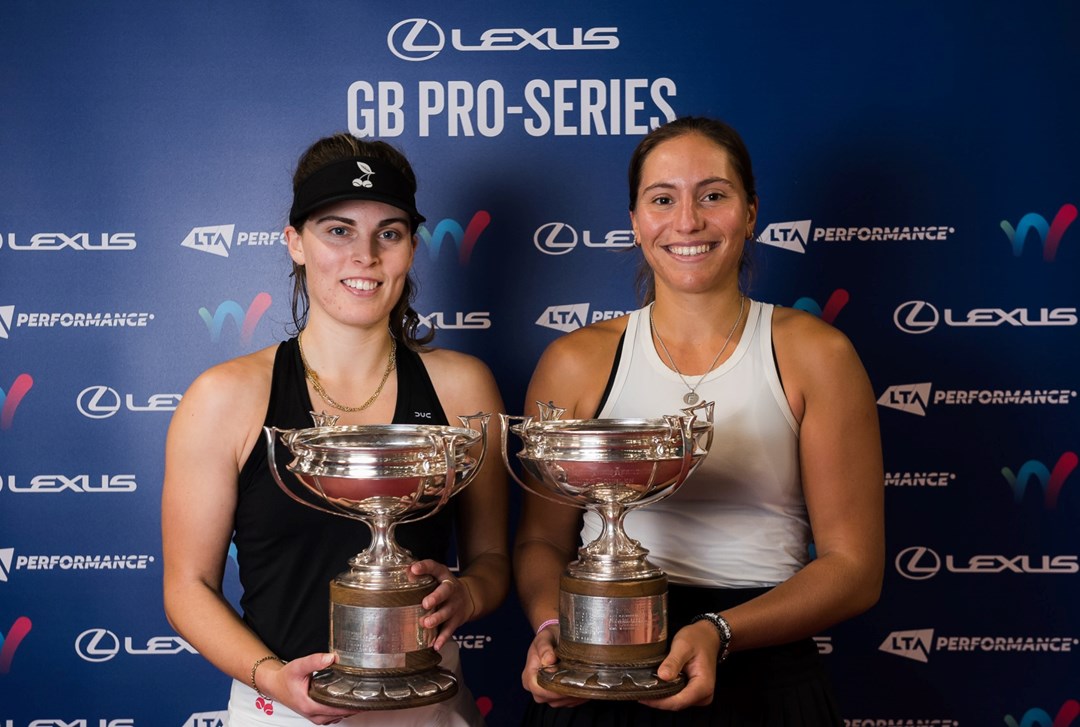 Lumsden delights home crowd at LTA Lexus GB Pro Series in Glasgow
• 3 MINUTE READ
There was a mix of international and local success at the ITF World Tennis Tour events in Glasgow, with two rising international stars taking the titles in the singles events. The W60 singles title was won by Daria Snigur of Ukraine while Belgium's Alexander Blockx sealed victory in the M25 event.
The local crowd at the Scotstoun Community Indoor Tennis Centre had plenty to cheer for in both doubles finals, with hometown hero and women's doubles British No.1 Maia Lumsden joining forces with Portugal's Francisca Jorge to lift the women's doubles trophy.
"To win a tournament in Glasgow is a really nice feeling for me, playing at home – it's been an awesome week" Lumsden said.
"This is the first week we've played together, I really enjoyed the way we played together from the first match, it was fun doubles."
Elsewhere there was an all-British final in the men's doubles as Finn Bass and Millen Hurrion edged a tight match against George Houghton and Hamish Stewart.
Bass credited the duo's US collage experience and the tough matches they faced all week in helping them to come through a tough three-set battle.
"We had a lot of confidence from getting through tough moments this week and managed to play a fantastic third set tie-break" Bass added.
"This is the first time we've played together so I'm sure we're going to play many more times together. We're used to playing in front of pretty big crowds in US collegiate tennis so obviously we knew we were playing a home favourite and fantastic player in Hamish, so we knew we'd have a bit of support against us."
Snigur, who defeated Germany's Mona Bathel 6-4, 6-4, said, "I'm very happy because this is my second title of the year, it was not easy and I'm very happy now.
"The last two matches I played amazing players but I tried to do my best every match and kept my concentration and I did my job very good today!"
Meanwhile, 18 year old Blockx, who came from a set down to defeat Britain's Anton Matusevich 5-7, 6-4, 6-2, reflected on his week in Glasgow adding, "Every time I've been to Great Britain I've always felt nice, it's my first time here in Glasgow and I'm very happy how I played the whole week, how I stayed mentally calm and fought for every point and in the end it paid off.
"I'm happy to win my first title finally because I lost two finals, so this one feels very good."
The international tournaments are part of our Performance Competitions Calendar which provides significantly enhanced opportunities for British players at each age and stage of the performance player pathway.
Tournament Director Mike Cohen said, "This week's Scottish Championships – Lexus GB Pro Series Event – has been a great success, with British winners in both the women's and men's doubles, as well as a number of British players getting into the semi-finals and finals of the singles events.
"It's always nice to see the next generation of players breaking through, who someday we will see competing on the tours at the top level."
Full results and further tournament information can be found below:
View the full 2023 Performance Competitions Calendar below: