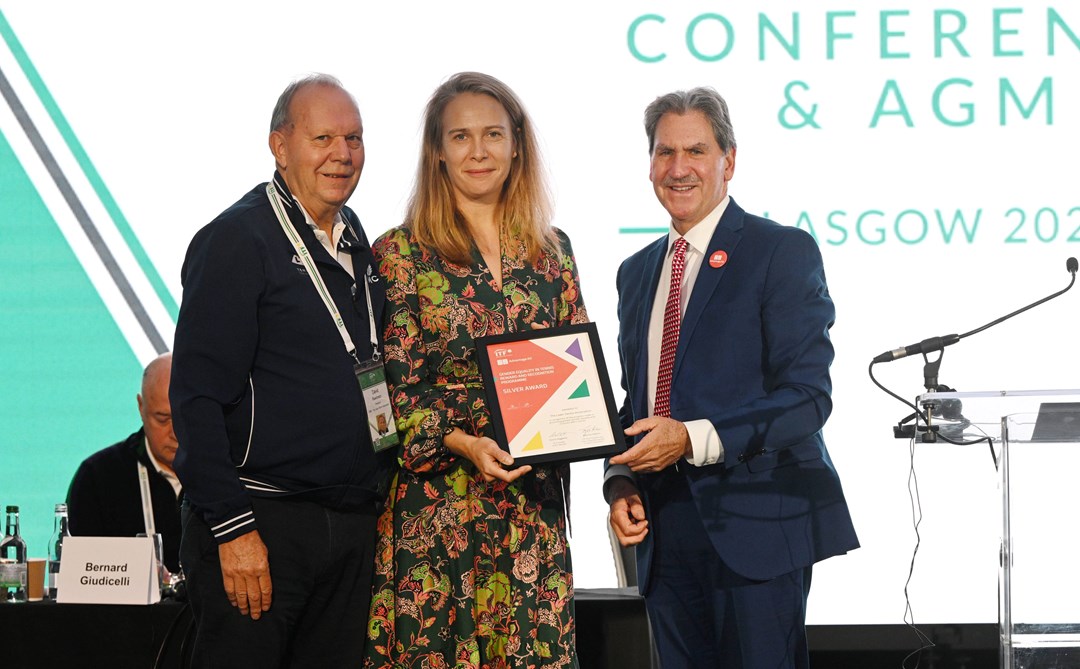 LTA
LTA recognised with silver award for 'She Rallies' initiative at the ITF Advantage All awards
• 2 MINUTE READ
We have received international recognition for our work to promote and improve gender equality in tennis from the International Tennis Federation's (ITF) Advantage All Reward and Recognition programme.
We were one of three national governing bodies to be recognised at the ITF's AGM in Glasgow this month, awarded the silver prize in the inaugural year of the programme.
Advantage All is the international governing body of tennis' gender equality programme and we were one of the ITF's 210 member national associations invited to submit entries highlighting the work in their nation to promote and progress lasting change towards gender balance and equal opportunity. The ITF Gender Equality in Tennis Committee reviewed the applications and awarded us the silver award for the work and progress made under the 'She Rallies' initiative. Tennis Ireland were awarded the Gold prize while Tennis Australia received Bronze.
Our commitment to ensuring tennis continues to be a leader in sport and a truly gender equal sport in every respect was reaffirmed this year with the launch of 'She Rallies'. Sharing similar objectives to the ITF's Advantage All strategy, She Rallies aims to ensure tennis provides an environment in which women and girls can reach their full potential both on and off the court, focusing on three areas in particular – participation, workforce and visibility.
LTA President, David Rawlinson said: "The LTA has had a long standing commitment to gender equality in our sport and She Rallies has brought all our efforts and plans together, maximising the impact we can have in the areas we can make the most significant changes. We're very encouraged by the progress made so far and it's extremely satisfying to receive international recognition of this. This award provides us with a springboard into 2023 as the hard work continues."
ITF President, Dave Haggerty said: "Advantage All is a long-term project, and we salute all national tennis associations who have made even small steps to achieving an equitable gender balance both on and off the court. I have said from the outset, this is a collective obligation, not an option. We are tracking progress towards the goals we have set for the Advantage All Programme and through our sport we can see the signs that we are making differences in our sport and, through our sport, in society."
Read more about the inaugural ITF Advantage All Reward and Recognition programme