LTA
LTA leads call for removal of search bias as part of drive for increased visibility of women's sport
• 6 MINUTE READ
The LTA, the national governing body for tennis in Britain, has today issued a call to boost the visibility of women's sport by removing the inherent gender bias that exists within the results people see in search engine results about sport.
Our call coincides with International Women's Day and supports this year's theme of #BreakTheBias. It follows a report commissioned by the LTA and undertaken by Verkeer, a specialist Digital Marketing and Search Engine Optimisation agency, that starkly highlighted the extent to which male focused content and information dominates results provided for generic search terms about tennis players. Reduced visibility of women's sport is a situation that contributes to a perception that sport is more something for men than for women, and which in turn can lead to lower participation in sport by women.
The report found that for generic search queries about tennis players such as those regarding rankings or player performance (for example "best tennis players", "best tennis players in the world" or "who is the number 1 tennis player"), the results are heavily skewed towards showing male information rather than female.
The findings highlight that people who want to find information about women's tennis need to complete deeper, or more specific searches, to find the information they are looking for, with information about male tennis professionals competing in competitions being more prominently presented and more easily accessible.
Example search result (Page 1): "best tennis players in the world"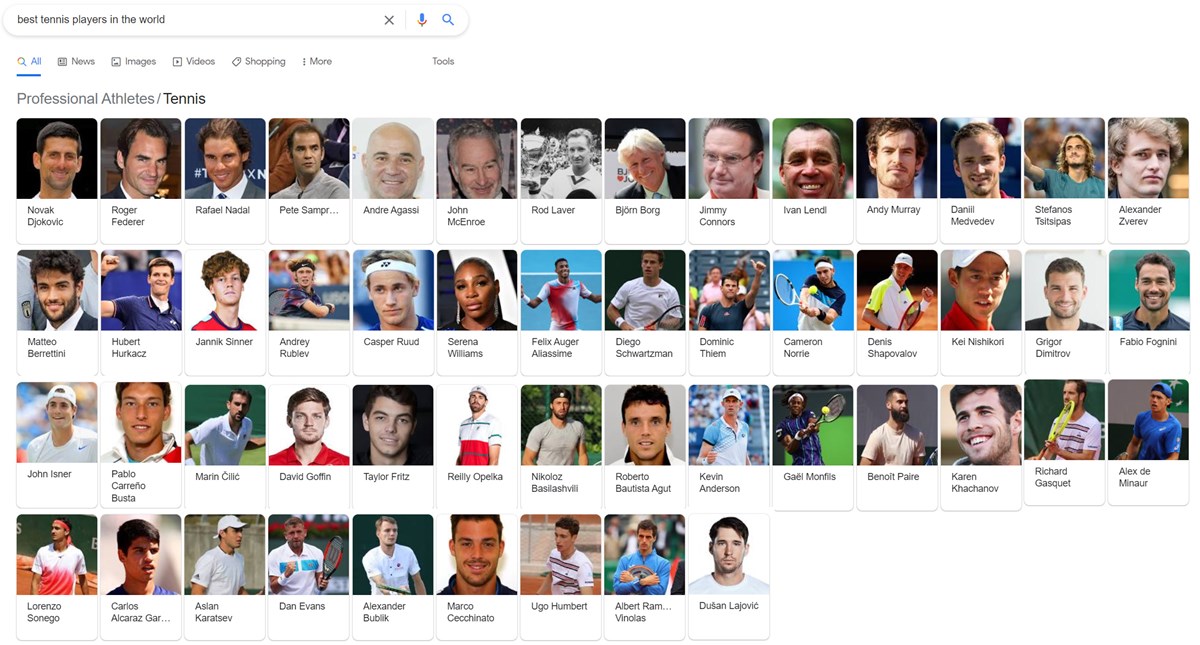 Athlete Carousel: 50/51 male (98%), including the first 19 displayed. Only 1/51 female (2%)
Page Links: (6 male, 1 mixed, 1 female)
Male – ATP Tour Rankings
Male – 'Top 10 Greatest Men's Tennis Players of All Time'
Male – '10 Best Tennis Players Of All Time – Men'
Male – 'Men's Tennis ATP Rankings 2022'
Female – WTA singles rankings
Mixed – 'Best tennis players in the world'
Male – '2022 Men's Tennis ATP Rankings'
Male – 'List of ATP number 1 ranked singles tennis players'
Videos: 2 male, 1 mixed, 0 female
People Also Ask: (3 male, 1 female)
Who is the #1 tennis player in the world? (Answer presented is male content)
Who is the best tennis player of all time? (Answer presented is male content)
Who is the No 1 female tennis player?
Who is World No.2 tennis player? (Answer presented is male content)
Note: Specific results for a search term can vary slightly based on a number of factors such as location, time or browser.
Tennis has historically led the way for women in sport, with women's and mixed gender matches having been in place at the sport's major events for well over 100 years, equal prize money a firmly established principle at Grand Slams, and females officiating men's and women's matches as well as operating in senior roles off the court.
As a result, tennis is often regarded as the most gender equal sport, with a 50:50 gender split for participation among children, and tennis being the only sport to have females represented in Forbes' list of the world's highest paid athletes.
However, there remain areas where further progress is needed. Alongside a range of activity being put in place specifically to address gender participation disparities as children move into adulthood and to achieve a more balanced workforce, particularly in coaching, the LTA is also focusing on measures to close the visibility gap for women's tennis.
Julie Porter, LTA Chief Operating Officer and the organisation's Executive lead for our women and girls activity, said: "Greater visibility is crucial for women's tennis and for women's sport in general in terms of building the perception of sport as being something for women, and in turn leading to greater participation. We've seen recently that the women's finals at Grand Slams have attracted more television viewers than the men's finals, but that visibility is not yet reflected in the balance of what people see when they search.
"It is genuinely shocking to see how dominated these results are by male-specific information. While gender parity in search is an issue that reaches far beyond just sport, if it is like this for a leading women's sport like tennis then it demonstrates just how important it is that this issue is addressed.
"As part of our plans to transform tennis in Britain, we want to drive change with an ultimate goal of becoming a truly gender balanced sport across all aspects of tennis. There is more we can all do to achieve that, including ourselves, but we need others to help too. That's why we are calling on search engines and digital content providers to play their part in addressing this issue and helping us raise the visibility of women's sport."
Key findings from the report include:
For generic "best" or "top" queries (i.e. those which do not specify a gender or player's name); the 'Athletes Carousel' of player profiles and images featured at the top of Page 1 search results is very heavily skewed towards male professionals over female, with 79% of the available slots across all queries returning male players (for some search queries, as many as 98% of the available slots were male).
Where Video results were shown on page 1 for generic "best" or "top" queries, 230 of 269 available slots showed clips of male tennis players as the preview frame and as part of the key moments sections (allowing searchers to skip to different sections of the video), accounting for 86% of the available slots. Video frames containing women only accounted for 14% of available space
Looking specifically at Image Search results for generic queries, 78% of images displayed 'above the fold' (without the need to scroll) depicted male players, compared to 15% depicting female players, and 7% showing mixed results (males and females together)
Within the 'People Also Ask…' section (those results surfaced as being related additional queries people go on to search), for the first four options provided for each query, 236 of 256 slots related to content surrounding male players, dominating 92% of the immediately available People Also Ask results
Tagging of content by content providers is perpetuating the bias. Where pages were originally created to focus on men's tennis, but have since been updated or edited to be more inclusive of women's tennis, the title tags and urls have not always been updated, restricting the visibility of women's content in search resultsThis year's International Women's Day encourages us all to imagine a gender equal world – a world free of bias, stereotypes and discrimination, one that's diverse, equitable, and inclusive, and where difference is valued and celebrated. Its ambition is that together we can forge women's equality, and has a collective call for action to #BreakTheBias.
Highlighting the search visibility bias follows work the LTA has started to do itself to deliver a more gender equal balance of coverage across its own social media channels and website, with that work recently being highlighted by the Women's Sport Trust as an example of best practice for sports governing bodies.
Supporting the LTA's call for more to be done to boost the visibility of women's sport in search results, Tammy Parlour, CEO and co-founder of the Women's Sport Trust, said: "The Women's Sport Trust aims to raise the profile of women's sport and female athletes so we can use the power of sport to accelerate gender equality and stimulate social change. One of the main drivers to unlocking this growth will be to increase the visibility of female athletes and teams. We support the work the LTA has done and call on all industry stakeholders, including technology companies, to play their role in increasing this visibility in whatever way they can."
To find out more about International Women's Day visit www.internationalwomensday.com.
WATCH: Celebrating the journey of women's tennis
What you see when you search for 'best tennis players in the world'
A list of the tennis players displayed in the 'athlete carousel' on Google based on an example search for 'best tennis players in the world':
Male – Novak Djokovic
Male – Roger Federer
Male – Rafael Nadal
Male – Pete Sampras
Male – Andre Agassi
Male – John McEnroe
Male – Rod Laver
Male – Bjorn Borg
Male – Jimmy Connors
Male – Ivan Lendl
Male – Andy Murray
Male – Daniil Medvedev
Male – Stefanos Tsitsipas
Male – Alexander Zverev
Male – Matteo Berretttini
Male – Hubert Hurkacz
Male – Jannik Sinner
Male – Andrey Rublev
Male – Casper Ruud
Female – Serena Williams
Male – Felix Auger Aliassime
Male – Diego Schwartzman
Male – Dominic Thiem
Male – Cameron Norrie
Male – Denis Shapovalov
Male – Kei Nishikori
Male – Grigor Dimitrov
Male – Fabio Fognini
Male – John Isner
Male - Pablo Carreño Busta
Male – Marin Čilić
Male – David Goffin
Male – Taylor Fritz
Male – Reilly Opelka
Male - Nikoloz Basilashvili
Male – Roberto Bautista Agut
Male – Kevin Anderson
Male - Gaël Monfils
Male – Benoit Paire
Male – Karen Khachanov
Male – Richard Gasquet
Male – Alex de Minaur
Male – Lorenzo Sonego
Male - Carlos Alcaraz
Male – Aslan Karaetsev
Male – Dan Evans
Male – Alexander Bublik
Male – Marco Cecchinato
Male – Ugo Humbert
Male – Albert Ramos-Vinolas
Male – Dušan Lajović
The LTA Gender Equality in Search Report is based on comprehensive research conducted in the UK in August 2021 and updated in February 2022, analysing 8,307 keywords which returned 154,579 URLs. The report was commissioned to establish the extent of the inherent gender balance in search results, and while specific examples serve to highlight this, it should be noted a number of factors influence the results presented and that not all users around the world will always see exactly the same search results, with search results also varying over time.