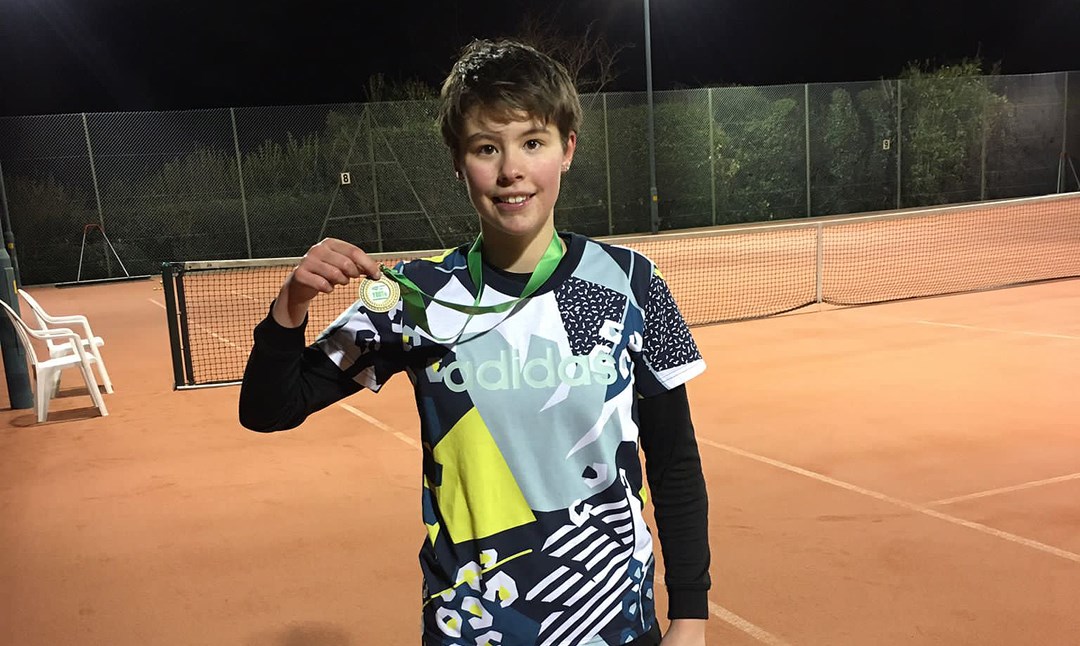 LTA
Sussex teenager Emily to play starring role ahead of Saturday's Women's Singles Final at Rothesay International Eastbourne
• 3 MINUTE READ
Eastbourne teenager Emily Mort will take centre stage at the LTA's Rothesay International Eastbourne on Saturday, having been selected to perform the coin toss for the Women's Singles Final that will see Petra Kvitova take on Jelena Ostapenko.
Emily, who is 14 and plays tennis at Eastbourne Sports Park, was chosen to perform the honour to help promote the LTA's She Rallies ambition for tennis to continue to lead the way towards becoming a truly gender balanced sport. Her selection for the role comes after she signed up to take part in a special LTA Youth Tennis Leaders Course for females being staged at the tournament on the morning of the final.
Alongside driving increased participation and visibility of women and girls' tennis, one of the key focus areas of the LTA's She Rallies ambition is around workforce, providing the support and opportunities needed for more women to join the tennis workforce, as well as supporting the whole workforce to better understand and cater for female needs.
Saturday's female-focused LTA Youth Tennis Leaders course is part of the LTA's exciting leadership programme for young people aged 11 to 18. Delivered by Virtus Leisure, the LTA's Coach Development Centre for Sussex, the session will see 18 girls and young women from across Sussex take part on the practice courts at Eastbourne on Saturday morning ahead of the final of the WTA event.
Helping young people gain invaluable leadership skills
LTA Youth Tennis Leaders has been designed to provide young people, whatever their tennis ability, with the opportunity to gain invaluable leadership skills both on and off court, learning about what it takes to support the tennis coaching workforce. Tennis Leaders go on to support coaches, volunteers and teachers to deliver tennis sessions on court, and support the running of a venue or event, and the course is seen as being an excellent way of helping young people into leadership opportunities across tennis, sport and beyond, whatever their interests.
Speaking about doing the coin toss and being part of the LTA Youth Tennis Leaders course, Emily said: "I'm really excited to get a chance to step out on to Centre Court and be part of such a big tennis event. I decided to do the tennis leadership course as I thought it would be an asset to my tennis programme and also my BTEC Level 1 in sport that I am starting in September. It's a great way for girls to learn how to develop and help their coaches within their local clubs with the new children starting out on their own tennis journeys.
"I've been playing tennis since I was three and have competed for a long time. It's given me lots of opportunities, for example, playing in Somerset at the School Nationals and winning, and interviewing tennis player Simona Halep here in Eastbourne 2017. The most important things I have learnt is to have fun and have good sportsmanship 'win or lose, sun comes up, sun goes down, so enjoy it'."
'A powerful platform for promoting gender equality'
Jo-Anne Downing, Product & Programme Manager at the LTA and one of the governing body's leads for the She Rallies ambition, said: "We really believe that sport can be one of the most powerful platforms for promoting gender equality and empowering women and girls. However, more progress is still needed and the launch of our She Rallies ambition is the start of a new push to build on tennis' pioneering legacy for women and girls in sport. The LTA is passionate about increasing the amount of women and girls participating in tennis, and in particular we want to increase the number of women in the tennis workforce and on the coaching pathway.
"We're delighted that Emily has been selected to do the coin toss for Saturday's final, and represent not just the group of girls and young women who have signed up to develop their own leadership journeys in tennis but also our She Rallies ambition as a whole. We hope she really enjoys the occasion."
Frankie Scollo, Emily's coach at Eastbourne Sports Park, added: "Emily is always willing to help out with my coaching sessions and is always so positive – she is just a great girl".
To read more about the LTA's She Rallies ambition for tennis to continue to lead the way for women and girls in sport, visit www.lta.org.uk/SheRallies.