Domestic Competition
Kent Men and Surrey Ladies crowned Aegon Summer County Cup winners
• 5 MINUTE READ
The 121st Summer County Cup finished as it started under unbroken blue, sunny skies as Kent Men and Surrey Ladies lifted the respective titles at Devonshire Park, Eastbourne on Friday 22 July.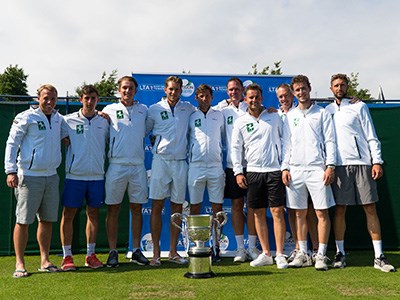 Kent were challenged all the way by Hertfordshire and on Friday morning either team could have lifted the trophy. Kent were quick off the mark on the day which led to a 5 – 1 lead by mid-afternoon, resulting in Kent taking the Summer County Cup title.
Meanwhile there was tough competition at the bottom of the table as last year's champions, Derbyshire, were having a hard fought battle with last year's runners-up and current County Cup Race Champions, Surrey to see who would stay in the elite Group One for the 2017 Event. Going into the final rubber it was 3 – 3 with all 3 matches in the remaining rubber going to 3 sets. Surrey clinched the win in the end with a final score of 5-4 which ended another excellent week of tennis.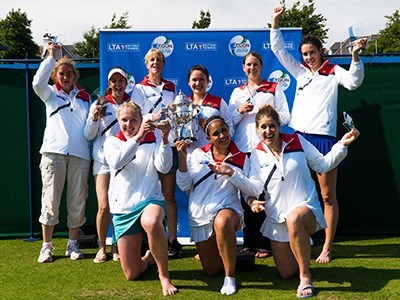 The Ladies event was dominanted by Surrey who lifted the title for a 50th time having won all 5 matches with the loss of just 4 rubbers. Newly promoted Kent had a fantastic week of performance and placed second in Ladies Event.
Having lifted the trophy for the 2nd time Ladies Team Captain Mandy Spicer said; 'It's been a fantastic week on and off the court. They are a great bunch of girls and there has never been a dull moment! Each and every one of them has contributed towards our success. I'm particularly proud of Jasmine and Candy for achieving 15 out of 15 especially as they had never met before this week!'
LTA Tournament Director, Julie Piper, said; 'We have once again had a fantastic week of tennis, not only at the Group 1 Event at Eastbourne, but all groups across the country. I am always amazed at the commitment some of the players have, some putting their professional or coaching careers on hold for a week, to turn out to represent their county. It is a tough week of tennis for all players but is played in good spirits and there are always plenty of laughs on and off the court!'
Facts
83 teams and around 700 players were on show over the week
Derbyshire Men and Surrey Ladies were the defending champions from 2015
Ollie Hudson (Middx), Sam McNeil & Alan MacDonald (East of Scotland), Shakeel Manji & Charles Swallow (Northants), Jasmine Asghar & Candy Reid (Surrey), Emily Arbuthnott & Amanda Elliott (Herts) and Aimee Gibson & Eden Silva (Essex) all achieved an unbeaten record of 15 wins out of 15
Winning teams
Kent
Andy Burgoyne, Lewis Burton, Alistair Filmer, Jim May, Francis Sargeant, Rob Searle, Matthew Short, Sean Thornley and Thomas Wright
Surrey
Jasmine Asghar, Victoria Brook, Stephanie Cornish, Lily Miyazaki, Charlotte Pearce, Laura Peterzan, Candy Reid, Laura Slater, Melanie South and Natasha Starling
Who went up and down?
| | | |
| --- | --- | --- |
| GROUP | WINNERS / PROMOTED | RELEGATED |
| Men's Group 1 – Eastbourne | Kent | South Wales / Derbyshire |
| Ladies Group 1 - Eastbourne | Surrey | Buckinghamshire / Norfolk |
| Men's Group 2 – Cromer | Middlesex / Suffolk | Somerset / Lancashire |
| Ladies Group 2 – Havant | Hertfordshire / Middlesex | Berkshire / East of Scotland |
| Men's Group 3 – Frinton | Cheshire / Cambridgeshire | Berkshire / North of Scotland |
| Ladies Group 3 – Cheltenham | Essex / Hampshire & IOW | Nottinghamshire / Leicestershire |
| Men's Group 4 – Hunstanton | East of Scotland / North Wales | Leicestershire / Warwickshire |
| Ladies Group 4 – West Worthing | Cambridgeshire / Sussex | South Wales / North Wales |
| Men's Group 5 – Cambridge | Northamptonshire / Buckinghamshire | Devon / Sussex |
| Ladies Group 5 - North Oxford | Derbyshire / Somerset | North of Scotland / Dorset |
| Men's Group 6 – Felixstowe | Nottinghamshire / Gloucestershire | Wiltshire / Shropshire |
| Ladies Group 6 – Ilkley | Staffordshire / Shropshire | Wiltshire / Cornwall |
| Men's Group 7 – Tunbridge Wells | Cumbria / Herefordshire & Worcestershire | N/A |
| Ladies Group 7 – Raynes Park | Bedfordshire / Herefordshire & Worcestershire | N/A |