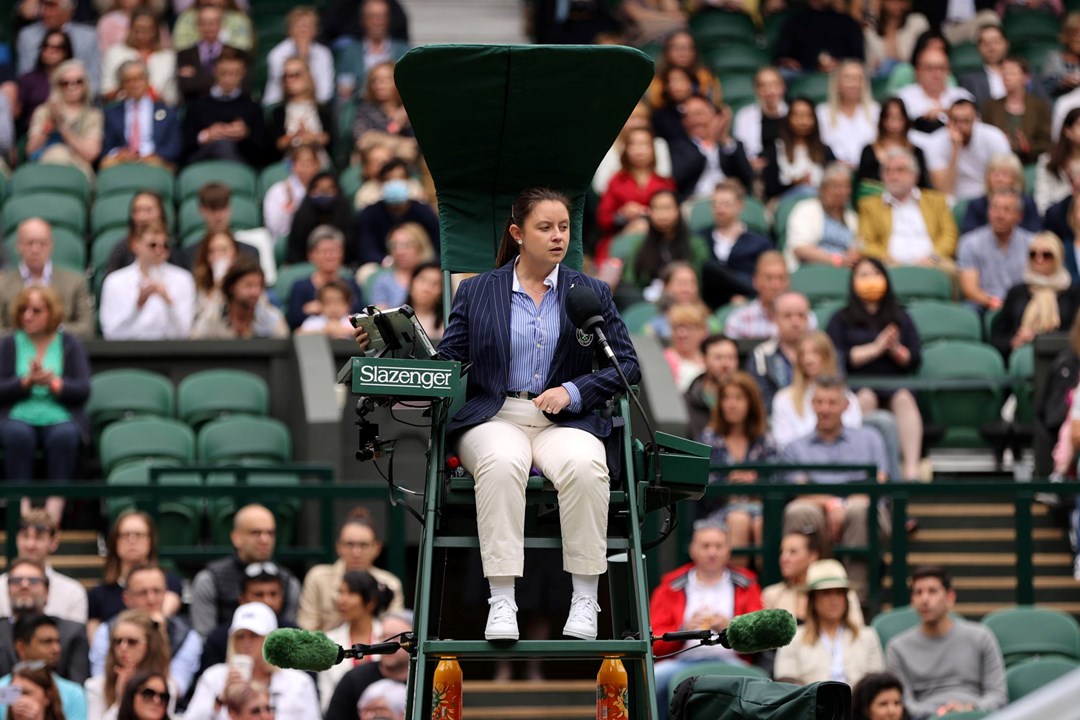 Officials
Kelly Thomson achieves Gold Badge Chair Umpire status
• 4 MINUTE READ
Britain's Kelly Thomson has recently been promoted by the Joint Certification Programme (ATP, WTA, ITF and Grand Slams) to the status of Gold Badge Chair Umpire – the highest level of international status for umpires.
Kelly becomes one of only 35 Chair Umpires across the world to reach this level and is the 13th active female Gold Badge chair umpire.
"Gold Badge is the top level that any umpire can achieve – it's a privilege and an honour to get there because there aren't many people who have been able to achieve that," said Kelly upon receiving her promotion.
"It feels particularly special as a woman where there hasn't been as many throughout history. I'm stepping into big shoes in terms of British women who have achieved the Gold Badge. We have had Alison Hughes MBE who has umpired so many Grand Slam finals and before that, Jane Harvey who started a path for female officials in the chair.
"The goal now for me is to umpire a Grand Slam singles final – that's always the aim with a Gold Badge. I have done it before with a Wimbledon doubles final, so let's see!"
Kelly joins a strong British contingent of four Chair Umpires to hold Gold Badge status, joining the aforementioned Hughes, James Keothavong and Richard Haigh. Only France has more Gold Badge Chair Umpires than Great Britain, which Kelly believes is credited to the unique opportunities we have to offer officials in this country.
"The lower levels, like line umpiring, is where we all came in – me, James, Ali, Rich – that's how we progressed," she said. "I think it's great that there are those opportunities for people in the UK to get chances at events to get involved and play their part in different tournaments.
"Everyone needs to continue to work together to make sure we keep that pathway so we can keep producing top officials in this country."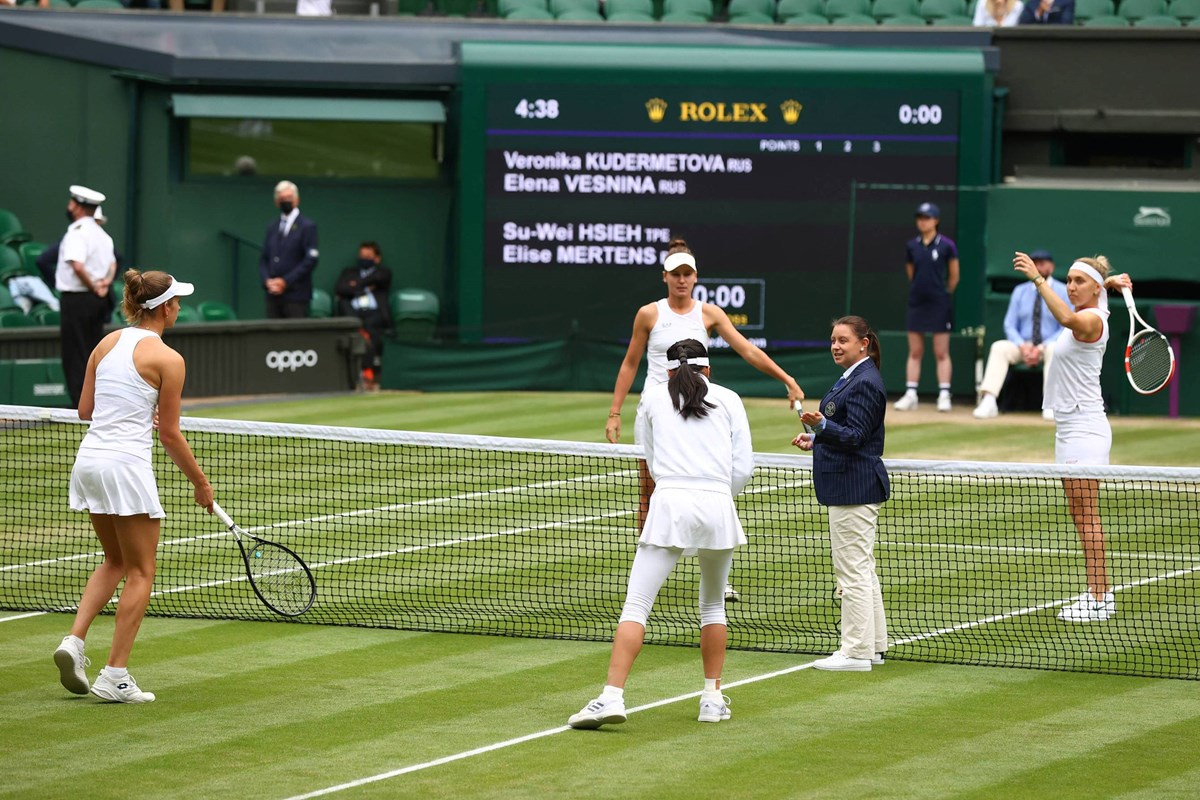 However, becoming one of the top 35 Chair Umpires in the world, wasn't always a career on her radar. Instead, it was the outlet that gave her opportunities like no other – something that she has always been grateful for.
"Honestly, I never thought about umpiring," she admitted. "I used to play tennis at county level and they were looking at younger umpires to come in and get involved in officiating. They used to run a programme called the JPP, encouraging junior players to get involved, and I went to a one-day course in Nottingham when I was 17. There we learnt all the basics and if we were any good, you got fast tracked from there – six months later I worked at my first Wimbledon.
"I continued with it through university as a summer job because it gave me a bit more pocket money than working elsewhere and then when I graduated, I applied for the US Open and got selected.
"I thought I'd go and have a bit of a gap year, travel the world and work at lots of different tournaments and I'm still on it now! I almost fell into it as a full-time job, but it's an amazing way to see the world.
"You get to umpire some of the top players in the world, which is a dream for many people, but the travelling is another big bonus of our role. I've been able to go visit places that I would probably have never had the chance to see otherwise.
"It's very social as well, you meet so many different people from different countries and backgrounds – I've got so many friends around the world now and I also met my husband through it as well."
Kelly has been instrumental in many high profile matches during her career so far, but her personal favourite came at SW19 earlier this year.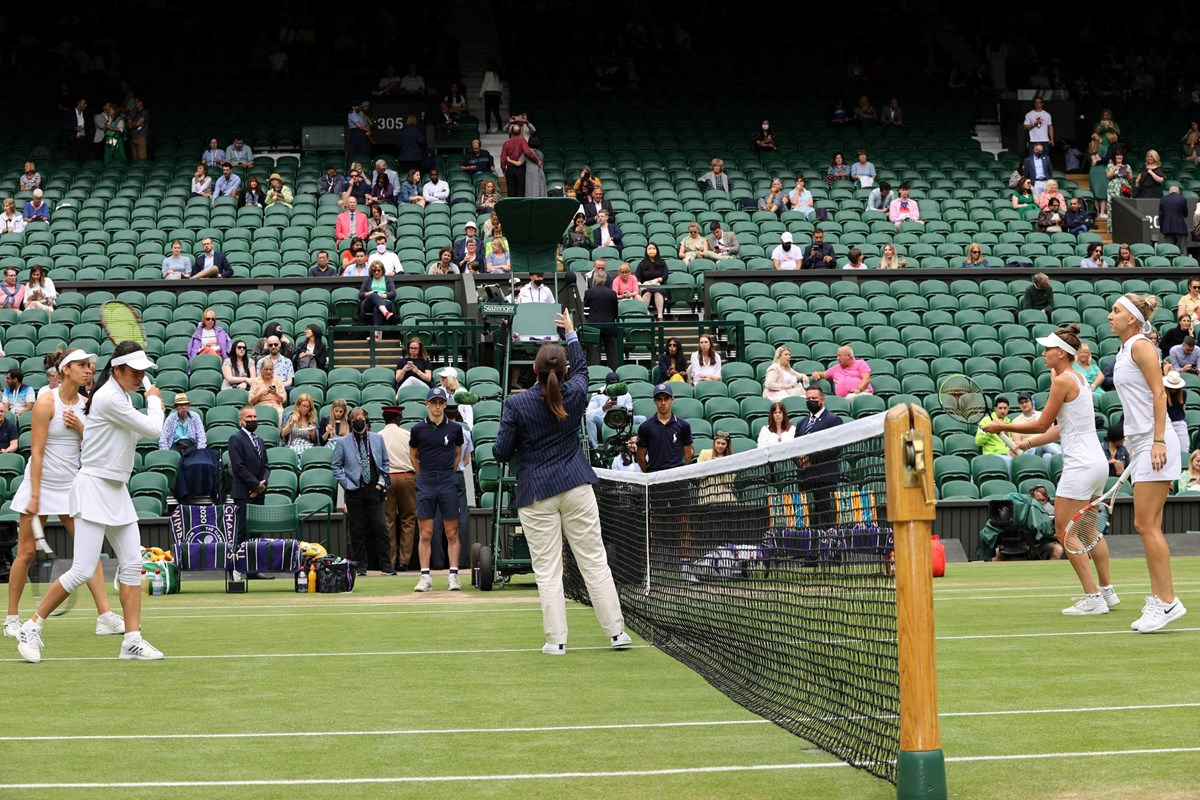 "I umpired the Wimbledon women's doubles final last year and then this year I got to do the women's singles semi-final between Elena Rybakina and Simona Halep, which was probably one of the biggest highlights of my career," Kelly said with a beaming smile across her face.
"To do a semi-final on the world's biggest stage is very special – I had done one before but this one just felt different, especially after the past few years with the pandemic.
"Wimbledon for many umpires is the absolute top of the game and where they want to be, but when it's your home slam as well, with the top players in the world, it's just something very special."
Earlier in 2021, we set out our 'She Rallies' ambition for tennis to lead the way in becoming a truly gender balanced sport, empowering more women and girls to get involved in our sport, whether they are players, coaches or officials.
As one of only three active female Gold Badge Chair Umpires from Grand Slam nations – two of whom are British – Kelly offered a few words of advice to any aspiring female player or official thinking of getting involved.
"I would say, go for it – don't hold back from something that you think might be too stressful, or you think 'I can't imagine doing that' – just give it a go.
"In all areas of sport I don't feel like there are enough females, so if we can push more people towards it and help them realise it's a great opportunity then that's a huge positive.
"You don't have to be a Gold Badge if you don't want to, just come and be a line umpire or a chair umpire at a local tournament and have fun."
Get involved in officiating
Find out how you can take your first steps in becoming a tennis official today.