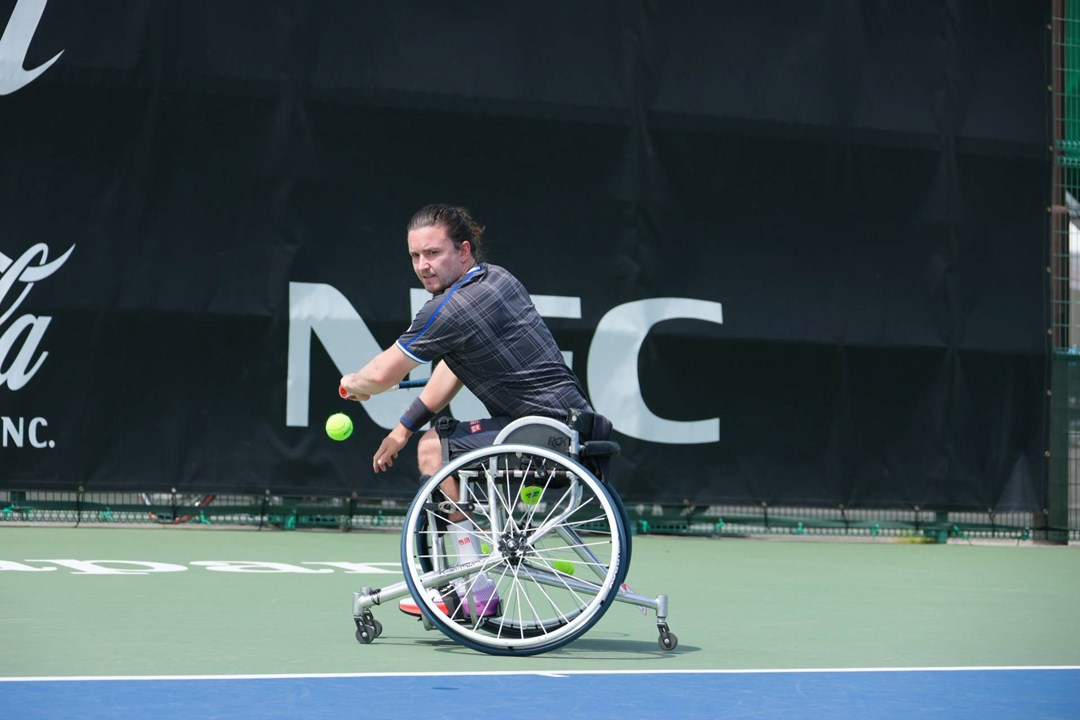 International
Japan Open 2023: Results & updates
• 2 MINUTE READ
Get the latest from the Japan Open as Britain's Gordon Reid aims to claim his third career title in Iizuka.
Highlights
Gordon Reid defeated by third seed Ruben Spaargaren 6-0, 3-6, 6-3
Reid and Joachim Gerard lose out in semi-final of the men's doubles
Watch live on YouTube here
Day four: Reid & Gerard knocked out in semi-final
Gordon Reid's Japan Open challenge came to an end on the fourth day of play at this year's Super Series event as Reid and Joachim Gerard lost 6-4, 6-4 in the men's doubles semi-finals to Japanese third seeds Takuya Miki and Tokito Oda.
Reid and Gerard earned the first service hold of the match to lead 3-1, but their advantage disappeared as Miki and Oda moved 4-3 ahead and broke Gerard's service to love to claim the opening set.
The first six games of the second set went with serve, but Reid and Gerard's constant pressure finally brought the error from Miki's racket that earned the top seeds the first break of the set. Reid and Gerard came within a point of earning a 5-3 lead, but it was not to be and a forehand mishit off Reid's racket brought an end to his and Gerard's record of six finals in their first six tournaments as a partnership.
Gordon Reid moved into the men's doubles semi-finals with his Belgian partner Joachim Gerard on the third day of play, but his singles challenge came to an end in the quarter-finals.
Reid and Gerard, finalists in all six of their previous tournaments together and the winners of three titles as a partnership, including at the 2017 Australian Open, secured their second successive 6-0, 6-0 victory over an all-Japanese partnership in Iizuka.
The top seeds beat Masahiro Honma and Hiroyuki Takeda in their latest contest and move on to a semi-final against third seeds Takuya Miki and Tokito Oda, who will be the third all-Japanese opposing partnership for Reid and Gerard.
Reid's singles challenge came to an end as Dutch third seed Ruben Spaargaren progressed to the semi-finals 6-0, 3-6, 6-3.
Sixth seed Reid found points difficult to come by in the opening set and was unable to take advantage of his one break point opportunity. However, the two-time champion built a 3-0 second set lead and despite world No. 5 Spaargaren closing to within one game at 4-3, Reid maintained his composure and served out the set on his second set point.
Reid managed to restore parity after finding himself 3-0 down in the final set but Spaargaren – the only player to have beaten Alfie Hewett so far this season – proved the more consistent player in the closing stages. World No.8 Reid missed the opportunity to level the final set at 4-4 and Spaargaren served out the match as Reid's final backhand return found the net.
Day two: Reid cruises into next round in Japan
Gordon Reid beat 2013 champion Maikel Scheffers 6-4, 6-3 on the second day of play in Iizuka to book his place in the men's quarter-finals against third seed Ruben Spaargaren, who will be Reid's second successive Dutch opponent.
Sixth seed Reid got the better of the exchanges in the opening set against Scheffers, earning three breaks to the Dutchman's two.
With Reid having also beaten Scheffers in Iizuka in the 2017 quarter-finals, on his way to the first of his two Japan Open titles, the world No.8 stepped up his performance in the second set and significantly improved his first serve percentages before earning the only break of the set to wrap up victory in an hour and 57 minutes.
After his 21st win over Scheffers in 32 matches Reid will now play world No.5 Spaargaren for just the fourth time.
The Brit rounded off the second day of play by also reaching the men's doubles quarter-finals, partnering Belgium's Joachim Gerard. Top seeds Reid and Gerard, who were runners-up at last week's Korea Open, raced to a 6-0 6-0 first round win over Japanese qualifiers Mikoto Miyazaki and Sota Yano in just 35 minutes. Reid and Gerard now play another all-Japanese partnership, Masahiro Honma and Hiroyuki Takeda, for a place in the semi-finals.
Gordon Reid made a confident start to his quest for a third Japan Open men's singles title after beating Thailand's Banjob Suwan 6-1, 6-2.
Reid will play world No.13 and 2013 Japan Open champion Maikel Scheffers of the Netherlands in round two, for a place in the quarter-finals.
In his first career match against world No.79 Suwan, Reid secured an immediate break on his way to building a commanding 5-1 lead and he served out the opening set to love.
There was another early break for the 2017 and 2018 champion in the second set and he again established another 5-1 lead. However, with the players contending with blustery conditions in Iizuka, Reid was unable to take his first match points in the seventh game but despite a double fault when serving for the match in the eigth game the British No.2 eventually drew a backhand error from Suwan to close out the match.