GB Teams
IBSA World Games 2023: Great Britain's tennis team take home 11 medals in Birmingham
• 3 MINUTE READ
IBSA World Games hosts, Great Britain, pocketed 11 medals in tennis at the world's biggest multi-sport event solely for athletes with visual impairments.
This year marked the first time that tennis was included among the 10 sports contested at the Games, which also showcased paralympic sports including blind and partially sighted football, goalball, and para judo.
Recognised as the summit of all international competitions for athletes with a visual impairment (VI) outside the Paralympic Games, the seventh edition of the IBSA World Games saw 13 tennis stars fly the British flag, contributing two gold, five silver, and four bronze to Britain's overall medals tally in both the singles and doubles.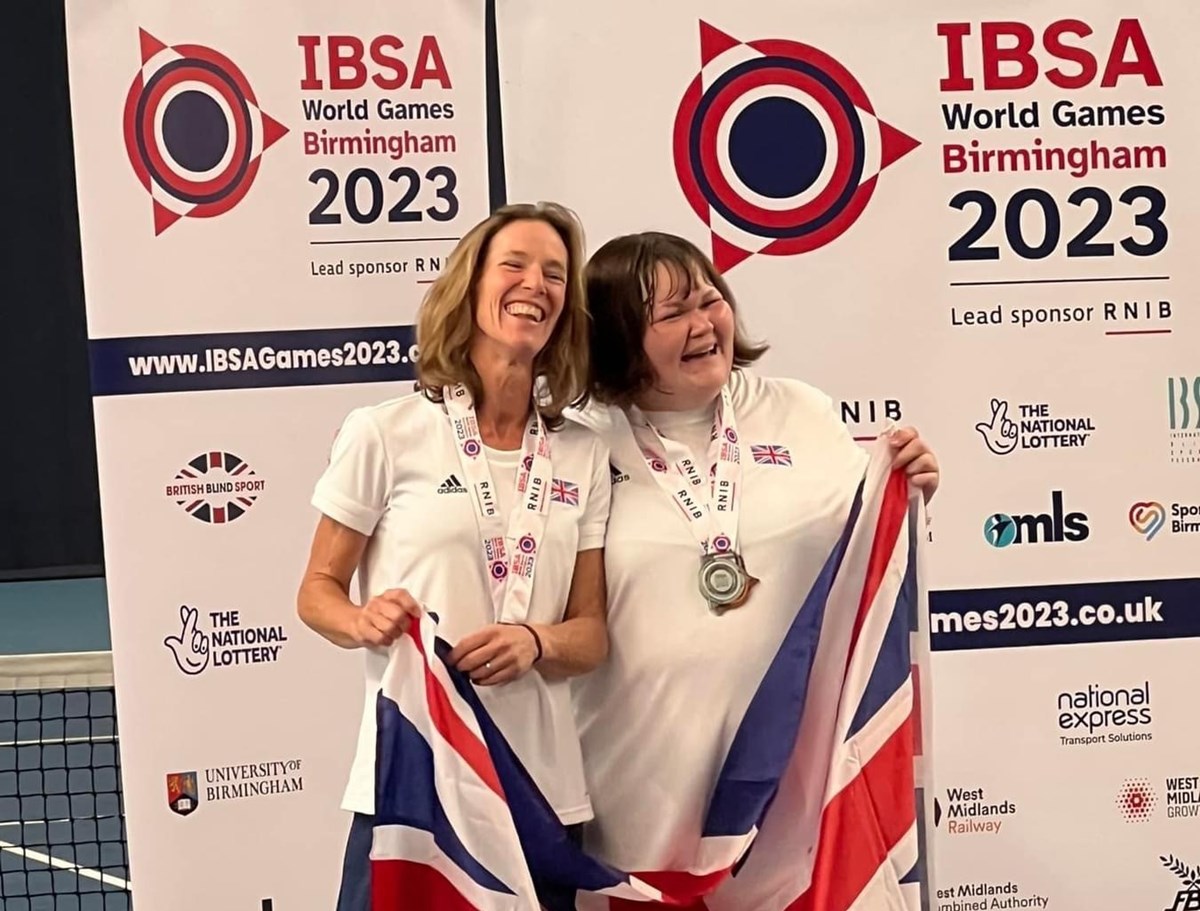 The IBTA World Championships titleholder, Amanda Large, reinforced her gold medallist status after defeating Luxembourg's Liz Conzemius 4-1, 4-1 in the final of the B2 women's singles event. The success didn't stop there for the Mancunian, however, after finishing runner-up in the B2/4 women's doubles draw alongside the highly decorated Rosie Pybus.
Reflecting on her first-ever experience at the IBSA World Games, Large shared,"I'm feeling speechless to be honest. The talent here is incredible. The competitors we have been up against been really tough, so to get this far I'm really proud. The team have been amazing i couldn't have done it without their support. It could have gone either way today."
Pybus who, much like Large, is accustomed to representing her country on the international stage, returned from a shoulder injury to contend in just her second tennis tournament since her brief hiatus away from the courts.
Despite being forced to step away from preparations in the lead up to the IBSA World Games, the Middlesbrough-born star soon slipped into old habits to ultimately prevail in a nail-biting showdown with Ireland's Riya Devereux, winning 3-5, 4-2, [11-9] to claim the bronze in the women's singles B4.
"I focus less on the outcomes now and more on the process as part of the sport psychology that I have been working on," explained Pybus.
"It's about learning, developing, and trying to play the point in front of you as opposed to thinking too far ahead. I just take it one shot at a time."
B1 athlete Monica Smith, who picked up a racket a mere five years ago, made a scintillating debut in a GB shirt after winning silver in the B1 women's singles and gold in the mixed doubles side by side with the talented Naqi Rizvi, a British-based player who's no stranger to LTA tournaments despite choosing to represent his native Pakistan in Birmingham.
Despite suffering a close 5-4, 5-4 defeat to Italy's Daniela Pieri in the singles, Smith got her vengeance in the mixed doubles after the British/Pakistanis pair beat Pieri and Spain's Carlos Arbos Ginard to the gold medal in a 7-6 thriller.
Andrea Logan also claimed one of five silver medals in the B3 women's singles after losing to Germany's Charlotte Schwagmeier, while Sarah Fortescue won bronze in the same event after her commanding 4-1, 4-0 victory over Ireland's Marguerite Quinn.
Meanwhile, in both the B3 and B4 men's singles events, two silver medals were awarded to the GB camp after both Neil Balmforth (B3) and Ivan Rodriguez-Deb (B4) progressed to finals, respectively.
"It has been a fabulous experience," said Balmforth. "It's been amazing to be with my fellow players on campus as we've supported each other and we've had a great time, and the quality of tennis has really moved up a gear."
Balmforth and Rodriquez-Deb also joined their fellow Brits in realising double delight on the last day of the IBSA World Games after teaming up to win bronze, beating compatriots Daniel Hopkins & Paul Ryb 6-2 in their B2/4 men's doubles play-off.
Elsewhere, former B1 singles National Finals semi-finalist Gavin Griffiths and champion Yvette Priestley claimed bronze after defeating Britain's own Tracy Compton and Anthony Harrison 6-3 in the B1 mixed doubles.
Louise Assioun, the GB VI Tennis Head Coach, said: "It has been a great event. It is so good to be back on court, and doing an international event after COVID. Being part of the IBSA world games is fantastic; seeing other athletes and hearing about all other sports in the games village is really exciting, and then we come out to tennis fully enthralled and some great tennis on court."
The format of VI tennis varies based on the set sight categories that the players compete within. Depending on a player's category they may have up to three bounces of the ball before they return it back to their opponent. In the B1 category, for those having the greatest degree of sight loss or no sight, three bounces of the ball are allowed, and players typically wear eye masks. B2, B3, B4 and B5 categories are contested by players with different degrees of partial sight, with B2 players allowed three bounces, B3 players allowed two bounces and B4 and B5 players allowed one bounce of the ball.
Open Court – get involved!
Funded by Sport England and the LTA, the Open Court Programme supports more than 500 tennis venues across Britain deliver sessions for disabled people and those with long term health conditions.
So, if you're a player or a parent or guardian or carer interested in finding out more, you can find your nearest venue here: