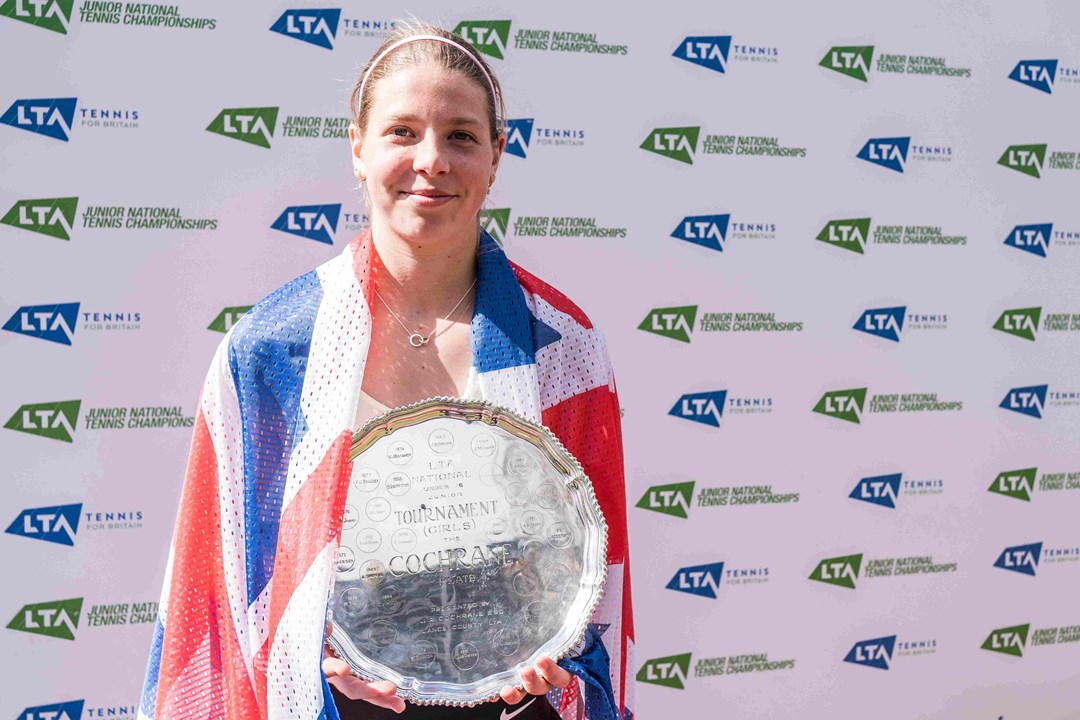 Domestic Competition
Hannah Klugman and Benjamin Gusic-Wan win LTA 16U Junior National Championships
• 4 MINUTE READ
Surrey's Hannah Klugman and Kent's Benjamin Gusic-Wan have joined an illustrious roll of honour after winning the 16U LTA's Junior National Championships.
Jack Draper, Dan Evans, Heather Watson, Harriet Dart and Paul Jubb are among the former winners of this prestigious event and now Klugman and Gusic-Wan have added their name to the list of champions.
Both players will now be awarded wild cards into the Junior Wimbledon tournament in July, as they emerged victorious in high-quality tournaments staged at the National Tennis Centre in Roehampton.
Klugman, 14, beat Middlesex's Mika Stojsavljevic 6-4, 6-0 in an entertaining final, as she backed up her win in the doubles tournament alongside Hertfordshire's Hephzibah Oluwadare by claiming the singles title.
"I played a really solid match, stepped up when I needed to and mentally I was really ready for this final," said Klugman, who is supported by our Men's and Women's Programme and also trains with coach Ben Haran at Reeds Academy in Surrey.
"I tried to take the pressure off myself because it is just a tennis match at the end of the day and I wanted to enjoy it. Thankfully I managed to get the win after a tight first set.
"I played in the Junior events at Wimbledon last summer and now I feel like I can aim for more there this time. I have got my ranking up over the last year and won a J200 event, so I can't wait to play some of the Junior Grand Slams later this year.
"Of course, I think about the day when I might play at Wimbledon in the main draw. Everyone who plays tennis thinks about that, but there is no pressure on me at the moment and I just want to go out there and enjoy myself."
Both players who contested the Girls' Final are supported by the LTA, with Stojsavljevic training at the National Academy in Loughborough and benefiting from high-intensity daily training environments with world-class science and medicine support.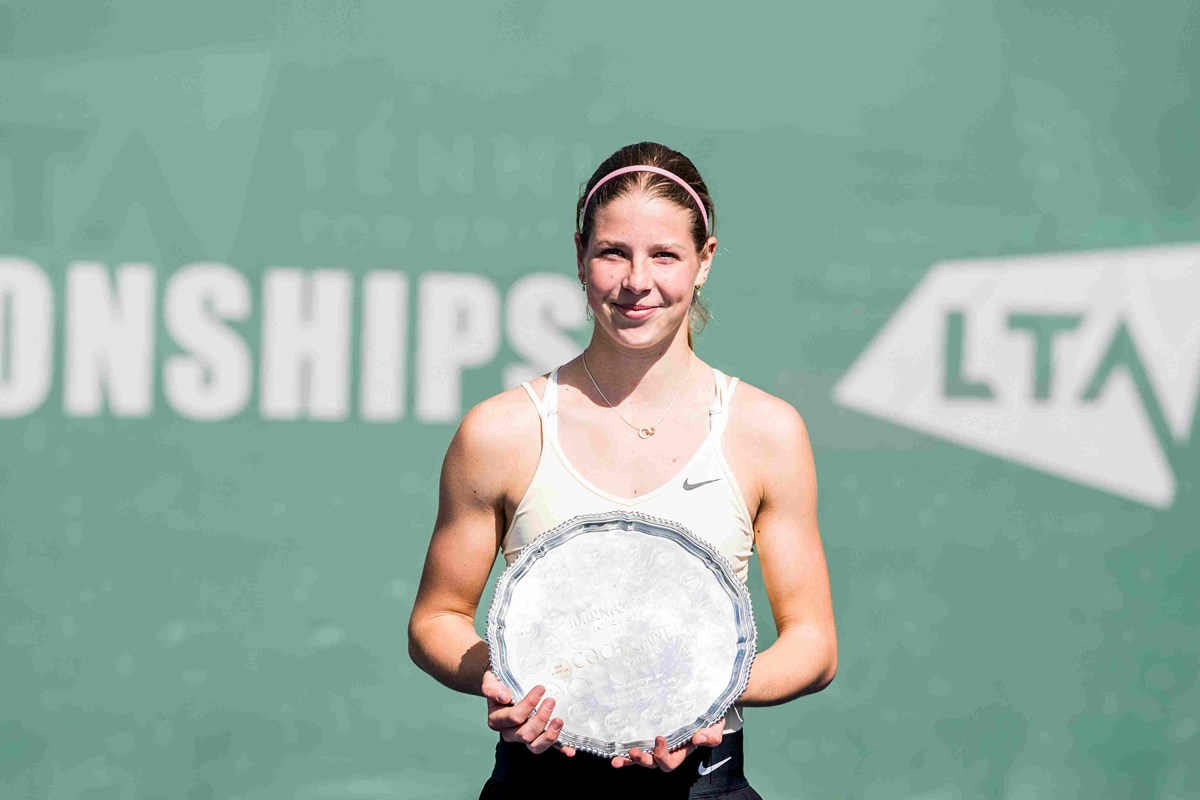 "I'm delighted to see the depth we have in the Junior game in Britain and it has been on display throughout this 16 and under Junior Nationals event," said former British No.1 Katie O'Brien, who is now a Women's National coach.
"It was so impressive to see their mentality and professionalism. The two players in the final performed so well under pressure and we saw a high-quality final between Hannah and Mika. Credit goes to both of them.
"Now we are looking forward to the 18 and under Junior National Championships next week when some of the girls who have been playing all over the world in recent months will be coming back to compete."
Gusic-Wan beat top seed Oliver Bonding 7-6(2), 6-7(2), 6-3 and will now be awarded a place in the Junior Wimbledon tournament this summer.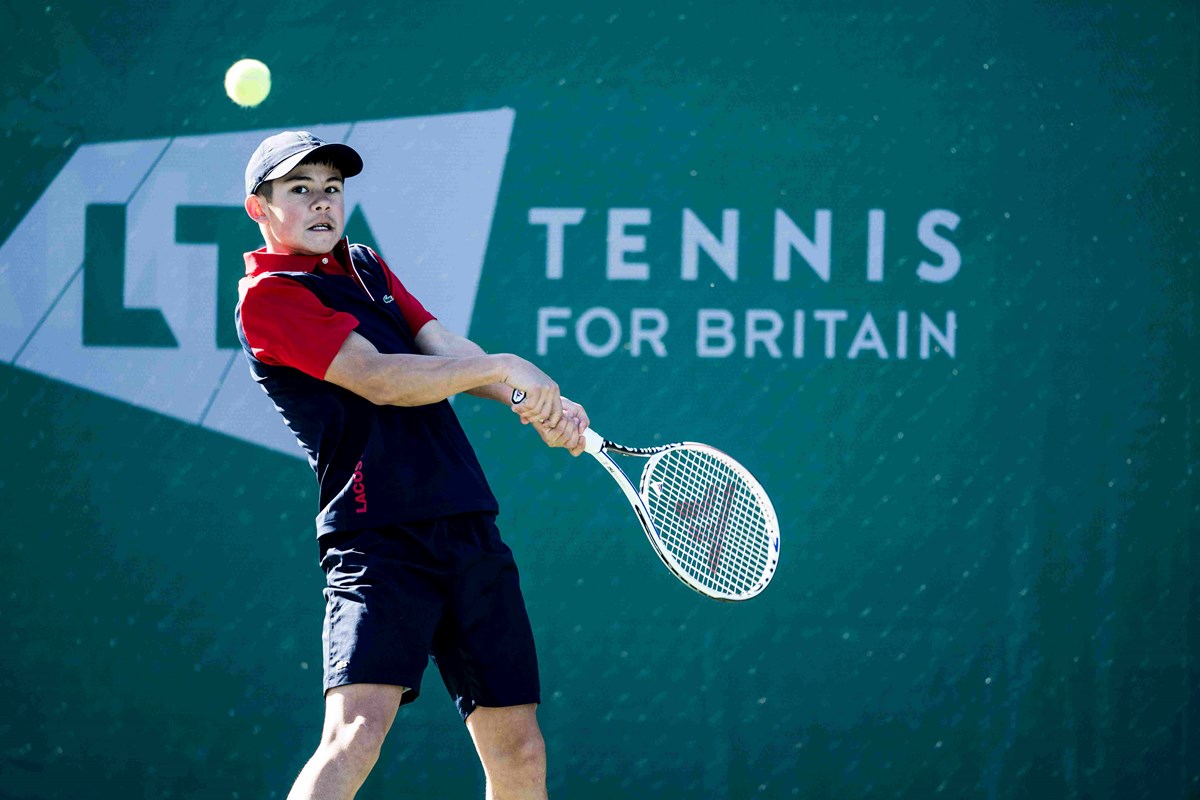 "It feels amazing to be standing here with the trophy as the Junior National champion," said Gusic-Wan, who trains at Canterbury Tennis Club under the watch of coach Simon Grieve.
"I wasn't really expecting to beat Olly and I had to be on it from the start. Then when I missed chances in the second set and lost the tie-break, I needed to get back on track and I played well in the third set. When Olly returns hard, I needed to absorb the pace and I feel I did that well.
"Now I will get another chance to play at Junior Wimbledon and hopefully I can make progress in the tournament this year. I played at Wimbledon last year and I have grown a bit more and matured since then, so let's go out there and see what we can do."
Both players in the 16U Boys' Final are supported by our 16 and under NAGP programme and Martin Weston, National Coach of the LTA's Men's Team, believes British tennis has two exciting prospects in Gusic-Wan and Bonding.
"The level in this Final was extremely high," said Weston. "Both players competed superbly and didn't have too many emotional ups and downs. They were present for the whole match.
"They are both very, very talented and really tough competitors. Hopefully, they will continue to push each other along now. This always felt like a 50-50 match and it proved to be that way when you see how close it was.
"If any country had that as their Boys' under-16 Final they would be very optimistic about the talent coming through the ranks."
The 18U Junior National Tennis Championships get underway at the National Tennis Centre next Tuesday.