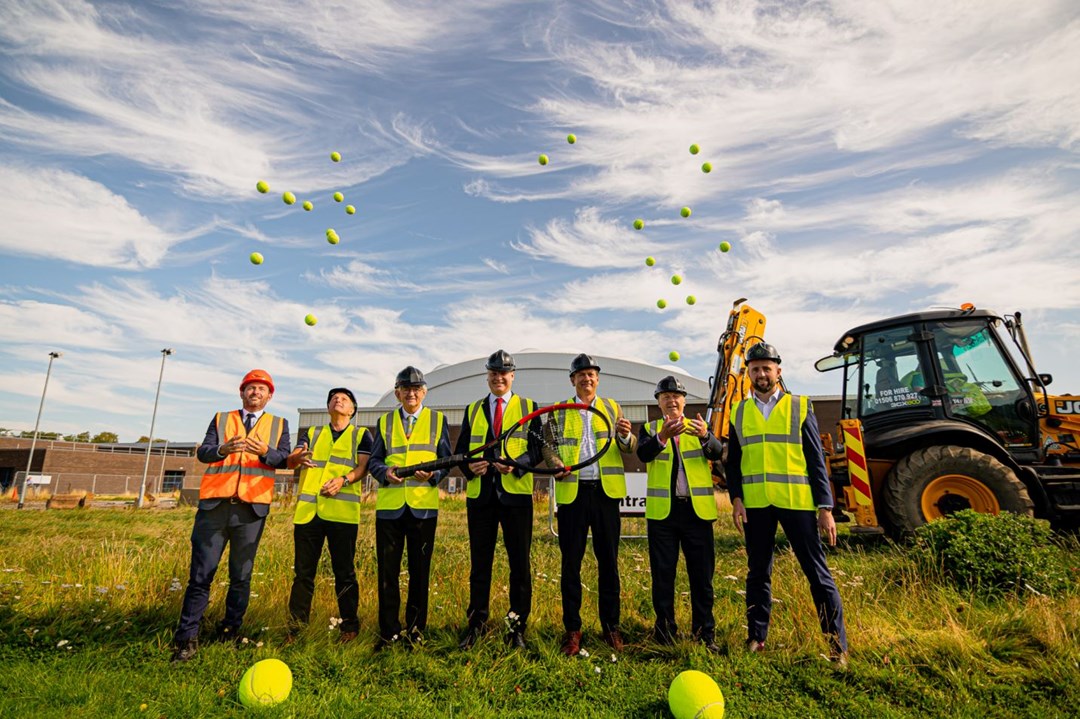 Ground broken on state-of-the-art tennis centre at Oriam - Scotland's sport performance centre
• 5 MINUTE READ
The Transforming Scotland's Indoor Tennis (TSIT) project took another significant step forward today as construction started on six indoor tennis courts at Oriam, Scotland's Sports Performance Centre at Heriot-Watt University's Edinburgh campus. This will be one of the largest indoor tennis centres built in the UK in recent years.
The tennis centre is scheduled to open its doors next summer, primarily serving the communities of West Edinburgh, Midlothian, West Lothian and Fife. It will be an inclusive, accessible and affordable facility providing more opportunities for people to play tennis.
The £4.5m project represents more progress on improving Scotland's indoor tennis infrastructure, with work under way on a £1.6m TSIT development operated by Moray Sports Centre in Elgin.
Today's ground-breaking reaffirms the shared commitment of the TSIT partners – LTA, sportscotland and Tennis Scotland – to meet the demand for indoor tennis facilities across the country.
Oriam is a world-class multi-sport performance facility that is open and accessible to all levels of athletes, as well as the local and student communities.
Ross Campbell, Executive Director at Oriam, was joined by Mel Young, Chair, sportscotland, Paul Guyer, Property Director at the LTA, Blane Dodds, Chief Executive of Tennis Scotland, Andrew Jefferson, Global Chief Financial Officer at Heriot-Watt University and Professor Mark Biggs, Vice-Principal and Provost of Heriot-Watt University as the diggers moved in to begin the works.
Campbell says the aim of the new courts is to encourage more people to pick up a racket, particularly from the local community as well as staff and students at Heriot-Watt University.
"We are delighted to be breaking ground on this high-profile project," he said.
"I would like to extend my thanks to our partners the LTA, sportscotland and Tennis Scotland for their continued support and investment. This tennis facility is another sign, alongside our high-profile partners and the development of our new academic programmes, that Heriot-Watt is an ambitious sporting university.
"Once opened, Oriam will be a destination for tennis for our students and local community but also nationally and we look forward to delivering this successful project in late summer 2023."
Delayed by two years due to the pandemic, the facility will adjoin Oriam's existing complex, which already boasts full size indoor and outdoor synthetic pitches, seven grass pitches, 12-court and four-court multi-sport halls, public and performance gyms, hydropool, physiotherapy clinic plus many more. Once completed, the new courts will increase Oriam's footprint by 4000 sq/m.
A number of new tennis coaching and support jobs will be created by the time the project is completed, bringing a welcome employment boost to the area. The addition of six new tennis courts also fulfils an obligation by Oriam to replace three tennis courts that were removed to make way for its arrival in 2016.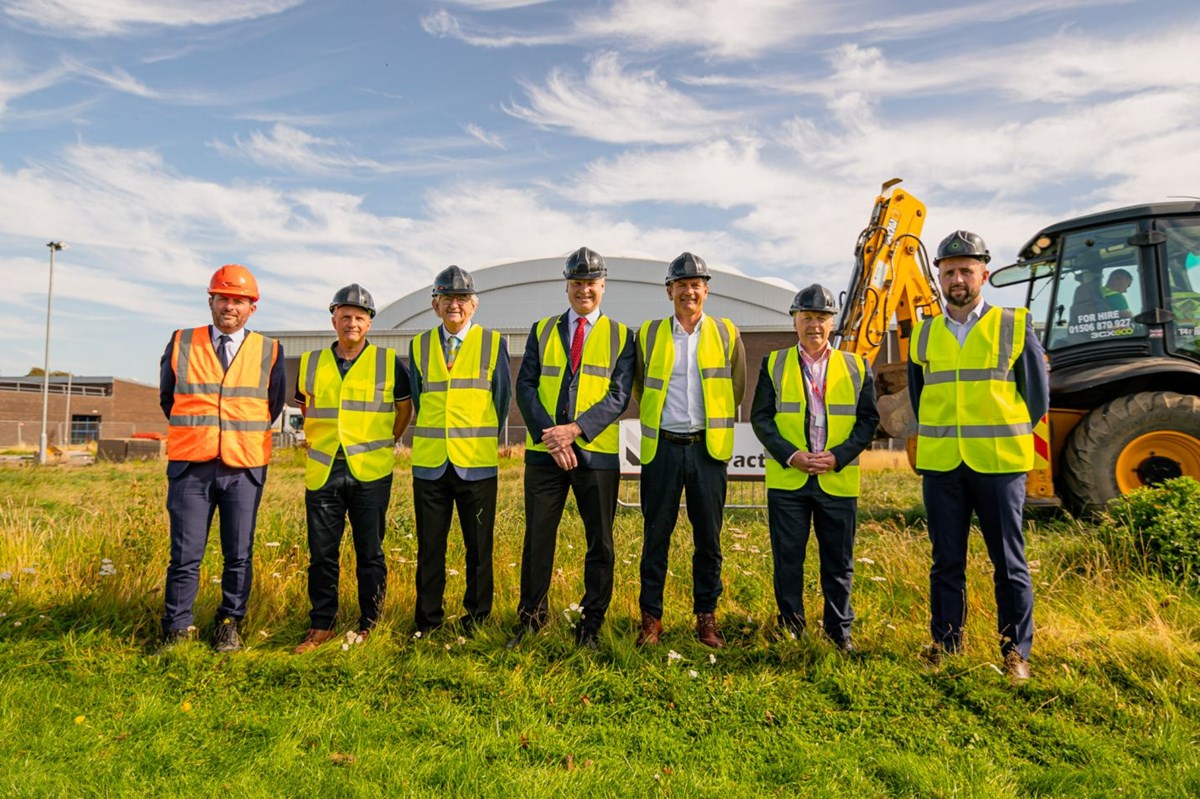 With the Davis Cup and Billie Jean King Cup Finals both being held in Scotland later this year, and growing demand to play the game at a grassroots level, through Tennis Scotland, the announcement of the new TSIT-funded indoor centre at Oriam comes at an opportune moment for the sport.
TSIT is designed to support innovative and creative projects to meet local demand and fill the geographical gaps in indoor tennis provision that currently exist across Scotland. At £15million TSIT is the largest capital investment programme in the sport's history in Scotland and the aim is to create more and better opportunities to play tennis all year round. The new centre at Oriam represents a significant commitment to delivering on that ambition by all the partners involved.
Mel Young MBE, Chair of sportscotland said: "This is not only a significant development for tennis but for the wider sporting system in Scotland. It is fantastic to see our partnership with Oriam and Heriot-Watt delivering additional world-class sporting facilities, building on Oriam's reputation as a place where community, student and performance sport can thrive together.
"These are exceptionally challenging times for everyone, and I must commend our partners for their continued commitment to delivering on our shared ambition to improve indoor tennis facilities across Scotland. This is not just about the bricks and mortar; it's about creating an environment where people can enjoy the sport of tennis and progress to whatever level they aspire to. That's a really exciting prospect and I look forward to seeing the progress of Oriam, Moray and other TSIT projects."
Scott Lloyd, Chief Executive of the LTA, said: "We are very pleased that work has begun on the site at Oriam. This continues the momentum from the project recently started at Moray Sports Centre, Elgin as we pursue our vision to open up tennis to many more people. The LTA remains committed to working with our partners in Scotland to increase the number of indoor courts across the country in the years to come."
Blane Dodds, Tennis Scotland Chief Executive, explained what this latest development would mean for the sport in Scotland. He said: "This is another significant milestone in our efforts to enhance the indoor tennis provision across Scotland via the Transforming Scottish Indoor Tennis fund.
"The new courts will ensure the East of Scotland has access to year-round tennis facilities which will ultimately increase opportunities for participation, competition as well as player and coach development.
"This is an important year for Scottish tennis as we prepare to host the Davis Cup and Billie Jean King Cup both of which will undoubtedly inspire many more people to take up the sport and facilities like this will ensure they have world-class facilities to play in."
Heriot-Watt University and Oriam recently launched a Sport and Exercise Science degree programme combining cutting edge teaching with world-leading sports facilities.
Professor Richard A. Williams, Principal and Vice-Chancellor at Heriot-Watt University said the arrival of the new tennis centre will enhance the intuition's fast-growing reputation in sport.
He added: "The commencement of construction on this exciting project is a landmark moment for Oriam and paves the way for the provision of world-class tennis facilities at our Edinburgh campus.
"Though enhancing the existing sports offering at Oriam and with the recent introduction of our dedicated sport-related academic programmes, this University can continue to build on its reputation as a destination of choice for students looking to fulfil their potential."
Developers, Clark Contracts, today moved into Oriam to break ground on the ambitious development.