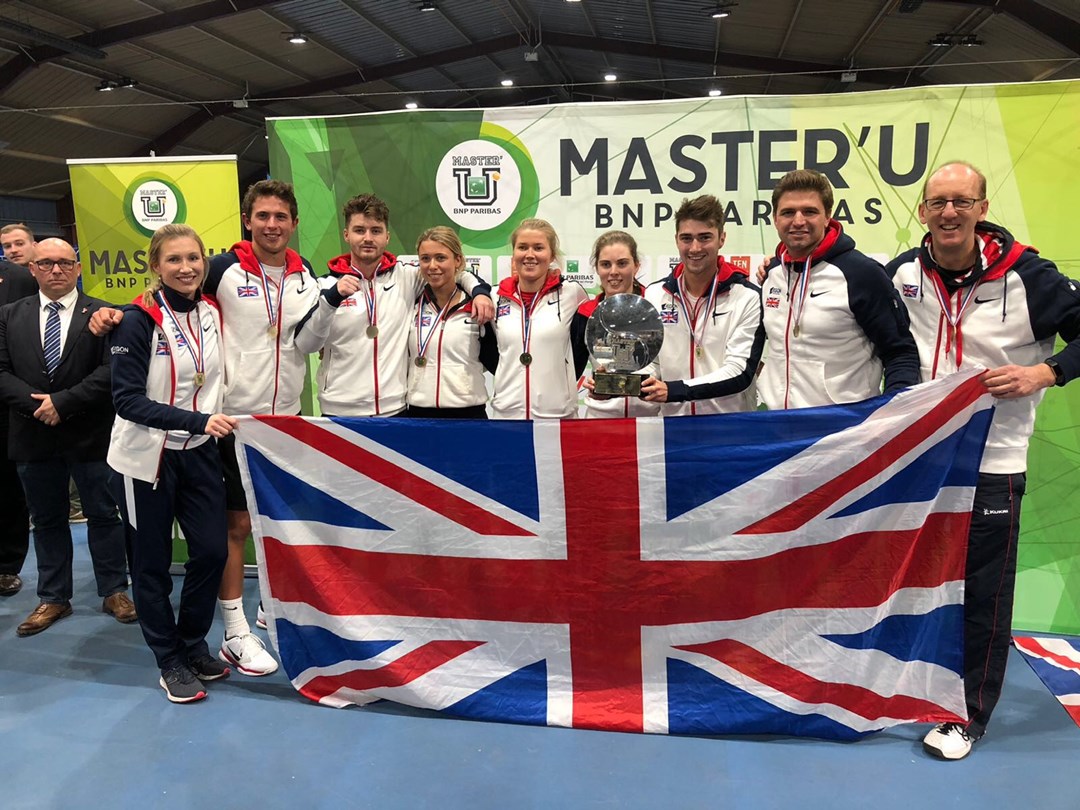 GB Teams
Great Britain win historic gold medal at world's biggest annual university tennis team event
• 3 MINUTE READ
Great Britain's University Tennis Team pulled off a historic win at the weekend by winning gold at the prestigious Master'U BNP Paribas Tournament in France. Captained by Universities Manager at the Tennis Foundation Alistair Higham, Team GB produced a stunning performance to beat the United States 4-2 in a thrilling final on Sunday.
Already guaranteed their best-ever finish at the world's biggest annual student tennis team event following an incredible 7-0 semi-final win over China, Britain began the week with a 6-1 win over Ireland, before going on to defeat long-standing champions the United States in an epic battle for victory. Supported by the Tennis Foundation, Great Britain's leading tennis charity who play a critical role from helping to generate the future tennis workforce right through to supporting the sharp end of performance, the GB squad is made up of six students from three different universities – University of Stirling, University of Bath and University of North Florida – with a mix of both experienced and debuting atheletes in the team.
The GB team comprised Scott Duncan, Jonny O'Mara and Maia Lumsden (University of Stirling), Emma Hurst and Pippa Horn (University of Bath) and Jack Findel-Hawkins (University of North Florida).
Alistair Higham, Universities Manager at the Tennis Foundation and Team Captain of the Great Britain Master'U team in France, said:
Sharing many of the responsibilities with Team Coach Barry Scollo from Bath and Team Sport Psychologist Julie Blackwood from Loughborough, Alistair and this 'team behind the team' have now won seven medals at major championships in the last three years, including a gold medal, two silver medals and a bronze at the World University Games in South Korea and Taiwan.
Echoing Alistair's excitement about the result, the University of Stirling's Maia Lumsden – who is also currently GB No. 1 said: "It's been an amazing few days with unforgettable moments on and off the court!", whilst University of Bath's Emma Hurst, supported by TASS, also commented: "The team support and positive energy created a great atmosphere to give us the basis for this win".
Jack Findel Hawkins, who currently plays tennis stateside at the University of Florida added: "It was an amazing event from start to finish. To be able to represent Great Britain alongside great teammates was a truly special experience. We were up against some great country's and really had to come together to get the win as a team."
Paul O'Leary, Senior Sports Manager (Performance) at BUCS added: "GB's success at the BNP Paribas event is great credit to the players, coaching staff and support team involved. It's evident the strength of competition at the event was very high, which makes the result all the more impressive. The support of the Tennis Foundation has played a huge role in the success, BUCS would like to thank them and congratulate all involved in the victory."
Ending a triumphiant year in style, the historic win not only calls for a celebration, but also serves as a reminder of all of the hard work and investment which goes on behind the scenes. As the season draws to a close, the GB squad can now look forward to a rest, before looking ahead to another successful year on court.
To find out more about the Tennis Foundation's work with universities, visit our university tennis page.