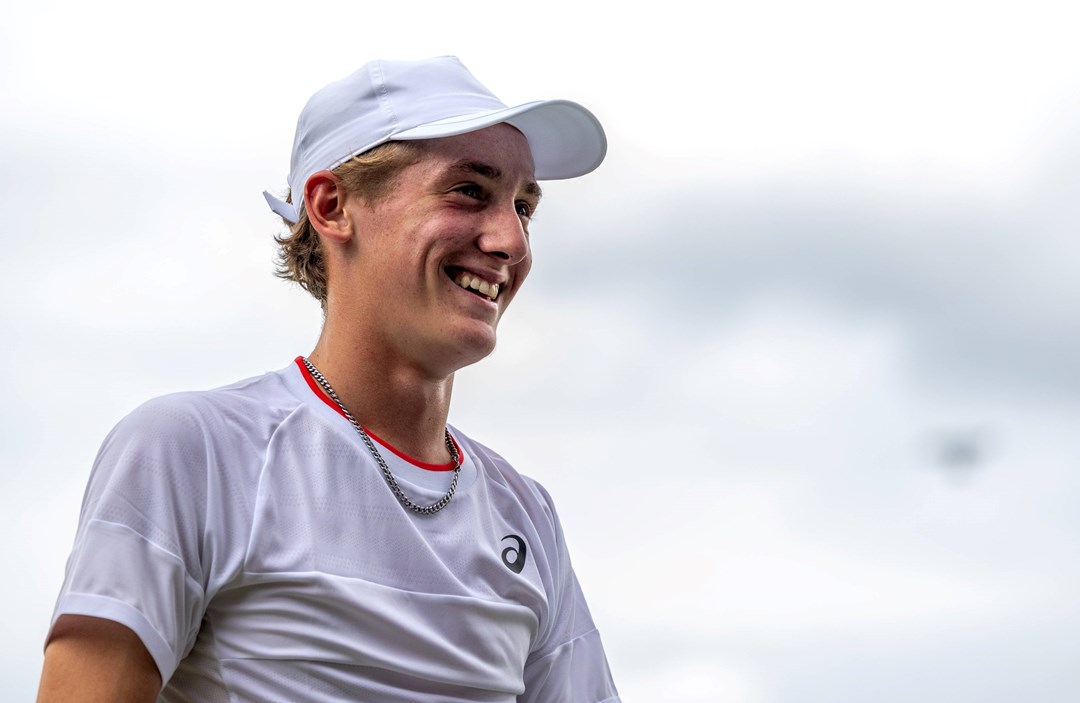 Grand Slam
Get to know Britain's 2023 Junior Wimbledon finalist, Henry Searle
• 5 MINUTE READ
17-year-old Henry Searle has become the 12th British player in history to reach the Boys' singles final at Wimbledon after a sensational week at the All England Lawn Tennis Club.
Searle joins a list of British finalists that includes the likes of Liam Broady (2011) and last year's ATP Next-Gen Finals star, Jack Draper (2018).
Having started his week with a win over top seed and world No.2 Juan Carlos Prado Angelo in the first round, the young Brit has gone from strength-to-strength. Boasting a huge serve and powerful driving groundstrokes off both sides, he has already defeated three players inside the world's top 10 this week to set up a final on Sunday against Yaroslav Demin.
Henry Searle bio
Date of birth: 29/03/2006
Place of birth: Wolverhampton
Height: 6ft 4
Trains at: Loughborough National Academy
Favourite surface: Hard court
Favourite shot: Serve
Ahead of the final, find out more about Britain's rising star – where his journey began, his successes to date and his impressive run at Wimbledon this year.
Tennis journey and training in Loughborough
Like many, Searle's tennis story started at his local courts where he picked up a racket for the first time. Despite no one in his family having played tennis before, Searle – a naturally sport child and big Wolverhampton football fan – had a burning love for the game from a young age.
"I started playing tennis at the age of three at my local tennis club, Newbridge Tennis Club," Searle said. "I was taken away with any sport at that age and just enjoyed playing anything. I always loved picking up a racket but it was a few years later that I really started to love it so I stopped playing football at the age of 11 and pursued tennis full time."
At the age of 12, Searle spent nine months at the Mouratoglou Tennis Academy, where he was able to work on his skills in the presence of some of the best players in the world – including the then rising star and now world No.6, Holger Rune.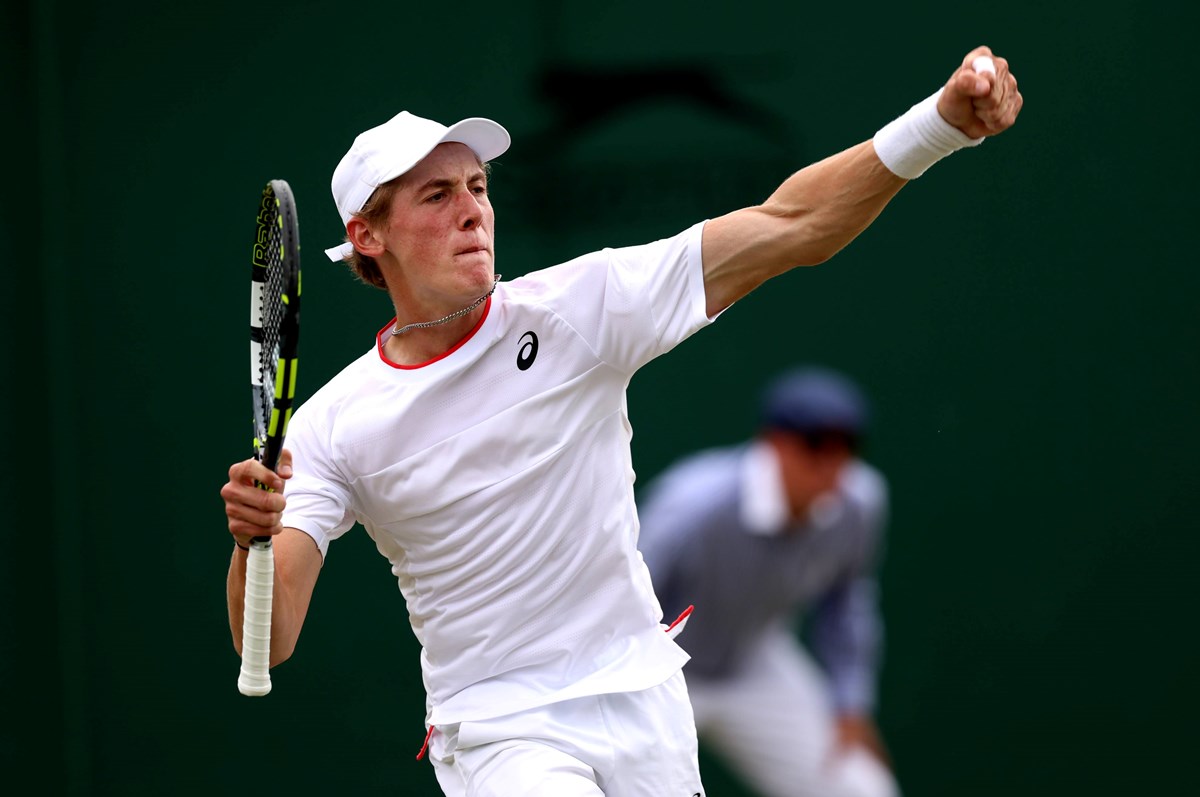 It was after that that he was inducted into the LTA National Tennis Academy at Loughborough University – one of two academies in Great Britain designed to help players aged 13-18 take their game to the next level through top training and ongoing support from expert coaches.
At the Loughborough University National Tennis Academy, Searle has been the beneficiary of playing in a pro-style environment under the watchful eye of his coach Morgan Phillips and the rest of the team of world-class coaches, sports scientists and personal development and welfare practitioners.
Since joining the academy, Searle has reached a career-high at world No.25 in the ITF Junior World Rankings, with that set to rise again following his incredible run at Wimbledon.
Junior career highlights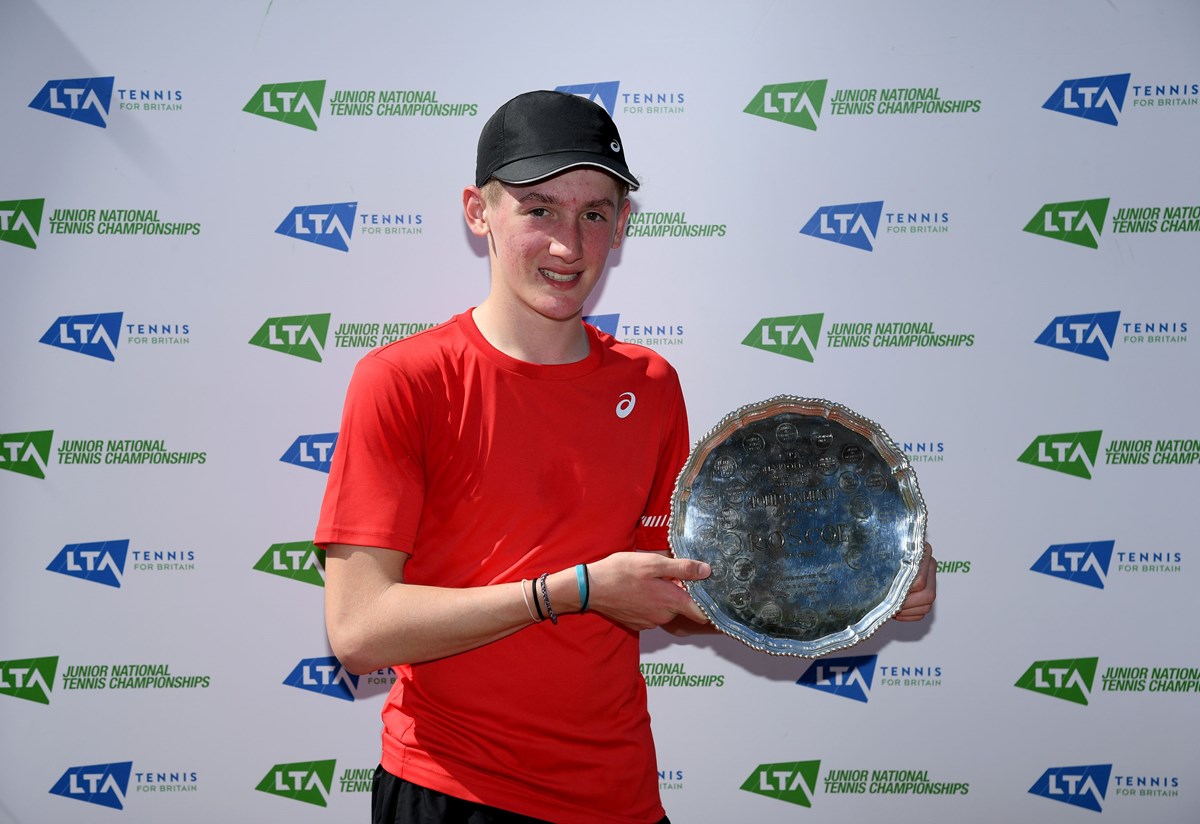 In 2022, Searle won the 16U LTA Junior National Championships having seen off Viktor Frydrych in the final, just a week after losing out to him in the 18U event. This would be one of six successes for the Brit that year as he went on to win his first two Junior ITF singles titles in Loughborough as well as three J3 doubles events.
He also played a key role in the Great Britain Junior Davis Cup team, who qualified for the Finals in Turkey, where they eventually finished 11th out of 16 teams.
This year, Searle has taken his game to a new level. The 17-year-old has already captured three ITF Juniors titles in 2023 – winning both the singles and doubles events at the J200 Aldershot, as well as a doubles crown at the J300 in San Jose. The Loughborough University National Academy scholar also finished runner-up in the 18U Boys' doubles at the Junior National Championships in April.
However, it's the Grand Slams where Searle has shone brightest in recent months. In June, he made the quarter-finals at Roland Garros on his debut before bowing out to eventual champion Dino Prizmic 7-6(3), 6-3. Fast forward to July and he's now in the final of Junior Wimbledon and also made the quarter-finals of the Boys' doubles as well.
Tennis idols
Like many young players of his age, who have grown up in an era of dominance from the aptly named 'Big Three', Searle has always been a huge admirer of the 22-time Grand Slam champion, Rafael Nadal.
But closer to home, Searle has recently managed to spend time with a few of the British stars and has looked to take elements from their game and process to form part of his own.
"I know Ryan Peniston quite well," Searle said. "I've trained with him a fair bit. He's a great guy, he's very disciplined and hard working which is something I've taken from him.
"I remember watching bits of Jack's (Draper) final in 2018 – I like to think he plays pretty similar to myself so I take a few things from him that I've tried to implement into my game as well."
Searle's route to the final
First round: beat Juan Carlos Prado Angelo (BOL, world No.2, seeded No.1) 7-6(6), 6-3
Second round: beat Manas Dhamne (IND, world No.78) 6-1, 6-4
Third round: beat Arthur Gea (FRA, world No.20) 6-4, 6-2
Quarter-final: beat Joao Fonseca (BRA, world No.8, seeded No.8) 7-6(2), 6-3
Semi-final: vs Cooper Williams (USA, world No.4, seeded No.6) 7-6(4), 6-3
The home support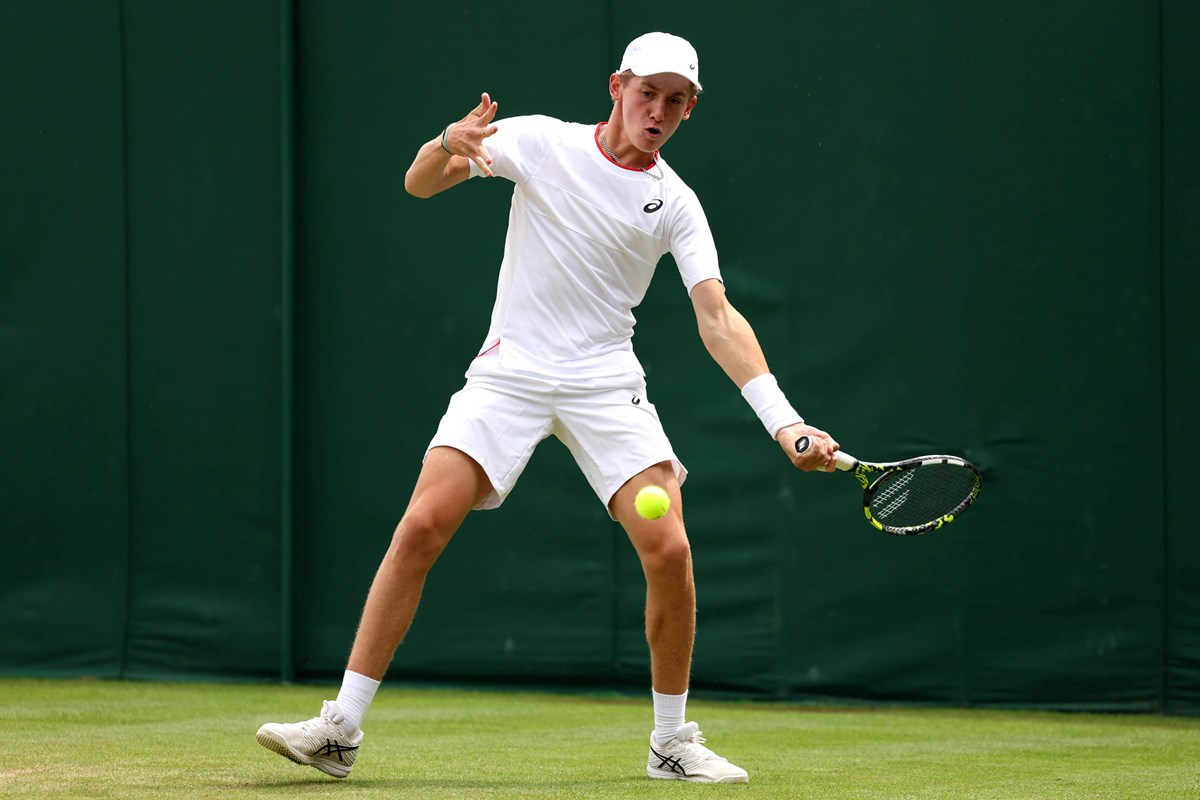 One of the biggest benefits for any British player competing at Wimbledon in any draw, is the home fans.
If there's one thing the British are good at, it's getting behind their own and Searle has certainly felt the love from the crowd this week and has taken great energy from some of his nearest and dearest in the stands.
"It's great knowing I have so much support from home and family and friends," he said. "I don't think there are many other players here that have that sort of environment. It's definitely pushing me through.
"I've got my Mum, my brother and then about 10 to 15 people from my local tennis club. They're all avid Wolves supporters so they are used to a good crowd!"
The Wimbledon experience
While it's been a month of many firsts for the young Brit, he's been sure to take it all in and appreciate the work that has got him to this point.
"It's a dream from a young age to win at Wimbledon and to have gotten a few this week is pretty amazing," Searle commented.
"It's definitely given me confidence playing against the top juniors at this level and going into any match knowing that I can play against any player on the other side of the net and playing my best I can come out on top.
"I've been working really hard the past few years and now it's really starting to come together."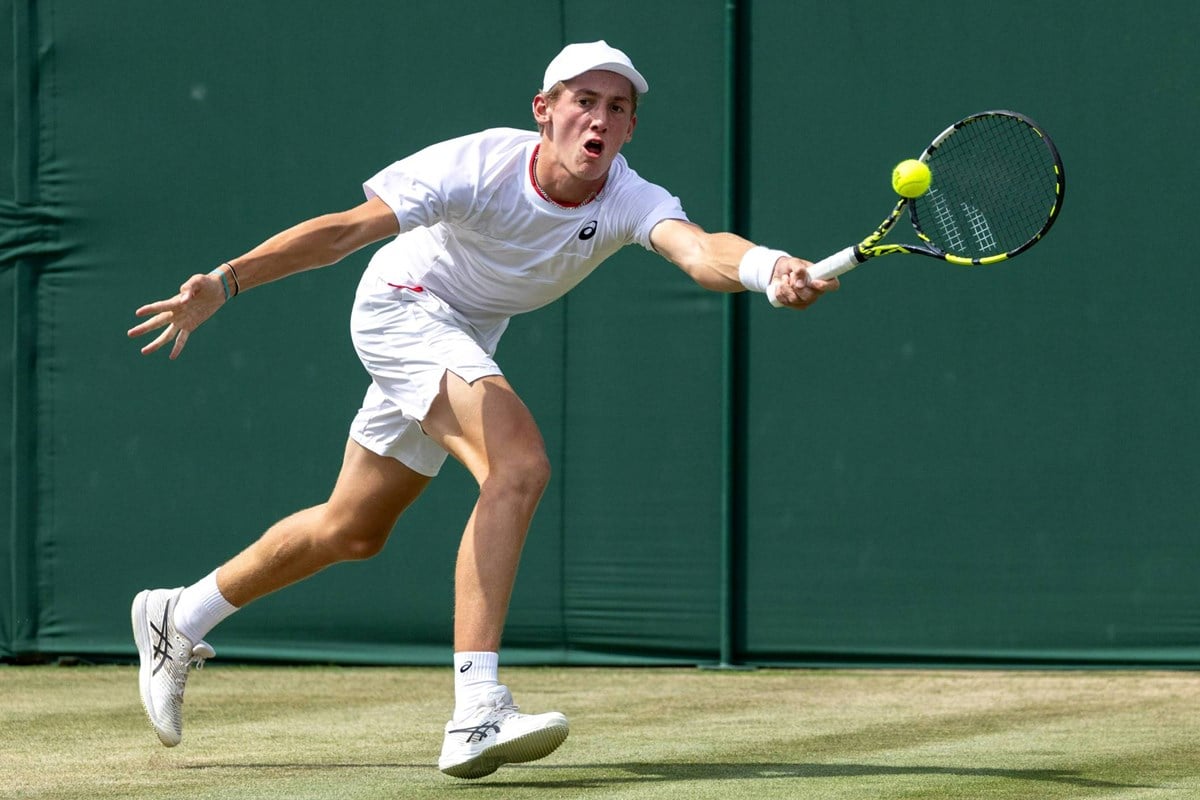 Off court

While on the court Searle is this big-serving, attacking baseliner who loves to attack – off court he spends his time studying at Loughborough Amherst School, where he's currently doing A-Levels in Psychology and History.
If he's not on the court or in the classroom, sports-mad Searle will be found cheering on his favourite football team – Wolverhampton Wanderers – or out on the golf course.