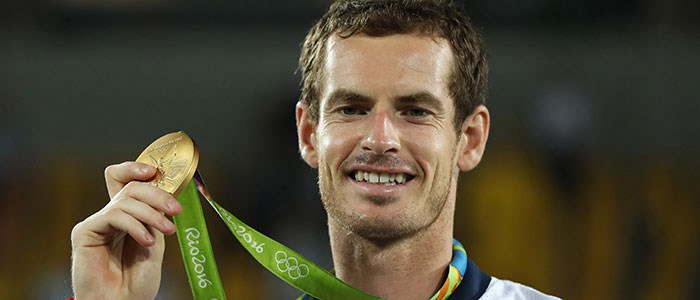 GB Teams
Emotional Andy Murray reflects on historic second Olympic gold
• 3 MINUTE READ
Andy Murray continued his golden summer last night by beating Juan Martin del Potro to claim Olympic gold at Rio 2016.
After the four hour epic finished 7-5, 4-6, 6-2, 7-5 in Murray's favour, the British No.1 hit his way into the record books by becoming the first player to ever win two Olympic singles titles having memorably won in London four years ago.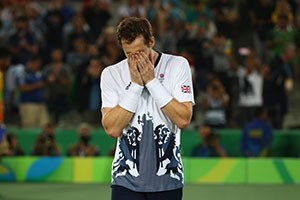 Those who stayed up and witnessed history in the making were in for a memorable match, with the fit again Del Potro showing all the form which took him to the US Open title in 2009.
After picking up the medal alongside the Argentine and Kei Nishikori, Murray said: "It means a lot, getting to carry the flag was amazing. I found that quite emotional and had to regroup and get my mind back.
"To finish it like that, I was emotional at the end as well and very happy. It's amazing Juan Martin has come back to this level and he deserves a lot of credit because it's not an easy thing to do.
"I don't know if this is my biggest achievement, tonight is one of the hardest I've had to play for a big title. Physically this was hard with so many ups and downs, and mentally. I am very tired.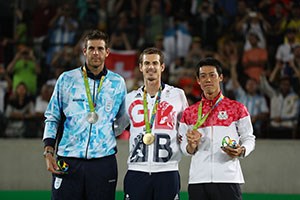 "Four years is a long time and so many things can change. Who knows about Tokyo? At 33, I'm not sure I'll be at the same level."
In front of a raucous atmosphere, Murray served first on the extraordinary Sunday for British sport and broke three times on his way to clinching a tight first set with a booming backhand down the line.
Del Potro broke in the first game of the second and levelled the match with some brutal and incredible hitting from the back of the court off the forehand side.
The Wimbledon winner regrouped in the third and broke twice to nudge back into the lead before a titanic fourth set was played out under the lights.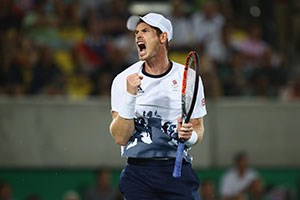 Del Potro, who knocked out Novak Djokovic and won a marathon against Rafael Nadal on Saturday, was gasping for air at the end of each rally but continued to bludgeon the ball at every opportunity.
He engineered a 5-3 lead and served for the set at 5-4 before Murray fought back to win the next four games and seal the gold after a match which left both gladiators in tears on the bench.
It was the 15th gold medal of the Olympics for Great Britain but there is no rest for Murray as he flew straight to America to start preparation for the Cincinnati Masters!