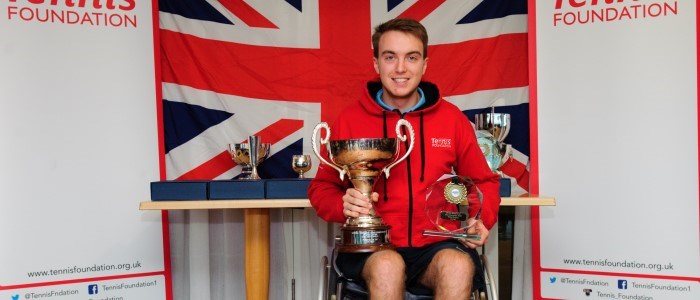 National
Bailey, Jones and Shaw clinch National titles
• 4 MINUTE READ
Dermot Bailey, Lauren Jones and James Shaw were crowned men, women's and quad singles champions at the 2015 National Wheelchair Tennis Championships at Oxstalls Sports Park.
Meanwhile, Pim Palmen earned victory in the men's singles in the National Development Series Finals for the second successive year in Gloucester.
In a five-way round-robin competition in the men's singles Northamptonshire's Bailey eased through his four matches for the loss of just two games. After beating Lancashire's Tony Knappett 6-0, 6 -0, Bailey and Knappett met for a second time in the final after Knappett dropped just one set in his round-robin matches, to Scot Keith Thom, to finish second in the group phase of the competition.
Bailey earned a 6-0, 6-1 win over Knappett in the final to claim his first men's singles National title and then made it a brace of National titles as he partnered Scott Smith to beat Knappett and Thom 6-2, 6-3.
There was early success in the women's singles for local Gloucestershire player Charlotte Fairbank, who beat third seed and 2014 Development Series Finals winner Sarah Gaisford 3-6, 6-2, 6-4 to reach the semi-finals. However, with the top two seeds going on to reach the final Sussex's former world No.1 junior Lauren Jones got the better of current world No.4 ranked junior Luz Esperanza Merry 4-6, 6-4, 6-0 to win her first women's singles National title.
Jones also won her second women's doubles National title after partnering Merry to a 6-1, 6-2 win over Helen Bond and Val Fisher in the title decider.
The trend of first-time National champions continued in the quad singles as Nottinghamshire's Shaw progressed from the round-robin phase of the competition alongside Essex's Richard Green, with Green having topped the group stage following a thrilling 6-7(4), 7-6(5), 6-4 win over Shaw. Another fascinating match-up in the final between two of the players who are part of the Tennis Foundation's Wheelchair Tennis World Class Performance Programme saw the Shaw and Green split sets again and with a deciding match tie-break coming in to play this time Shaw just had the edge to prevail 6-4, 4-6, (10-3).
Experience won the day in the quad doubles title decider as Shaw added his second title of the championships and his second National doubles title in successive years when he partnered Green to a 6-1, 6-1 win over Ashley Davis and Darren Mitchell.
Edinburgh's Ruairi Logan also ended the National Championships with a brace of titles in the junior singles and junior doubles. Logan dropped a total of just one game across his three round-robin matches in the junior singles, that game coming in a 6-1, 6-0 win over eventual runners-up Ben Johnson-Rolfe. Johnson-Rolfe's secured runners-up honours after edging a deciding match tie-break against George Jeremiah.
The junior doubles produced another close contest as Logan and Johnson-Rolfe earned a 6-4, 7-6(2) win over Jeremiah and Nat Lowe-Cordingley.
The biggest competition draw was the National Development Series Finals men's singles, contested by players who had played in at last one of the nine Development Series tournaments held across the country earlier in the year.
Surrey's Greg Shea, runner-up in 2013, reached the final once again after beating third seed Geoff Ellis in straight sets in the quarter-finals and then earning a hard-won 7-6(3), 6-4 victory over top seed Steve Crompton in the semi-finals.
Palmen also beat seeded opposition, defeating fourth seed John Lambert 6-2, 6-2 in the last eight before his second 6-1, 6-2 win of the weekend saw Palmen through to the final to face Shea. Palmen continued his fine form in the title decider as he sealed a repeat win in the National Development Series Finals 6-1, 6-3.
The National Development Series Finals men's doubles title went to the West Midlands duo of Lambert and Mehboob Hussain, who came through a first set tie-break to beat Steve Metcalfe and Palmen 7-6(3), 6-1 in the semi-finals. Lambert and Hussain edged a much closer conclusion to the final, beating Crompton and Ellis 4-6, 6-1, (10-4).
Bailey ended a memorable tournament with a third title in the Open Doubles, contested by mixed teams of players competing in the National Championships and those entered for the National Development Series Finals.
Bailey partnered Metcalfe to three comfortable victories as they dropped a total of just three games, culminating in a 6-1 win over Green and Palmen in the final.
During the weekend a series of National Wheelchair Tennis Awards were presented, including Players' Player of the Year, which went to Josh Cooper, a member of Great Britain's junior World Team Cup Team and two-time medallist at the Sainsbury's School Games.
Tournament of the Year was once again awarded to the Shrewsbury Open, while a Special Recognition Award was presented to Tony Knappett, who works tirelessly to promote wheelchair tennis and encourage more players to take up the sport during Development Series events and at camps and clinics around the country. Tony was also involvied in maknig wheelchair tennis a great success at the Sainsbury's School Games, where the sport made its debut in 2015 and Tony was England Team Captain.
The awards were also presented to the players who accumulated most points across the tournaments on the Tennis Foundation Wheelchair Tennis Development Series in 2015.