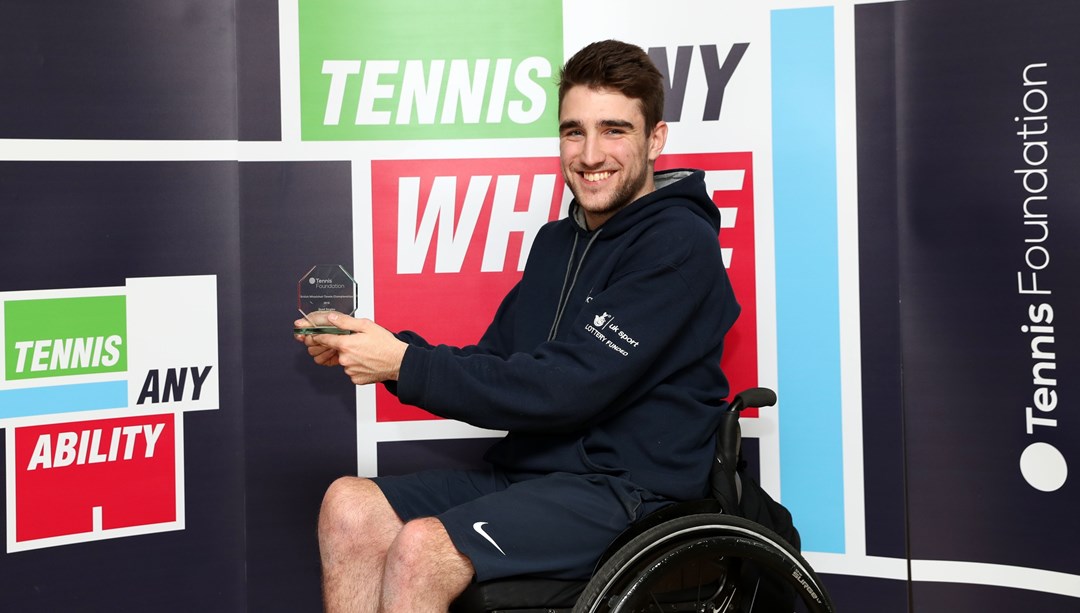 National
Phillipson, Jones and Shaw crowned National Wheelchair Tennis Champions
• 3 MINUTE READ
Dave Phillipson, Lauren Jones and James Shaw were crowned men's, women's and quad national champions,  respectively, as play came to a close on the final day of the National Wheelchair Tennis Championships at Oxstalls Sports Park, Gloucester.
Phillipson and Dermot Bailey had both come through their semi-finals with ease to set up an intriguing clash for the men's National title. It was Phillipson, however, who came out on top with a 6-2, 6-3 victory over 2015 National Champion Bailey.
"I'm really pleased to win the title and be National Champion," said Phillipson. "At the end of a long, tough season it's great to finish on a high."
Phillipson added the doubles title to his singles crown as he teamed up with Antony Cotterill to defeat Bailey and Kevin Simpson 6-2, 6-0.
2015 women's champion Jones, currently world ranked 35 in singles, had too much for Caroline MacDonald as she powered to the National title 6-3, 6-3, clinching the victory with an ace.
Jones made it a double for the second year in a row in Gloucester as she also clinched the women's doubles title, teaming up with Jessie Webb to defeat Sarah Gaisford and MacDonald 6-1, 6-2.
"I'm really pleased to end the weekend with two national titles," said Jones. "The doubles was unexpected as it's Jessie's first tournament, so it's a nice surprise. It was a new position for me to be the leader on court but I think she learnt a lot and I enjoyed it."
In the quad division it was Shaw who successfully retained his National title after defeating Cotterill in a winner-takes-all round robin match yesterday. Shaw had too much for Rio Paralympian Cotterill as he took the win and the title 6-2, 6-2.
"I'm really chuffed to defend my national title," said Shaw. "I knew Ant was beatable, having seen Richard (Green) come so close to beating him earlier in the day, but in a way this also put a bit more pressure on me. I was a bit nervous but I'm really pleased with how I played. I've had a great 2016 and am looking forward to 2017."
In the quad doubles Cotterill and Green denied Shaw a title double as they defeated the singles champion and his doubles partner Gary Cox 6-2, 6-3 to take the victory.
In the National Series final, the culmination of a year's worth of competition for players in the Tennis Foundation National Series of tournaments across the country, Pim Palmen successfully defended his title, defeating Mark Langeveld without losing a game. Palmen had earlier battled through his semi-final, beating 14-year-old Ruairi Logan 10-8 in their match tiebreak.
Logan was crowned boys' Division 1 champion after successfully coming through his round robin matches without defeat. To conclude a busy weekend of junior competition Abbie Breakwell was crowned champion in the Orange Ball event after defeating Megan Bradley in the final, whilst Dannon Ward took the boys' Division 2 title, beating Daniel May 4-0, 4-1.
With 103 matches completed in three days, it was down to the National Series doubles final to bring the curtain dwn on the National Championships. Ruairi Logan and Keith Thom took the honours, defeating Steve Metcalfe and Palmen 6-2, 6-4.