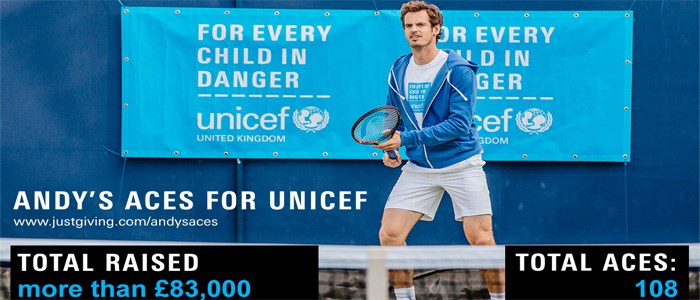 Fan
Andy's Aces raises amazing £83,000 to help Unicef protect Syria's children
• 2 MINUTE READ
British No.1 Andy Murray has raised an incredible total of more than £83,000 for Unicef, the world's leading children's organisation, through his Andy's Aces initiative.
In September 2015 Andy, who was crowned BBC Sports Personality of the Year in December, announced that for every ace he hit until the end of the year, he would donate £50 to Unicef to support their work to help children whose worlds have been turned upside down by the conflict in Syria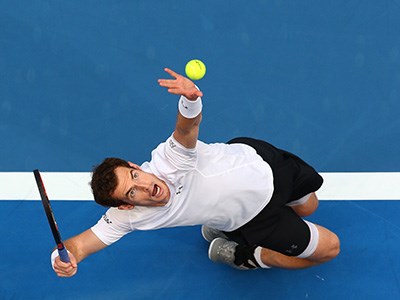 As well as asking his fans to donate to support the initiative, Andy's sponsors Standard Life and Under Armour, along with the Lawn Tennis Association (LTA) and The Association of Tennis Professionals (ATP) vowed to match each donation Andy made, meaning every ace raised £250 for children in danger. Additional funds were also raised through the Tie Break Tens tournament, Standard Life employee fundraising and the ATP ACES for Charity programme donated £10,120 ($15,000) to the total. From 29th October 2015, all UK public donations were aid matched by the UK Government.
The total of over £83,000 could provide over 15,000 children with blankets to help keep them safe and warm.
Unicef UK Supporter, Murray,explained: "I remember watching the news last summer and deciding I wanted to do something to help some of the millions of children whose lives have turned upside down by the situation in Syria.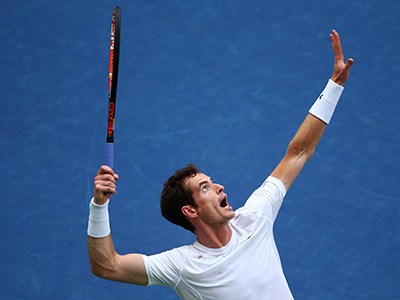 "It's amazing that we've been able to raise so much, and I'm very grateful to my sponsors and fans for their help in this – I couldn't have done it without them. I know how hard Unicef are working to support these children, and millions of others around the world and I'm proud to have been able to help."
Unicef UK Executive Director, David Bull, said: "All of us here at Unicef UK are incredibly grateful to Andy for his continued support. Almost five years into the conflict, Syria remains one of the most dangerous places to be a child and millions of children have lost loved ones, homes and schools.
"Their world has been turned upside down by the conflict and humanitarian needs are becoming ever more urgent. The support of Andy, his fans and the wider tennis community will help us provide support for children who have lost so much."