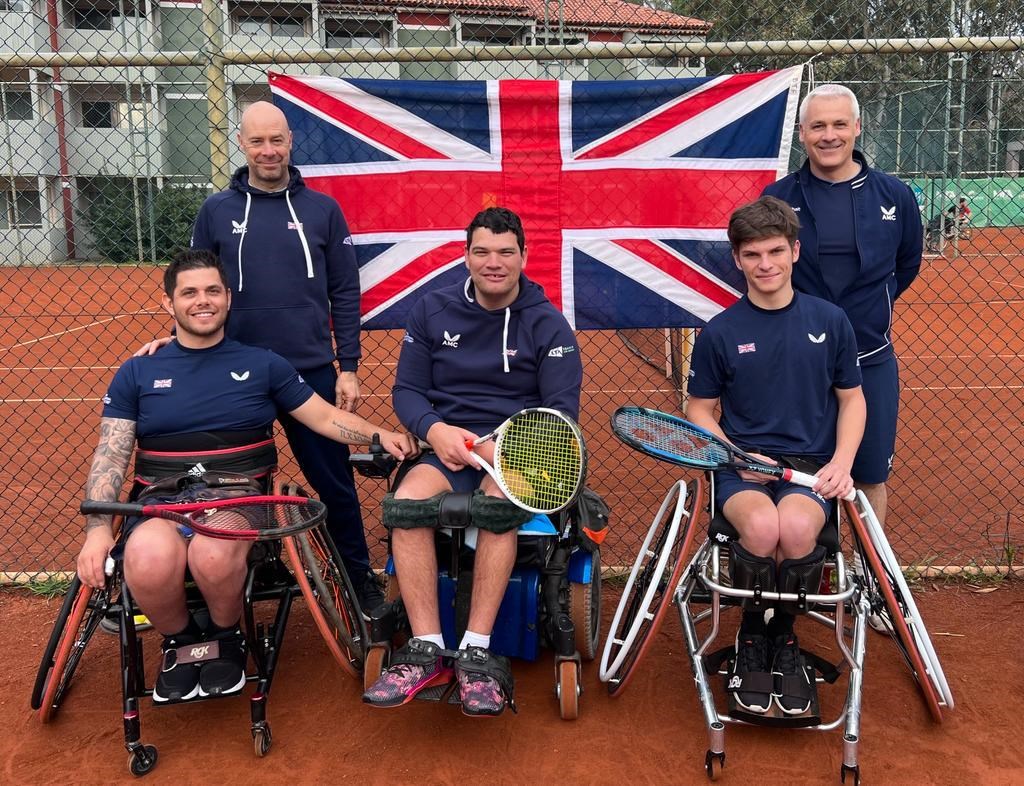 GB Teams
BNP Paribas World Team Cup 2023 Qualifiers: Results & updates
• 2 MINUTE READ
Stay up-to-date on the latest results from the BNP Paribas World Team Cup Qualifiers in Antalya as the Great Britain quad team aim to reach this year's finals.
Highlights
Great Britian quad team knocked out of qualifiers in round robin group
Result: Great Britain 0-3 Italy
Result: Great Britain 0-3 Turkey
Result: Great Britain 1-2 Germany
Day three: The Brits finish qualifying with loss to Italy
Great Britain's quad wheelchair team finished their journey in 2023 BNP Paribas World Team Cup Qualifiers with a 3-0 loss against Italy.
The Brits exit this year's competition having also lost to Turkey and Germany in their previous matches in the round robin group.
New LTA Colour Holder Gary Cox won his first set as a Great Britain player today, joining Richard Green in producing two absorbing three-set singles matches as Great Britain's World Team Cup European Qualification campaign.
Cox, who made his Great Britain debut in Thursday's second of three round-robin ties against eventual Qualification group winners Turkey, made a confident start to the third day of play in Antalya and took the opening set against Italy's world No.40 Mario Alfredo Naselli. However, the world No.59 was not able to retain the advantage and Naselli ultimately sealed a 2-6, 6-4, 6-4 win.
Green's only previous match against Italy's Alberto Saja ended in a final set tie-break when they met at last month's Bolton Indoor ITF 3 tournament. World No.31 Green fought back in another battling performance against the world No.29 but Saja finished the stronger to prevail 7-6(4), 3-6, 6-0 and guarantee Italy the win.
Cox then teamed up with Greg Slade for the doubles tie against Naselli and Saja. Despite the Brits fighting back from a one set deficit to clinch the second set, it was the Italians who came out on top in the decisive match tie-break to claim a 6-2, 7-6(5), (11-9) victory.
Great Britain's quad wheelchair tennis team kicked off their BNP Paribas World Team Cup European Qualification campaign with a narrow 2-1 defeat by Germany.
Today marked the beginning of the Great Britain's quad team's bid to reach the World Team Cup World Group. The quad team will need to win their qualification event this year if they are to join the Great Britain men's, women and junior teams in Portugal in May.
It was Richard Green who got Great Britain off to a winning start in his singles rubber against world No.41 Maximilian Laudan. The world No.31 – who made his debut for Great Britain at the World Team Cup World Group event last year – marked a vital point on the board for his country, overcoming Laudan 6-4, 6-4.
Hoping to follow the success of his compatriot, 20-year-old Greg Slade then faced Maximilian Laudan's twin brother, Marcus Laudan in the second singles rubber. Slade has been in fine form so far this year, having reached his first ITF 2 quad singles final at the Bolton Indoor tournament in February, as well as finishing runner up in the quad doubles event.
Despite this, it wasn't meant to be for Slade today, who lost out to Marcus Laudan 6-4, 6-4 to see Germany level the scoreboard.
Green and Slade then teamed up to face the Laudan twins in the decisive doubles rubber, where the Brits just lost out in the match tie-break 6-2, 4-6, (10-6).
With hopes of qualifying still very much alive, Great Britain will now go on to face Turkey tomorrow, before playing Italy later in the week.
The second day of the BNP Paribas World Team Cup European Qualification saw Great Britain's quad wheelchair tennis team face host nation, Turkey.
Gary Cox kicked off proceedings for the Brits in what was his debut appearance for Great Britain. The world No.53 was selected to make his debut in Antalya following the best season of his career in 2022 and played his first match for his country against 21-year-old world No.52, Ahmet Kaplan of Turkey.
With only one spot separating the two players in the current quad singles rankings, the Turkish No.2 outfoxed Cox – powering past the Brit 6-0, 6-1 to give Turkey the early advantage in the tie. Despite the loss, today marks a memorable day for Cox, who will officially earn his LTA Colour Holder status.
In the second singles rubber of the tie, Richard Green faced world No.12 Ugur Altinel. Following on from his straight-sets win against Germany's Maximilian Laudan yesterday, Green was hoping to level up the scoreboard for Great Britain but unfortunately lost out 6-0, 6-1 against Altinel.
The final rubber of the tie saw Cox and Green team up for the doubles match against Kaplan and Faith Karatas. Despite putting up a strong fight, it was the Turkish duo who came out on top – edging the Brits 6-3, 7-5 to see Turkey secure the tie 3-0.
Having lost their ties against both Germany and Turkey, Great Britain's hopes of qualifying for the World Team Cup World Group have now come to an end, but they are set for one final tie against Italy on Friday.