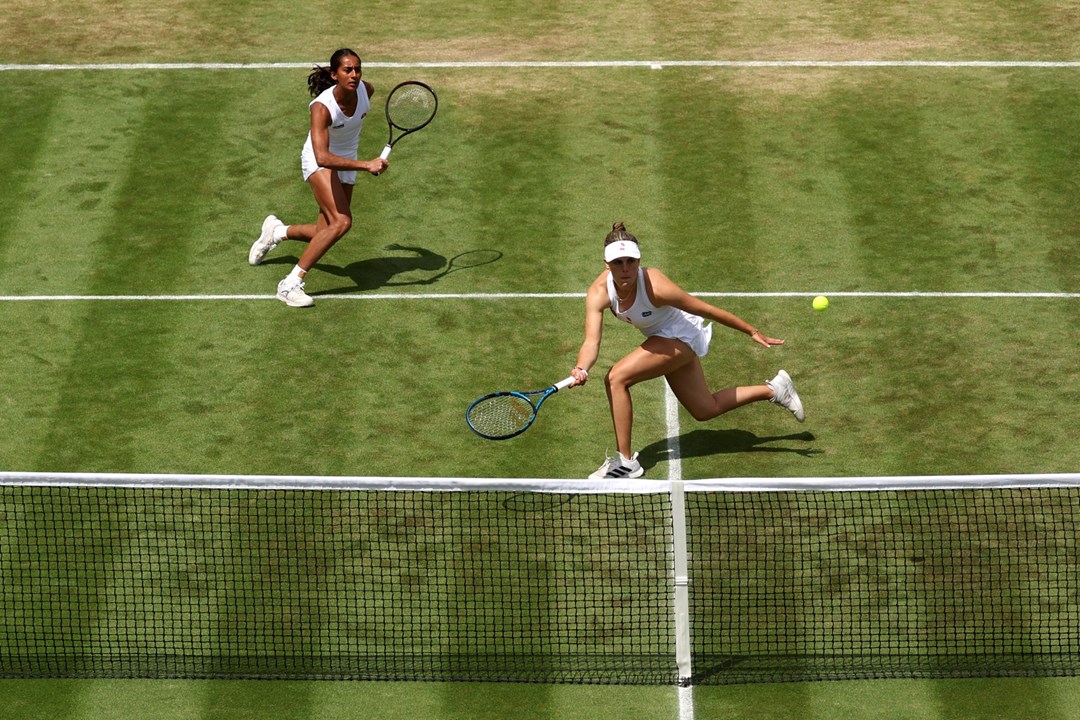 Grand Slam
Wimbledon 2023: Maia Lumsden & Naiktha Bains break new ground as they head for quarter-finals
• 3 MINUTE READ
Britain's Naiktha Bains and Maia Lumsden became the first British women's doubles pair to reach the quarter-finals of The Championships since 1983 after dispatching Slovakia's Viktoria Hruncakova and Tereza Mihalikova 6-3, 6-7(5), 6-3.
Bains and Lumsden put on a stellar performance to claim the opening set and an early break in the second, but a fiery comeback from the Slovakians saw them edge the tiebreak, briefly dimming the hopes of the home favourites.
"It was tough," said Lumsden. "It was a long match obviously and we were a set and a break up and then the tie-break, I feel like we got quite unlucky at the start and then made it up with quite a big lead."
Yet, after defending an impressive four break points to keep a firm hold of their lead at 4-2 in the deciding set, the Wimbledon wild cards were cheered on to victory on Court 18, putting away their third match point to book their place in their first-ever Grand Slam quarter-final.
"We were confident going into the third," added Bains. "It was just a matter of taking care of what we know we can do and then hoping the result was going to go our way in the end.
Lumsden continued, "the energy we were getting was for sure helping us because we were trying to fire ourselves up as much as we could and try and use the crowd. In the tough moments when they're making a lot of noise it's such a good feeling for us."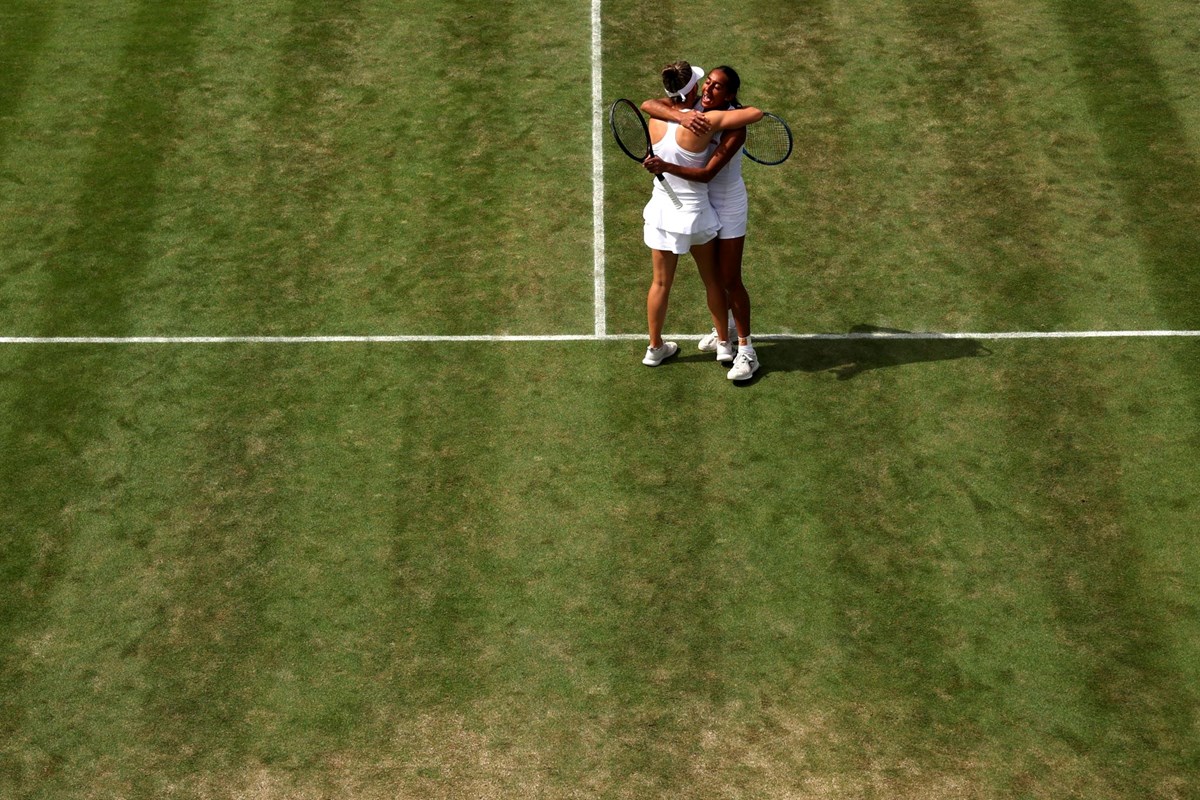 Their win today is the third in a strong run so far, ousting the 11th seeds, Anna Danilina and Yifan Xu, in the opening round before defeating the experienced pairing of Magda Linette and Bernarda Pera.
"Getting through these matches has obviously given us a lot of confidence," said Bains. "The 11th seeds in the first round, and some highly ranked singles players yesterday.
"Each day we're growing in confidence and we'll see where it takes us."
Both players have leaped through the doubles rankings in recent years, with Bains jumping 116 places since the end of the 2021 season, and Lumsden a breathtaking 737.
The two 25-year-olds have also won four ITF-level double titles each this season, three of which have come together. However, they are yet to claim their first WTA title.
"We're definitely at a bit of a different level now to the titles we've won just a few months back but this is where we want to be," said Bains. "To be here, playing at this level already and being in the quarter-finals, we're loving it. We love the grass so we're thriving"
For Lumsden, reaching the quarter-finals of a Grand Slam seemed a distant dream just 18 months ago, with her diagnosis of long COVID jeopardizing her future in the game.
"During that time, I didn't think I was going to get back playing sports," explained Lumsden "That was a year where I couldn't do any exercise so I never thought I'd get back to playing professionally, so it's unbelievable that I have got back to it and I'm very grateful."
Back and better than ever, the pair revealed their secret to success.
"I think it comes through being best mates off the court and our relationship," said Bains. "We just love being on court with each other from the very first moment we started playing together. The main thing that stood out was our enjoyment playing together."
The British duo will either face third seeds Elise Mertens and Storm Hunter or Miriam Kolodziejova and Marketa Vondrousova in the quarter-finals as they bid to make the final four at Wimbledon.