Sustainability at our events
3 MINUTE READ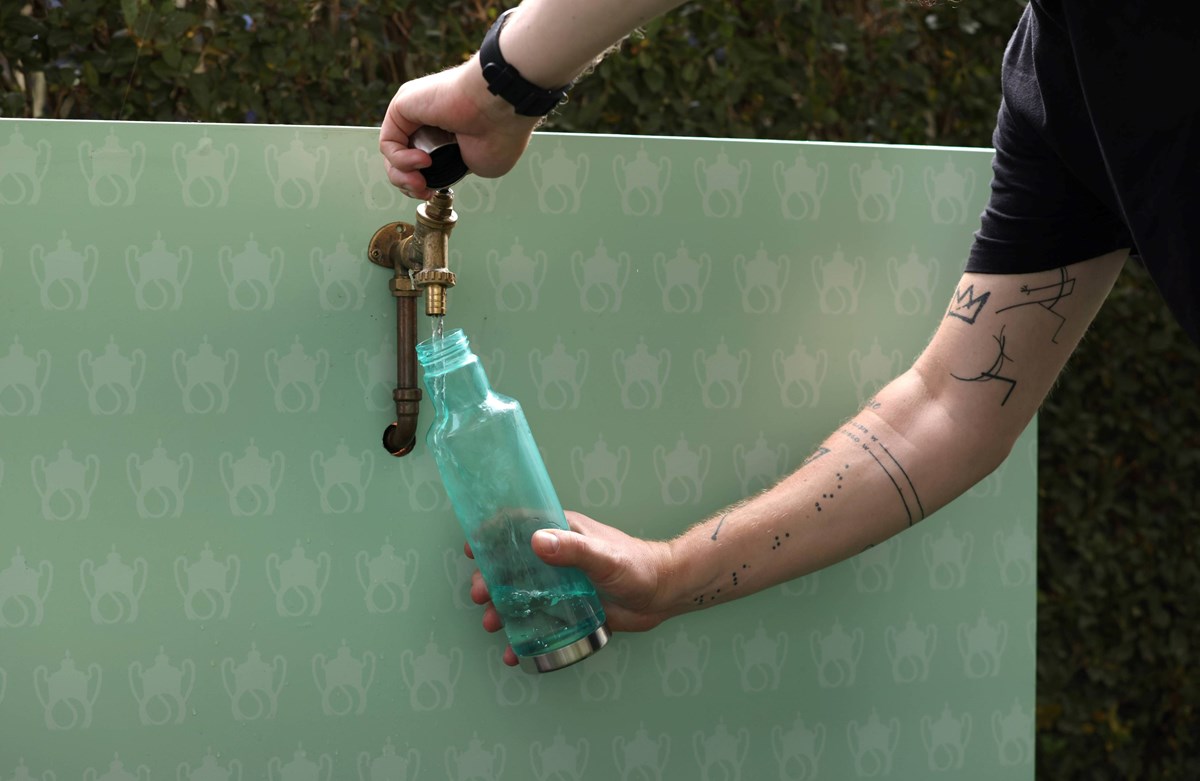 The climate crisis and changes to the environment are global issues that will impact everyone, and tennis is no different.
Whether it be the impact of extreme temperatures on our grass court events, or the risk of flooding that rising sea levels and severe weather pose for tennis venues around the country, it's vital that we act to secure a sustainable future for all.
In 2022, we published our first ever Environmental Sustainability Plan setting out how we will address sustainability considerations across our own operations and major events, and in our role as national governing body for tennis in Britain, supporting and engaging with everyone involved in tennis in Britain.
Read more about sustainability at the LTA
We are committed to ensuring our major events meet high standards of sustainability, by reducing climate impacts, ensuring we utilise resources efficiently to reduce waste, and consider how we can support the natural environment.
We're leading the way for tennis in Britain, but we want everyone to get involved to collectively protect and support the environment, and take positive climate action.
How can you help?
Everyone can play their part, however big or small. If you're a fan attending one of our events, you can help by:
Using public transport to travel to events where possible

Putting your waste in the right bin

Choosing a low carbon "eco" option to eat
Returning your reusable cup after you've had a drink
Bringing your reusable bottle – there are refill points around our event sites
What is the LTA doing?
Find out more about the steps we're taking at our events to help the environment and reduce our carbon footprint:
All of our venues are accessible by public transport, with bicycle parking facilities provided on site at Nottingham and Birmingham, and local cycle stations nearby at the cinch Championships.
Find out more about sustainable transport options on our event pages:
We are also working to reduce our emissions from event-related transport. 2023 will see the introduction of hybrid vehicles into player transport fleets, across all of our summer grass court major events.
HVO (Hydrotreated Vegetable Oil) fuel is used in all our temporary generators.
HVO is a fossil-free, paraffinic fuel made from 100% renewable raw materials. HVO generates 90% less greenhouse gases, reducing carbon emissions significantly.
Mixed recycling – across our events, plastics, aluminium cans, paper and cardboard are recycled

Food waste – where discarded food is collected at the cinch Championships and Rothesay Classic Birmingham, this is sent for anaerobic digestion

General waste – remaining non-recyclable waste is sent to energy from waste facilities at the cinch Championships, Rothesay Classic Birmingham and Rothesay International Eastbourne
Working with our catering provider, Absolute Taste, we have ensured that sustainable food operations are in place across all of our major events. This includes:
Reusable cups – to reduce our single use plastic waste

Local sourcing – food produce maps will be available across our events, showing where produce has been sourced form

Eco options – low carbon options are due to be available as part of menus across our events, helping fans make a choice that is good for the environment

Reducing food waste - leftover food will be donated to local charities
To help further reduce single-use plastic, free drinking water refill stations are located around our event sites.   
Attendees are able to bring their own refillable bottles (sealable plastic or metal, not exceeding one litre) on site to use throughout the day.
Please see each tournament page for details of where these are situated.
Where possible, the design of staff uniform remains the same year on year, to ensure items from the previous year can be reused. All tournament staff are, therefore, encouraged to return their event uniform after each tournament where it can be reused or repurposed.
Plastic bags have been removed from the stringing of all player rackets, across all of our summer tournaments.
Tennis balls used by players are resold across our events, with proceeds going to the LTA Tennis Foundation.
Spotlight: Sustainability at the cinch Championships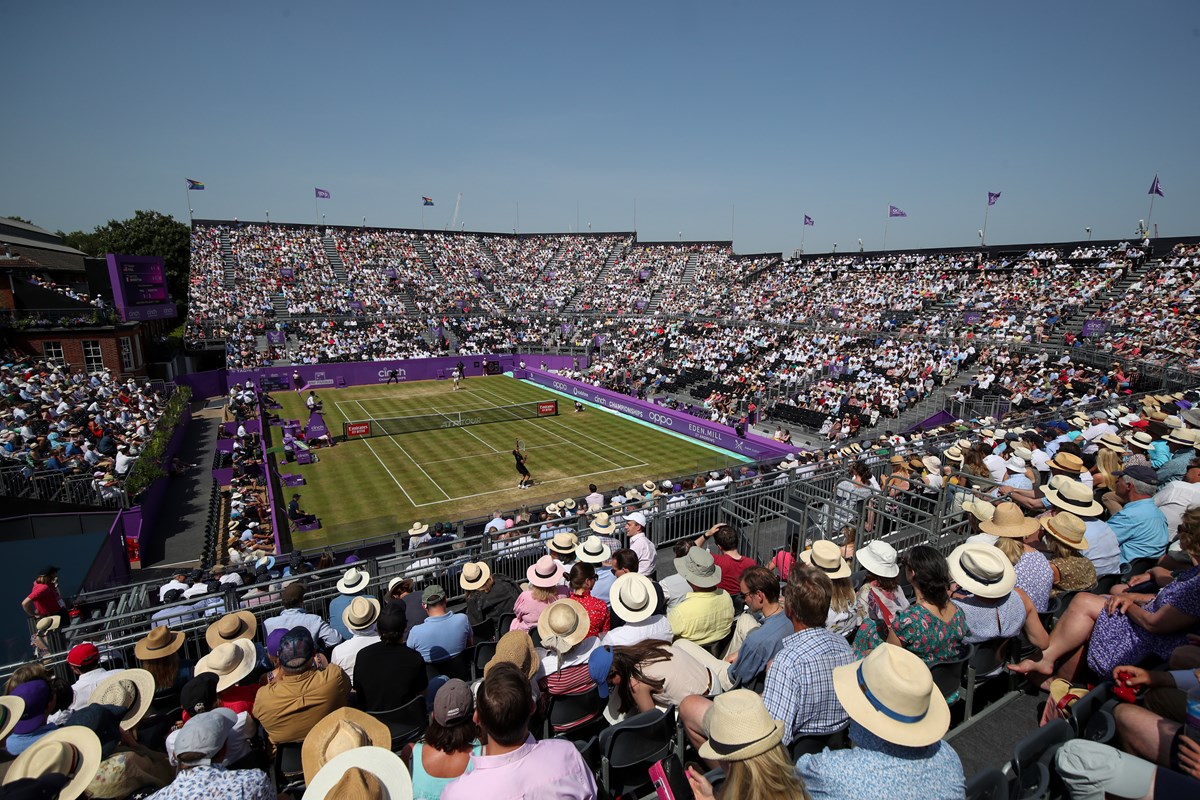 The cinch Championships welcomes over 70,000 fans to The Queen's Club across the tournament week each year. As a result, it is an opportunity to showcase sustainability-in-action, to those in attendance. Below are just some of the specific initiatives that will be on display this year, in addition to those outlined above.
Player focused water solution
This year, we are piloting an increased number of water dispensers in player areas, including two courtside dispensers on Centre Court, providing purified water

This will provide players with the opportunity to refill their own bottles, helping reduce our single use plastic waste

Each player will be provided with refillable bottles on arrival, to use for the duration of the tournament

Working with Green Goblet and building on our reusable cup initiative in 2022 for cold drinks, reusable hot cups will now be introduced in public retail, hospitality, media and player areas in 2023. This will further reduce the number of single-use items across our catering operations
Repurposing of used event materials
Working with CSM Live and Event Cycle, we have used our grandstand banners and other branding from last year to create reusable bottle holders for our ball crew
They will be distributed at the start of the tournament and collected at the end so that they can be used again next year
Along with players receiving reusable bottles, ball crew, stewards and onsite media will all be provided with reusable bottles for this year, in a further step to reduce single-use plastic
Reducing waste and single-use items
Building on our reusable cup initiative in 2022 for cold drinks, reusable hot cups will now be introduced in public retail, hospitality, media and player areas in 2023. This will further reduce the number of single-use items across our catering operations

In 2022, over 7,500 single-use still and sparkling glass water bottles were used in hospitality areas. Instead, a reusable glass bottle initiative will be in operation this year which will see further reduction in glass waste

We are also switching printed menus for QR codes in hospitality areas too.

Along with players receiving reusable bottles, ball crew, stewards and onsite media will all be provided with reusable bottles too for this year, in a further step to reduce single-use plastic

We work closely with our floral provider, to repurpose and donate floral arrangements to one of several hospices, care homes, schools or floral arranging classes for wellbeing