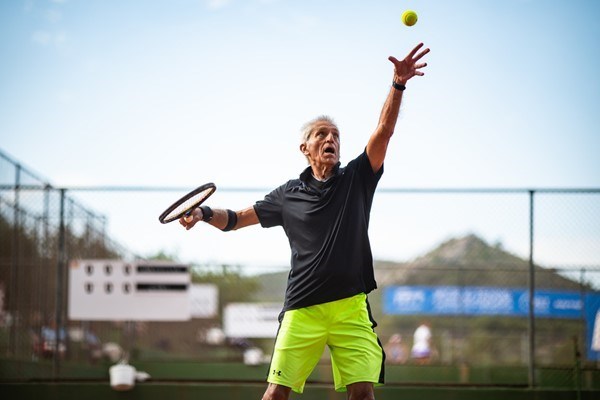 Seniors
Senior Men's Player of the Year 2022
• 2 MINUTE READ
Chris Ornstein had an exceptional 2021 reaching his first ever World Championships singles final in Mallorca in October. Having defeated both the German world number 1 and the Italian number 3 seed in the quarter and semi-finals respectively, Chris's opponent in the final was another Italian who'd put out the American number 2 seed. An unforgettable contest ensued with Chris narrowly losing in an epic 3 set battle. A silver medal now in hand, there was also a bronze for the men's 75s doubles where Chris in the same week partnered former British number 1, Roger Taylor.
This glory on the world stage followed a winning 2021 season. Chris won five out of the six 75s singles and doubles titles at top Great Britain circuit tournaments: Frinton, Wimbledon and Eastbourne.
The points and ranking rewards were well deserved, as all who know ex-coach Chris and his 100% practice and competition schedule will confirm. Over the last 10 years, and particularly following his first selection for team GB in 2013, he's fully embraced both the world events and the challenges, finding much enjoyment in the ITF seniors tour.
In his words:
"I've had a lot of fun travelling to new places and meeting a whole new bunch of like-minded friends."
With one of those new friends and doubles partners, American Bruce Barrett, Chris achieved his biggest win yet: a gold medal at the 2018 World Championships.
Chris is a super-senior star who just seems to get better and better.
Congratulations Chris!