Tennis Scotland 2024 Awards
4 MINUTE READ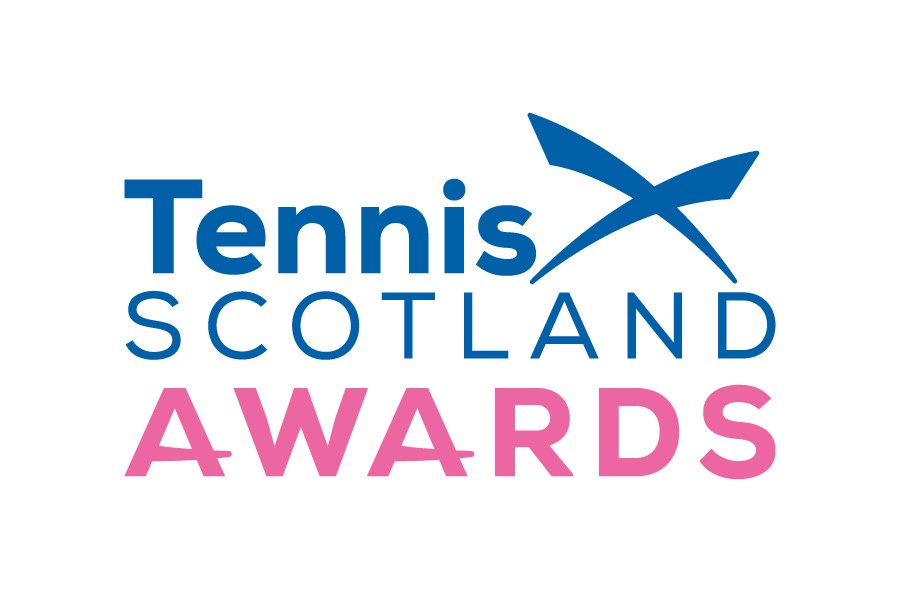 Tennis Scotland 2024 Awards - Nominations Now Open
Launch Date: 1 October 2023
Closing Date: 31 January 2024
Nominations have opened for the Tennis Scotland Awards. The awards present an excellent opportunity to recognise the achievements, work and dedication of individuals, clubs, teams, tournaments and programmes throughout Scotland. How to nominate: Vote
The Tennis Scotland Awards will be spread across 20 different categories with the winners of 15 of these being put forward to the LTA Awards. The voting criteria can be viewed here.
Tennis Scotland CEO Blane Dodds is urging people involved in the sport throughout the country to get their nominations in as soon as possible. "There is so much currently happening in our sport and this is a great way of showcasing the fantastic work undertaken by our tennis community across Scotland, as well as sharing good practice in different areas of the sport."
Tennis Scotland 2024 Award Categories
Lifetime Achievement Award
Volunteer of the Year
Rising Star of the Year
Development Coach of the Year
Performance Coach of the Year
Club of the Year
Park Venue of the Year
Connecting Communities Award
School of the Year
University of the Year
Tennis for All Award
Official of the Year
Competition of the Year
LTA President Award
LTA Meritorious Service Award
The winners of the above awards will automatically be put forward for the LTA Awards and Scottish winners announced at our Award Ceremony 29 March 2024 at Stirling Court Hotel. Information on event tickets will be released in the next few weeks.
Tennis Scotland will announce the winners of the Scottish player categories at our Awards Ceremony on 29 March 2024 at Stirling Court Hotel along with the announcements for any Special Awards.
International Player of the Year
Junior Player of the year
Senior Veteran Player of the Year
Senior Player of the Year
Team of the Year
Tennis Scotland Awards 2023 Winners
Lifetime Achievement – Ken Revie
Volunteer – Teresa Tait
Development Coach – Alessia Palmieri
Performance Coach – Joe Gill
Club – Abercorn LTC
Rising Star – Euan Donegan
Connecting Communities – Promoting Inclusion through Sport
Tennis for All – Accessible Tennis CIC
Park Venue – Rosewell Community Tennis
Official – Lucy Davies
University – St Andrews University
School – Dollar Academy
Competition – East Lothian Open
Team – Prestwick Academy Girls' Team
Senior Veteran Player of the Year – Sarah McFadyen
Junior Player of the Year – Charlie Robertson
Senior Player of the Year – Jacob Fernley
International Player of the Year – Ali Collins
Tennis Scotland Awards 2022 Winners
Lifetime Achievement - Mike Aitken
Volunteer - Michael Goldie
Young Person - Emma Howat
Development Coach - Graeme Walker
Performance Coach - Karen Lamb
Club - Montrose Tennis Club
Community & Park - Musselburgh Tennis Club
Official - Vikki Patterson
Education (School/School Provider) - Strathallan School
Education (University) - University of St Andrews
Disability - Carol Jones
Competition - The Nairn 90th Tournament
Senior Veteran Player of the Year - Mary Byrne-Leitch
Junior Player of the Year - Matt Rankin
Senior Player of the Year - Anna Brogan
International Player of the Year - Cam Norrie
Tennis Scotland Awards 2021 Winners
Lifetime Achievement – Jan Collins
Volunteer of the Year – Amanda Barclay (West End LTC)
Young Person of the Year – Katie McKay (Wormit & Newport TC)
Coach of the Year: Development – Steven Birrell (Wormit & Newport TC)
Coach of the Year: Performance – Mark Openshaw (Giffnock Tennis Squash and Hockey Club)
Club of the Year – Giffnock Tennis Squash and Hockey Club
Education Award: University – The University of Edinburgh
Disability Award – Chrysalis Tennis
Official of the Year – Olwyn Roy
Competition of the Year – Western Health and Racquets Club: Club Championships 2020
Junior Player of the Year – Ben Hudson
Senior Player of the Year – Hamish Stewart
International Player of the Year – Gordon Reid
Special Recognition – John Frame
Special Recognition – John Stevenson
Special Recognition – Rick Gardner
Tennis Scotland Awards 2020 Winners
Lifetime Achievement - Yvonne Birnie
Volunteer - Bryan Leslie
Coach - Derek Brown
Club - Prestwick Tennis and Fitness
Community - Meadows Tennis Park
Official - Richard Gardner
Education - Glasgow City Council Fraser Gilmore
Disability - Prestwick Tennis and Fitness Disability Programme
Competition - East Lothian Open
Team - 12U Boys North County Cup Team
Junior Player - Mathew Rankin
Senior Player - Marjory Love
International Player - Maia Lumsden
Tennis Scotland Awards Winners 2019
Lifetime Achievement - Hamish Mcbain
Volunteer - Ian Miller
Coach - Alan Russell
Club - Aboyne LTC
Community - Fairfield Community Sports Hub
Official of the year - Teresa Tait
Disability Programme Accessible Tennis Education - Lauder Primary School
Young Person - Alix Christie
Competition of the year - Glasgow Trophy
Team of the Year - Stirling Women's 1st Team
Junior player of the year - Jacob Fearnley
Senior player - Eilidh Smith
International Player of the year - Jonny O'Mara