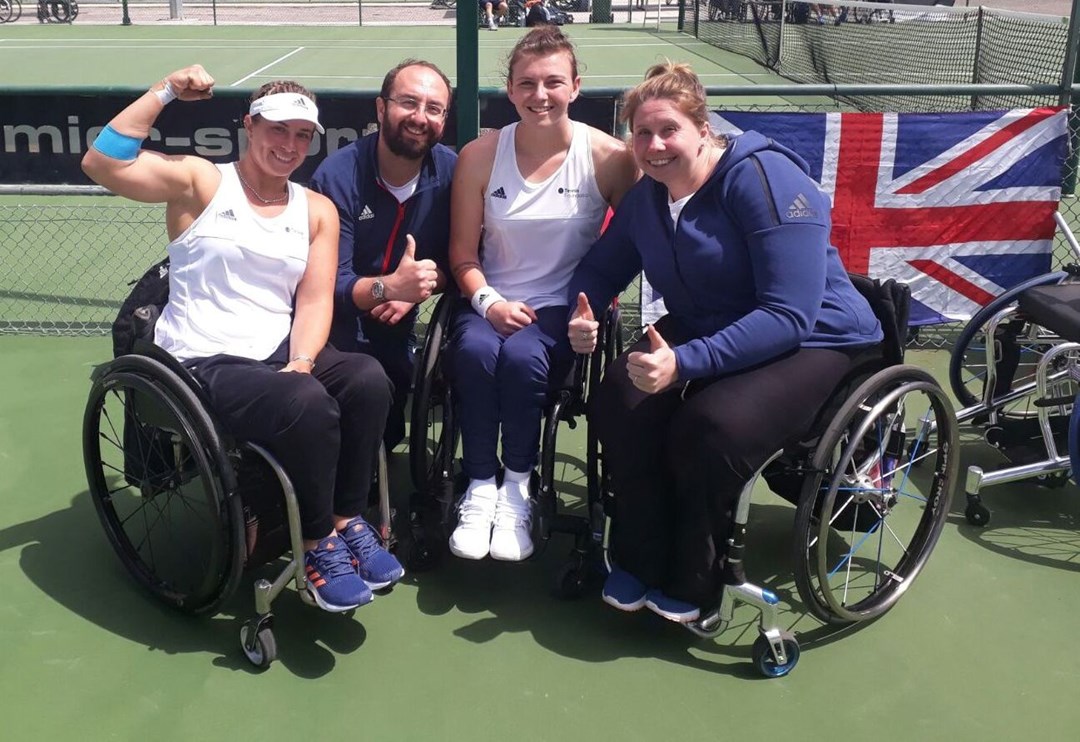 International
GB Women win dramatic World Team Cup European Qualification decider
• 5 MINUTE READ
Lucy Shuker, Louise Hunt and Lauren Jones took Great Britain to victory in the women's event at the BNP Paribas World Team Cup European Qualification on Vilamoura, Portugal. The competition took place over five days, from 11th to 15th April.
Great Britain have now qualified for the finals of the 2018 BNP Paribas World Team Cup in Apeldoorn, the Netherlands, from 28 May to 3 June.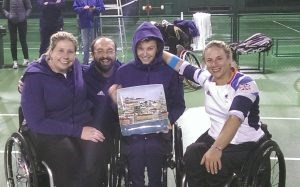 SUNDAY, 15 APRIL - DAY 5 - GREAT BRITAIN bt RUSSIA 2-1
Great Britain's women claimed a dramatic late-night doubles rubber to seal victory on the last day of play in Vilamoura, thereby confirming their qualification for the 2018 BNP Paribas World Team Cup in Apeldoorn, Netherlands
With rain causing long delays to the start of the deciding round-robin tie against second seeds Russia, Lucy Shuker and Louise Hunt played their two singles rubbers simultaneously on adjacent courts. Shuker beat Viktoriia Lvova 6-3, 6-1, but Hunt's only loss of the week saw Ludmila Bubnova take the other singles contest 7-5, 6-2.
Two rain breaks interrupted the crucial deciding doubles rubber, but Hunt and Shuker battled valiantly to earn Great Britain the victory against Lvova and Polina Shakirova 7-5, 6-1 at just after midnight.
SATURDAY, 14 APRIL - DAY 4 - GREAT BRITAIN bt BELGIUM 3-0
After a practice day for Great Britain on Friday, Lauren Jones won her first singles rubber of the week, beating Sofie Cox 6-2, 6-1. After back-to-back 6-0, 6-0 wins in Great Britain's first two round-robin ties, Louise Hunt gave her country an unassailable lead against Belgium after defeating Els Verhoeven 7-5, 6-1. Jones then partnered Lucy Shuker to wrap up a third 3-0 victory for Great Britain in three contests after defeating
Great Britain now play second seeds Russia in Sunday's crucial last round-robin tie to decide which country qualifies for the World Team Cup finals in Apeldoorn.
THURSDAY, 12 APRIL - DAY 2 - GREAT BRITAIN bt SWEDEN
Great Britain made it two 3-0 wins in successive days as Louise Hunt and Lucy Shuker took to the court to earn the top seeds a clean sweep over Sweden.
Hunt secured her second 6-0, 6-0 win in as many days as she raced through the opening singles rubber against Alicia Edson. Shuker had a tougher time against Rebecka Sternisa Bellander, but pulled through 6-3, 7-6(3) to give Great Britain an unassailable lead.
After heavy rain caused a delayed start to the second day and the event's opening ceremony was also scheduled before the on-court competition began, Hunt and Shuker completed a dominant doubles performance in fading light, beating Sanna Klindt & Sternisa Bellander 6-1, 6-2.
Friday is a practice day for Great Britain before they resume their campaign against Belgium on Saturday.
WEDNESDAY, 11 APRIL - DAY 1 - GREAT BRITAIN bt AUSTRIA 3-0
Louise Hunt gave Great Britain the best possible start to their opening round-robin tie, beating Austria's Christine Pesendorfer 6-0, 6-0.
British No. 1 and world No. 8 Lucy Shuker put the tie beyond Austria after beating Margrit Fink 6-3, 6-1. Shuker then partnered Lauren Jones to beat Fink and Pesendorfer 6-0 , 6-1 in the doubles rubber. The trio's win came on a day when new Tennis Foundation Disability Performance Director Matt Hammond joined the GB support team in Vilamoura.
Great Britain play Sweden on Friday in the second of their four round-robin ties.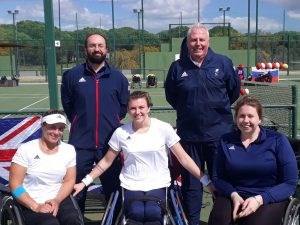 PREVIEW
Great Britain have a long history of success at the World Team Cup, with all three players in Vilamoura having won gold, silver or bronze medals whilst representing their country in either the World Team Cup women's or junior competitions over the last decade.
Captained by the Tennis Foundation's Performance Development Coach Ash Smith, Great Britain are top seeds. They will face women's teams from Austria, Belgium, Russia and Sweden in round-robin competition over the five days of play in Vilamoura, with Austria first up on Wednesday.