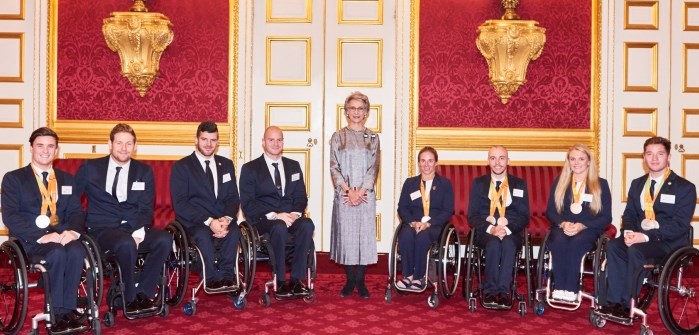 GB Teams
The Tennis Foundation celebrates most successful Paralympic Games ever
• 3 MINUTE READ
The Tennis Foundation last night celebrated its most successful Paralympic Games ever for players on its World Class Performance Programme with a special event at St James's Palace.
Her Royal Highness The Duchess of Gloucester, Honorary President, the Lawn Tennis Association, jointly hosted members of the Tennis Foundation's World Class Programme who represented ParalympicsGB and claimed six medals at the Rio 2016 Paralympic Games including two bronze, three silver and one gold.
Gordon Reid, Alfie Hewett, Andy Lapthorne, Jamie Burdekin, Lucy Shuker and Jordanne Whiley all picked up medals and numerically Great Britain finished top of the seven countries that made up the wheelchair tennis medal table in Rio winning 33% of the available medals for the Paralympic Tennis Event.
British players won medals in five of the six medal events, a greater spread of medal success than any other nation. This included an historic gold and silver medal in the men's singles and was a 200% increase on medals won in wheelchair tennis at London 2012.
"The success the Tennis Foundation had in Rio was unprecedented and it was fantastic to have such a special event to celebrate this last night. We smashed our UK Sport medal target of 2-3 medals and have really put ourselves on the map as a world leader in wheelchair tennis," said Geraint Richards Head of Disability Player Performance at the Tennis Foundation.
"We are already working towards Tokyo 2020 and it is important for us to use this success to inspire more people to take up the game so we have real strength and depth and enjoy success for years to come. We couldn't have achieved this without the support of UK Sport and National Lottery funding and we hope this will continue into the next cycle."
Reid is one of the players who has enjoyed an incredibly successful 2016 claiming the Australian Open and Wimbledon Grand Slam titles before his two medals in Rio earnt him the world no.1 spot in the rankings.
"It's an honour to be here with my teammates and so many of the Tennis Foundation team who help make our success possible. I'm really hoping the higher profile of wheelchair tennis will lead to more people taking up the sport, whatever their ability, as we all know how inclusive and accessible tennis is. Hopefully some of those inspired by our success at Rio 2016 will be representing Great Britain in the future with us," added Reid, who has been encouraging people to attend the Tennis Foundation's Push2Podium Talent ID festivals.
The celebration event was also an opportunity to invite people who had taken part in many other charitable Tennis Foundation programmes across their work in education, for disabled people and in disadvantaged communities.
These included mentors and pupils from secondary school programme, Beyond the Baseline, and activators and teenagers from SERVES, an initiative which takes tennis into communities that may never had had the chance to play with pop up equipment in youth clubs and faith centres across the country.
The next opportunity for the public to watch their Paralympic stars is the NEC Wheelchair Tennis Masters held at Lee Valley Hockey and Tennis Centre on Queen Elizabeth Olympic Park at the end of November. Tickets for the event are on sale now and also include the opportunity to play tennis with the whole family in a fantastic indoor Activity Zone.