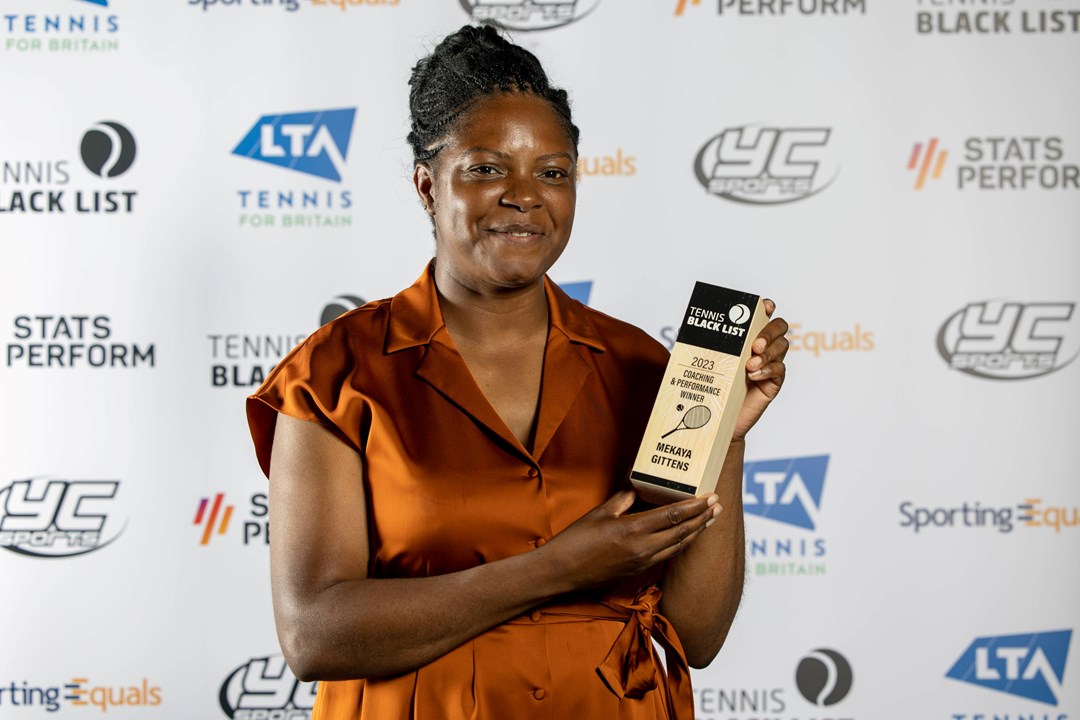 Diversity and Inclusion
Tennis Black List award-winner, Mekaya Gittens, shares her mission to bring tennis to local communities
• 3 MINUTE READ
The inaugural Tennis Black List, supported by the LTA, Sporting Equals, and YC Sports, paid homage to the tennis role models from the black community as the 2023 award winners were announced in June at the National Tennis Centre, Roehampton in London.
Founded by Richard Sackey-Addo and sports broadcaster Anne-Marie Batson; the Tennis Black List was introduced to emulate the widely celebrated and esteemed Football Black List, established by Leon Mann MBE and Rodney Hinds, to harness the invaluable impact that celebrating black excellence can achieve in sport.
Among the list of trailblazers, who notably continue to pave the way for the Black community and beyond, was Thames Valley Tennis and Slough Tennis Club coach, Mekaya Gittens.
Mekaya, 33, was one of three recipients of the Coaching and Performance Award, resulting from her commitment to creating an inclusive and diverse space for all socioeconomic groups, creatively bringing tennis to the doorstep of her local community.
To celebrate Black History Month, Mekaya shared her story and her burning desire to bring the same opportunities to others she felt so fortunate to once receive.
"I'm so proud, and to have shared the stage with the likes of Miles, Zack, Shola and Arum was amazing; I was just blown away by their achievements," expressed Mekaya. "For me, it was also a real confidence boost to get that recognition for the work I'm doing in this space.
"Beyond coaching, the categories truly opened my eyes to the entire tennis space, and it was fantastic to see so many people from different fields and their stories representing the black community."
She continued, "It's good to just stop and take a minute sometimes to acknowledge what's going on, and it's important to understand that the nominated individuals have worked hard to get to where they are now; they haven't necessarily had the same opportunities growing up.
"However, the Tennis Black List is successfully breaking down barriers and it is giving those acknowledged, not only a platform, but also the confidence to continue the amazing work they do, while encouraging others in the community to follow in their footsteps."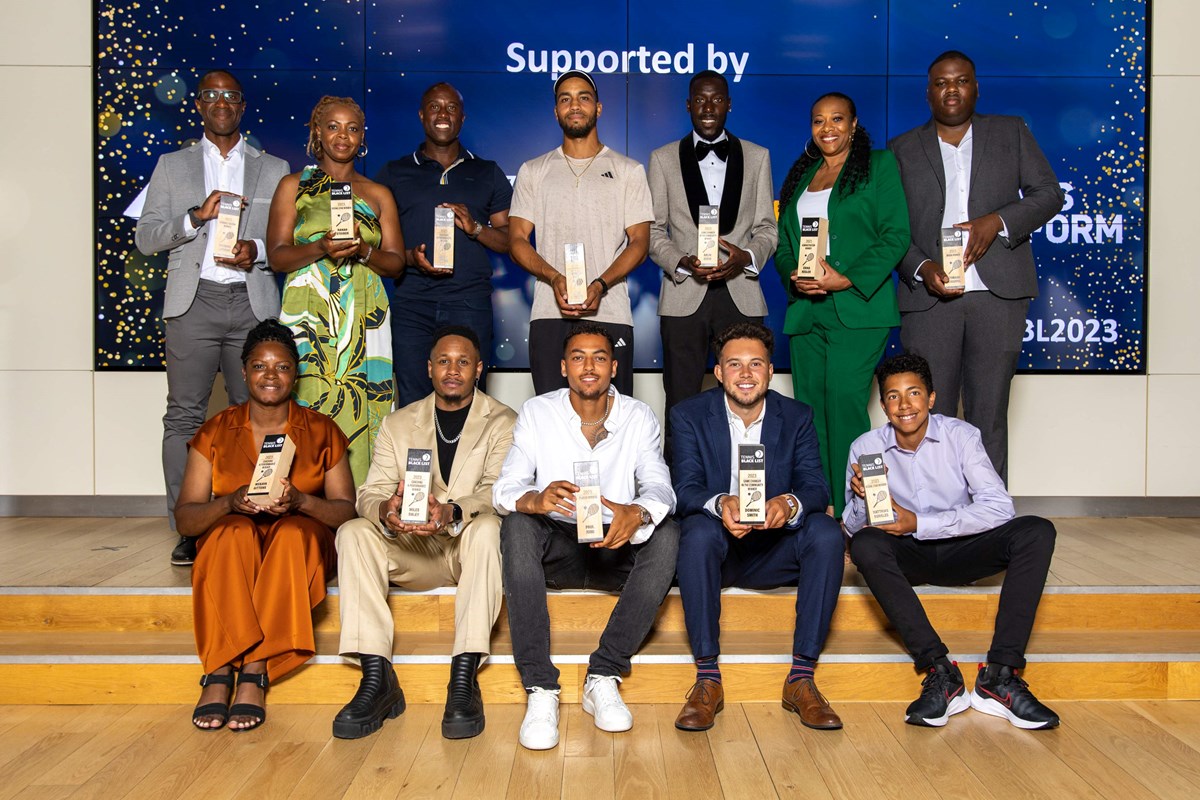 Having recently been selected for the Catalyst14 mentoring and coaching programme, the LTA Level 3 accredited coach has gone above and beyond in her coaching duties, forging a relationship between Slough Tennis Club and Thames Valley Tennis to boost participation.
"Slough Tennis Club is similar to that of a traditional club whereby we're heavily involved in competitions and play in the tennis leagues," said Mekaya.
"Whereas Thames Valley Tennis is almost like doorstop coaching to try and increase participation in the local area. We reach out to communities and deliberately avoid playing on club courts where we'd usually do our day-to-day coaching.
"We also occasionally do some projects with the local council. For example, we did a project in a community called Chalvey Can working with Sport England and the local council, and we basically turned up with pop up nets and provided rackets and balls to try and get families involved.
"It was about giving people the opportunity to give tennis a go, and to send the message that you don't need a racket; you just need to turn up. You don't need to go anywhere; you just need to go around the corner.
"These projects historically led to more coaching programmes at set venues and a higher intake of players wanting to play competitively. The LTA SERVES programme has also served us well in terms of increasing participation and engaging people from our local communities. Nari has been doing a great job delivering a SERVES project on the other side of town so there is a real appetite for playing tennis around the town, its brilliant."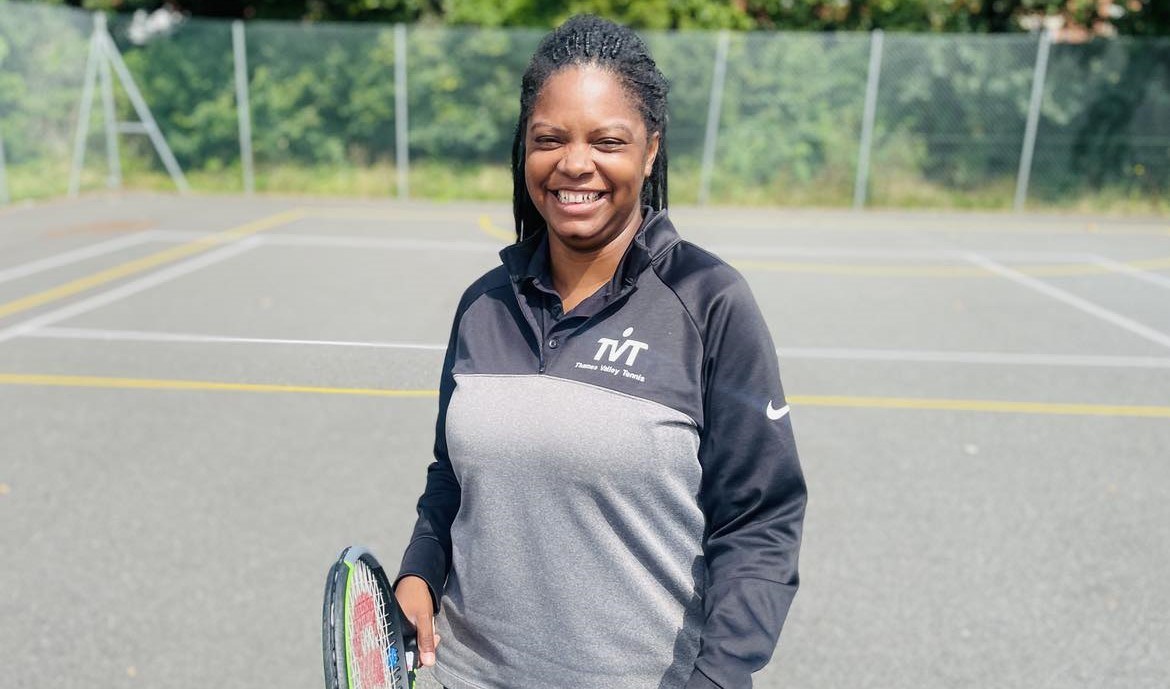 A role model to many herself; Mekaya's own passion for helping others was ignited close to home as she continues to work tirelessly to uphold the vision of a mentor of her own.
"I lost my dad in 2009," said Mekaya. "That was a real life-changing event. Then, in 2010 the local indoor tennis centre closed, so I felt like I had lost a lot. This was also around the time that I was thinking of going to Uni, so I spent around 12 months just trying to find myself and figure things out.
"I already was investing a lot of time into tennis, and through observing my dad, I realised that coaching was what I wanted to do.
"My dad was a real community activator, and I witnessed the importance of having a safe space that you can drive the wider community to. It also became clear to me that it is key to have that activator, that person, who is relatable and resonates with people to bring it all together."
The phrase: 'the apple doesn't fall far from the tree' only seems befitting as Mekaya and her fellow coaches continue to break down existing barriers through their applaudable efforts, which have had a significant impact on Slough Tennis Club's overall retention rates.
In fact, the club's participation and retention rates have soared to record highs, reaching levels that have gone unseen for over a decade following the closure of Slough's local indoor tennis centre.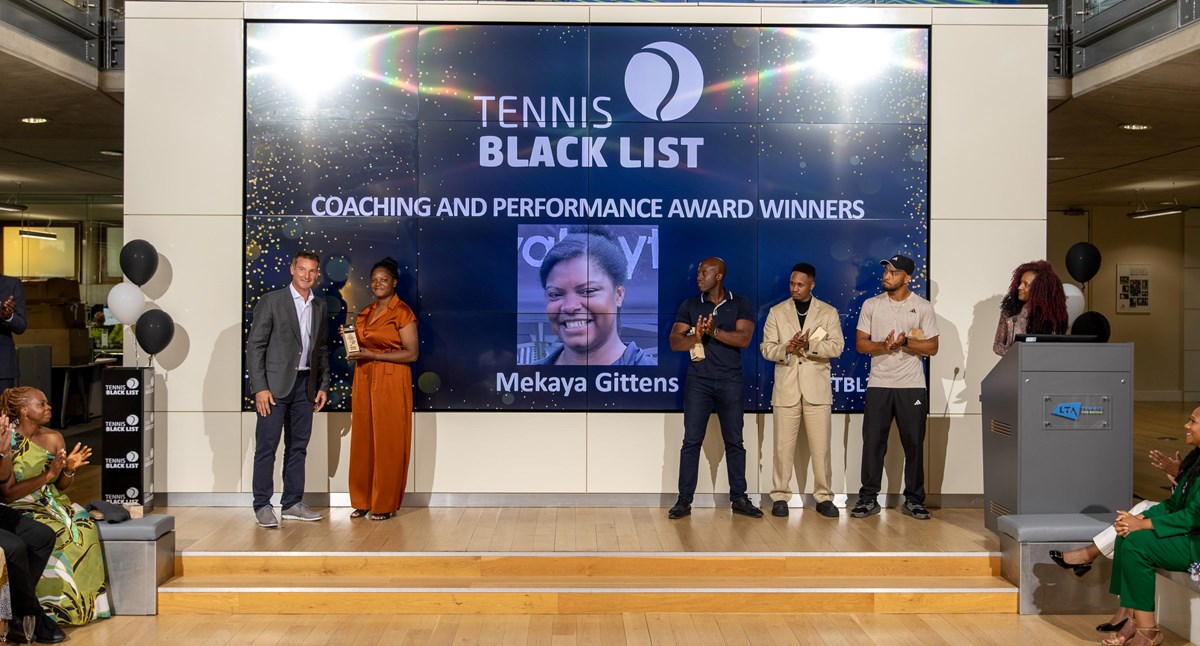 "There was a blip where we had no junior league players after the centre closed," said Mekaya. "It's only over the last three years that we have been able to reintroduce it. Before that, there was ad hoc competition happening, but now a good percentage of the kids we coach have been with us since orange ball to GSCE year, and most have been competing since.
"I like to think that we are quite unique in the way we are set up, and as a result we also have a good mix of women and men, and of different ethnicities and backgrounds. We're hoping to continue demonstrating that this model that we've implemented to drive diversity and inclusion works and to show the importance of creating the space and opportunity for change to happen."
Join in 'Saluting our Sisters' to celebrate Black History Month
Learn more about the commanding women who lead the charge for inclusion and diversity in tennis, inspiring the black community and beyond as they continue to seek opportunities for all.