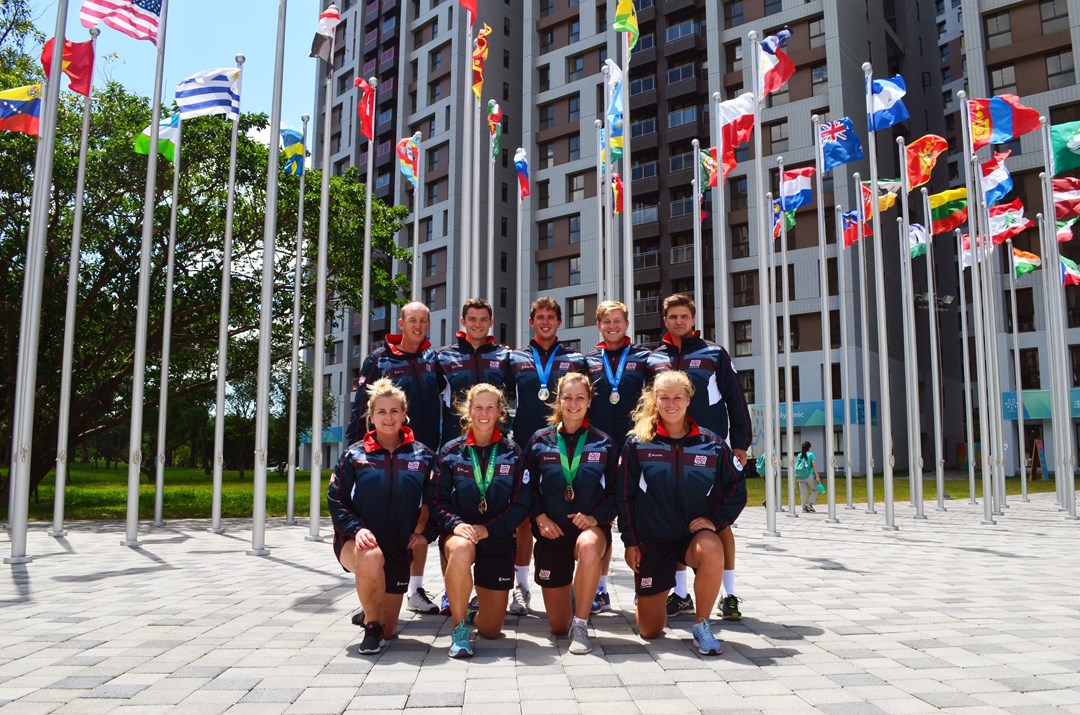 Performance
Team GBR Tennis leave Taipei with two medals
• 3 MINUTE READ
Earlier this month six British tennis players flew out to represent Team GBR at the World University Games (WUGs) in Chinese Taipei.
Held biennially in major cities across the globe, WUGS, or the Summer Universiade, is the second largest multi-sport event after the Olympics, bringing almost 10,000 participants, from over 170 countries together to compete across 22 sports.
The team made sure it was a successful trip with Luke Johnson and Jack Findel-Hawkins securing a place in the Men's Doubles finals. The duo just lost out in a thrilling final against Russia's Richard Muzaev and Aslan Karatsev 6-1 3-6 1-0 [10-7] but will still take home the silver medal, Great Britain's ninth gong of the Games so far.
And Johnson has revealed the pride he takes in representing his country at a major competition. "It was slow start by us, we recovered well, we lost a few key points in the first set but we managed to think clearly in the changeover between sets and execute our game plan clearly in the second set," said the 22-year-old, from Leeds.
"In the tiebreaker they hit great shots at key moments and I think that was the difference but overall we're happy with our performance and happy to take home the silver medal for Great Britain. It has been an unbelievable experience; personally I've loved every minute of it. It has been an honour to represent Great Britain, to come to this amazing city and soak the whole atmosphere up and I wouldn't change it for anything."
Findel-Hawkins, from Exmouth, added: "I've always wanted to represent Great Britain and to do that was a great honour as we've moved through the rounds it's just been amazing. To do it as doubles and do it with a friend by your side has been an honour."
However it wasn't the only doubles success the team secured while in Taipei with Emily Arbuthnott and Olivia Nicholls narrowly missing out on a place in the World University Games Women's Doubles Final, but the pair admit they were still delighted to walk away with women's doubles bronze.
Arbuthnott and Nicholls were beaten by Thailand in the semi-finals, going down 6-2 5-7 1-0 [10-3], but still claimed Great Britain's eighth medal of the games adding to the overall Team GBR tally.
Arbuthnott, 19, expressed her joy of being selected and travelling with the team. "The whole atmosphere of the games is a great experience, and to meet so many athletes from, not only across Great Britain, but from across the world is amazing," said Arbuthnott.
"I have got to know the whole of the British Tennis team and it has been fun. It is such a rare chance to compete somewhere like this. We are glad to have competed and sad it is coming to a close, but it has been such a great experience."
If you would like to get involved in tennis at University click here