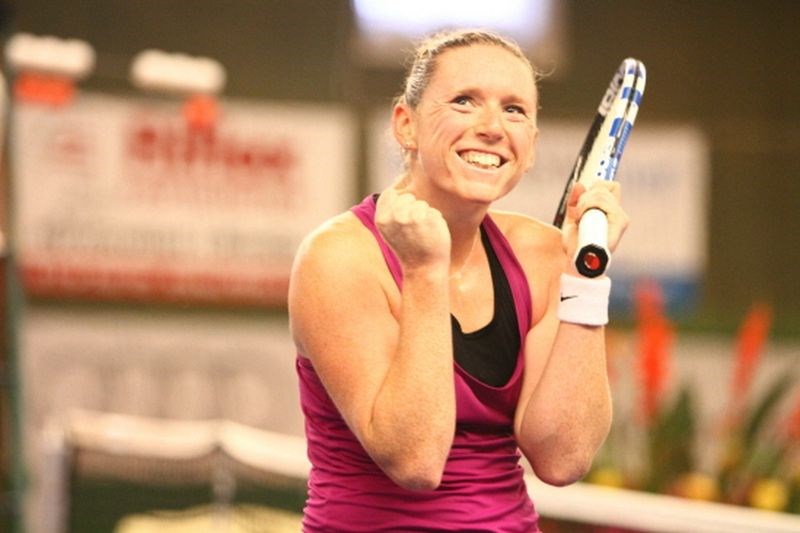 Diversity and Inclusion
Tea & Talk with Naomi Cavaday
• 2 MINUTE READ
Naomi Cavaday is a former British tennis player who won three ITF singles titles and two ITF doubles titles. Naomi is also an ambassador for the Tennis Foundation's 'Beyond the Baseline' project. To celebrate World Mental Health Day, we've grabbed some time with the sporting superstar to talk all things tennis, health & wellbeing…
1. Hi Naomi! You started playing tennis at 4 years old, tell us a bit about your tennis background and your journey to the top?
I was a really sporty kid and I tried every sport I could but tennis was the one that stuck and that I really enjoyed. I started to take tennis more seriously when I was 13 and that is when I learnt to really enjoy working hard. I had always been afraid of hard work and being uncomfortable but once I started seeing the rewards of hard work it only made me want to work harder. At 16 I decided to turn professional so I would be able to commit everything I could to being the best I could be. That turned out to be a lot better than I expected and within a year found myself playing against a top 20 player on a show court at Wimbledon! A year later I was playing former champion Martina Hingis, and a year on from that defending champion Venus Williams on Centre Court. It was a very fast journey!
2. How do you think sport – in particular tennis, has a positive impact on physical and mental wellbeing?
Tennis is so important in keeping me mentally healthy. I love playing with my team and socialising with like-minded people after matches or practice. Exercise releases endorphins which is so important for chemical balances in the brain. I have difficulty sleeping when I don't exercise and a lack of sleep can be really harmful to your mental health.
3.You've previously spoken out about your battle with depression during your career. How did you begin your road to recovery?
I confided in a friend about how much I was struggling, it had all become too much for me to handle on my own at the same time as playing tennis professionally. We talked through how it had got to this point and it was clear to me that it had been getting steadily worse over time. I was well trained in knowing that if I had an injury that was getting worse like this I would give myself some time off to rest and recuperate, so I decided that response applied to this as well. I came home from my tournaments and went to see a psychiatrist like I would have a physio for a physical injury. Once I was underway with therapy sessions it became a lot easier to talk about how I was feeling on a daily basis with those around me, and that gave me the room to work on myself and get better.
4. What advice would you give someone who may be struggling with confidence or battling a disorder?
Speak to someone about how you feel and try to be as honest as possible even if you think it will seem strange to them. If you have done that then know that things can get better but there will be ups and downs. Throughout it all try to stick to a consistent treatment plan to give yourself the best platform to get better. If you are struggling with confidence then surround yourself with positive energy from people and activities that make you feel a sense of self-worth and achievement.
5. You've been working with the Tennis Foundation as a 'Beyond the Baseline' ambassador to inspire young people who may be struggling with their behaviour, confidence or academic performance. What has been the most fulfilling part of the role so far?
I love seeing the students realise that trying new things is nothing to be scared of, and you might just find something you love and are good at. When they lose their fear of getting things wrong, they grow in confidence and determination rapidly.
6. And finally… With a busy career as a tennis coach, commentator and blogger (not to mention your ambassador duties!), what do you do to unwind and relax?
I really love to cook and bake for friends and family. I'll turn the music up loud as I make my shortbread!
Naomi Cavaday is an ambassador for the Tennis Foundation's 'Beyond the Baseline' programme for secondary schools. The programme uses tennis and inspirational tennis mentors to nurture pupils' aspirations and put them on the path to achieving them. Delivered in partnership with the Youth Sports Trust, the programme illustrates the impact tennis can have on the lives of young people, positively impacting their self-confidence, academic performance and behaviour.
To find out more about schools tennis see https://www.tennisfoundation.org.uk/discover-tennis/school/secondary-school/.