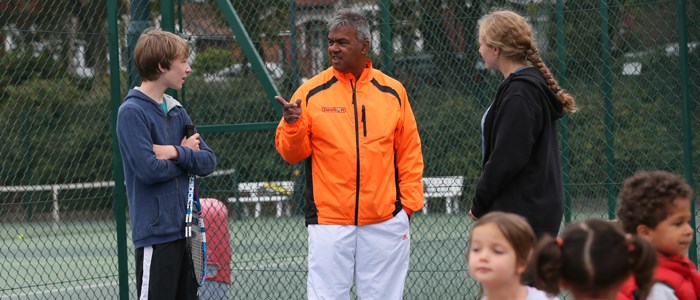 Community
Spotlight on Volunteers: Robby Sukhdeo
• 2 MINUTE READ
Continuing our new monthly feature on volunteers in tennis, February's edition features Robby Sukhdeo, Manager at The Pavilion Sports & Cafe in Bounds Green, London.
Robby talks to us about getting young people involved in volunteering at the local park:
"We have brought through over 100 kids in volunteer roles at our park and many have gone on to have a job through tennis coaching, or just learning skills for further education and other jobs. This is why we always have a string of volunteers coming through.
"As well as the 'good' and talented kids, we have provided a route for kids who might have gone off the rails. I guess you could say we rescue them and give them an opportunity.
"Even if they're no good at helping with the tennis activities, they can help out in the café. We are an important part of the community and the kids in the community respect us for that.
Looking after our volunteers
"Back in 2005 before we set up in Albert Park there were 250 cases of crime, by 2009 it was down to one and only a handful since then.
"The park is kept cleaner and there is a respect and ownership. Kids of all ages now hang out in the park, we don't really have to ask them to respect it – nearly all of them do.
"We look after our volunteers by giving them merchandise, free court time and free coaching. It's our way to say thank you.
"We are also supported by a whole network of adult volunteers as well, like The Friends of Albert Road (FARRG)​, Haringey Council and people who offer their services for free, such as a Fixture Secretary, Team Captains, Website Editor and many others."
Biggest achievement?
Giving young people a chance.
Robby's five top tips
Work with your local Secondary School
Offer placements to Duke of Edinburgh students
Fast-track talented kids into roles or coaching qualifications
Keep young people playing tennis by being involved at your venue
Get young volunteers to help at summer camps