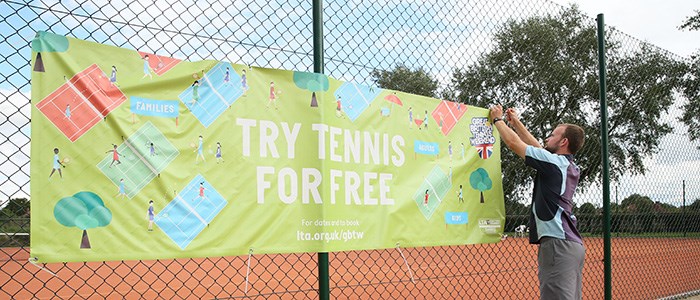 Community
Spotlight on Volunteers: Anne Miller
• 3 MINUTE READ
Continuing our new monthly feature on volunteers in tennis, the March edition features Anne Miller, Chairperson at Bellingham LTC in Wigan, Lancashire.
Anne talks to us about getting volunteers involved in tennis:
How we got more volunteers for Great British Tennis Weekend
"We have a fantastic club at Bellingham and I have been the chair for the past two and a half years. I've been involved in tennis as a player and volunteer for a long time, and this is the best committee I have ever worked with. Everybody has a role. The trick I find is to keep people informed and involved. We have a members' day every year, with a tournament followed by a drink and buffet just to get everyone together.
"I oversee the coaching too, so I am in regular contact with the parents – it's important that they know me and they know the other committee members. Juniors are made very welcome to social events and, and the parents appreciate that, so when we ask parents to get involved they are willing to do it.
"For example, everyone wades in to help when we have our Great British Tennis Weekend events. A couple of years ago we decided that our open days weren't working for our club. We have an Easter Egg hunt on Easter Monday, which brings dozens of children down but results in very few memberships. So we decided to take the club to the people. We went into Wigan town centre two years ago to put on tennis activity for four days and hundreds of people played. We got the space for free because we were bringing people into the centre. It was in the market square on a Saturday last year, then we had a GBTW at the club the following day and we gained over 20 members in various categories.
"I find it's important to actually go to members directly to ask for help – it's their job to help the club as well. We ask people to just give an hour to help. Often they are not willing to give a whole day but just an hour is manageable – and because you only asked for an hour, you will find some people will give a whole day.
"I managed to get a gang of members down to help the GBTW events including a very good junior. We went to the parents of our junior members to ask them to come down with their children to talk to other people about what their children get out of it. They were great ambassadors for the club. It isn't just about the parents either, someone who had left the committee for many years decided to help again and ended up standing for President.
"I've learned from my mistakes that I did too much. I go around the table at meetings and ask people to make a commitment – it's fine if they can't help and say no, but I don't want a maybe. We are clear up front if people can support or not, and we won't run things if we haven't got enough help."
Anne's five top tips for getting more volunteers for your Great British Tennis Weekend event
Give each committee member a role and tasks
Ask members to donate one hour of help
Ask existing parents to speak to newcomers
Encourage former committee members to support
Get good juniors along to help