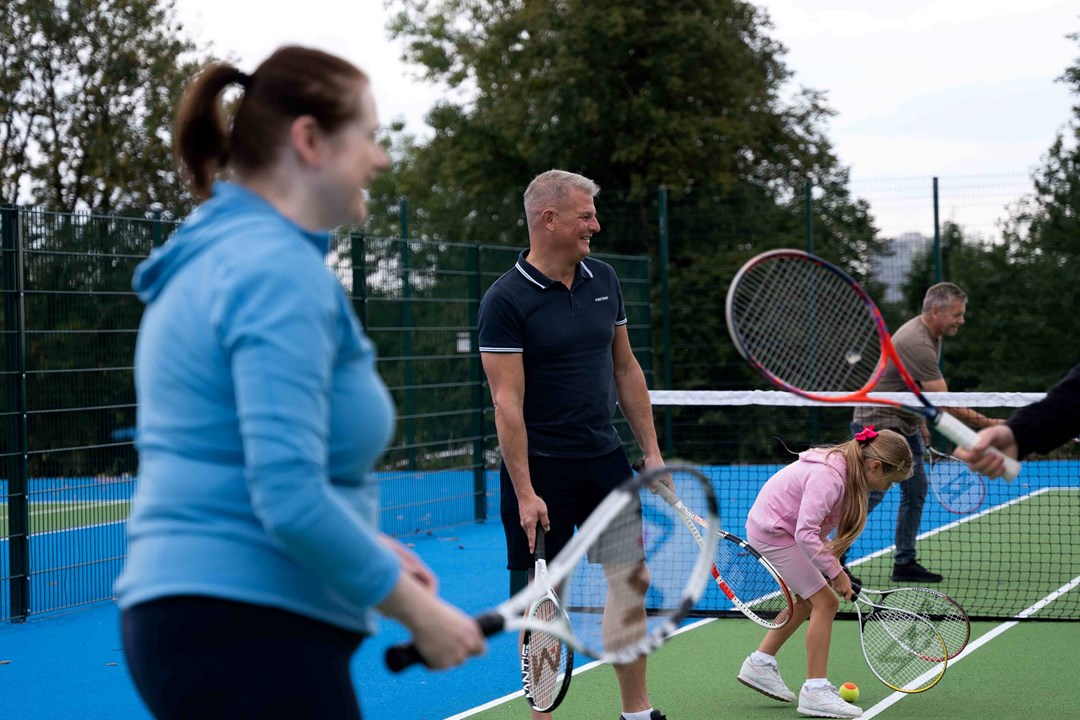 Sports Minister marks transformation of 1,500 park tennis courts as curtain closes on Davis Cup in Manchester
• 5 MINUTE READ
After visiting a refurbished park, Sport Minister Stuart Andrew has encouraged Brits to give tennis a go as 1,500 public tennis courts across England, Scotland and Wales have now been transformed as part of over £30 million worth of investment, the UK Government and LTA has confirmed today.
The Sports Minister Stuart Andrew and LTA Chief Executive, Scott Lloyd hailed the completion of 1,500 park courts across Britain at the recently renovated Buile Park in Salford. They joined a family tennis session and spoke to members of the community who were enjoying newly refurbished courts.
The visit took place on the morning of the final day of the Davis Cup, where a new record was set for the largest spectator audience at a Davis Cup match in Britain, where over 13,000 fans watched Great Britain take on France.

Sports Minister Stuart Andrew said, "Having easy access to high quality sport facilities is vital to staying fit and healthy.
"These park tennis courts in Salford are just a few of the 1,500 recently renovated thanks to the £30 million partnership between the Government and the LTA. We're giving thousands of people across the country more opportunities to play tennis and getting people active in previously underserved communities."
We have been working with Salford City Council and local authorities across Greater Manchester to transform facilities and inspire Brits of all abilities, ages, and backgrounds to pick up a racket and play, with £1.7million already invested into 40 parks with tennis courts across Greater Manchester. This includes an investment of £662,743 across eight Salford City public parks, as part of which the council contributed £206,652.
The £30 million package, through which £21.9 million has been committed by the UK Government and £8.4 million by the LTA Tennis Foundation, is the most significant investment in parks tennis courts across Britain for a generation.
The investment reflects the UK Government's commitment to getting an additional 3.5 million Brits physically active by 2023 by opening up more opportunities to play tennis on high quality upgraded public tennis courts.
We are supporting local authorities and providers to ensure that a range of activity is in place across refurbished park courts, including free weekly tennis sessions. This includes Free Park Tennis, a new programme being rolled out on Saturday or Sunday mornings at 10:00. Sessions are delivered by volunteers, are free and accessible for all with equipment provided, giving people the opportunity to get active and meet new people through tennis.
All 1,500 completed courts and other across Britain are bookable on LTA PlayTennis with digital gate access systems installed across sites, to make finding, booking and getting onto court as easy and secure as possible for tennis players across the country.
It follows a 43% increase in participation in 2022 to a total of 4.7 million adults, and a significant increase in children playing annually to 3.6 million. We are aiming to attract 500,000 more annual park tennis players following the completion of the project.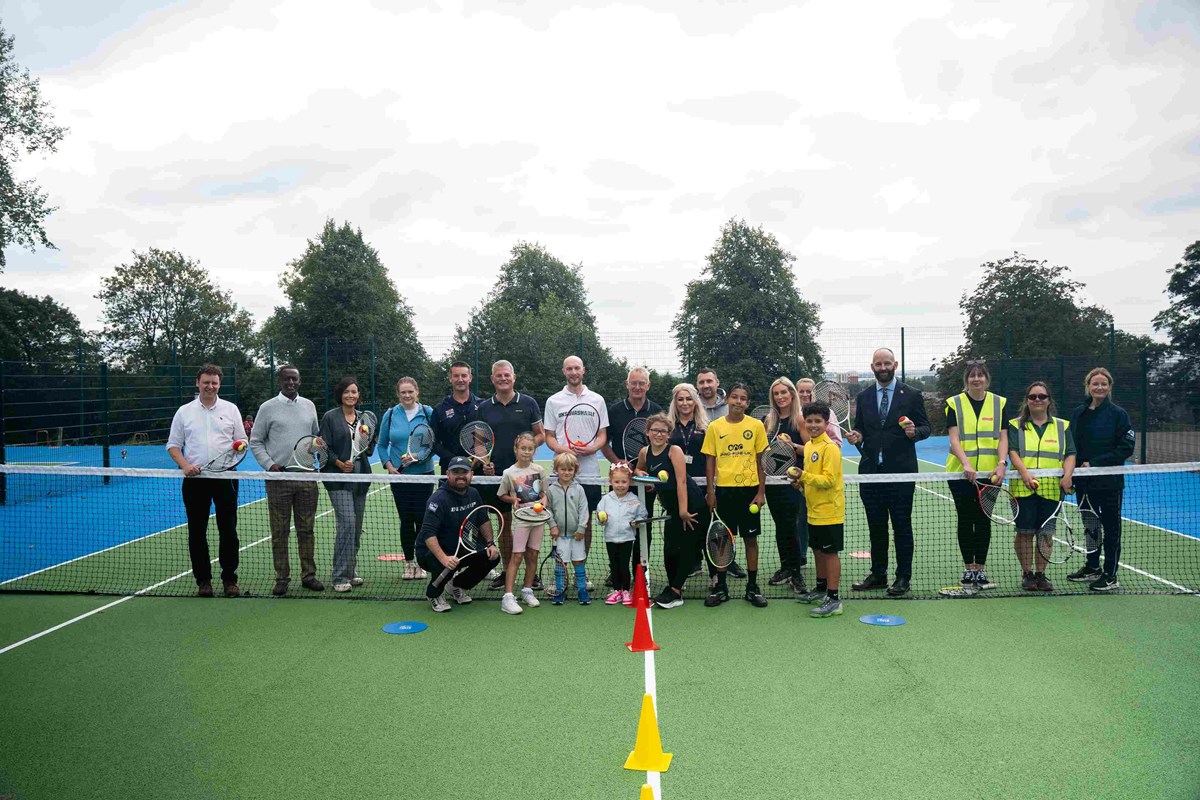 LTA CEO Scott Lloyd, who joined the Sports Minister at the newly refurbished courts at Buile Park, said, "We are delighted to have transformed 1,500 park tennis courts across Britain as part of this investment in park tennis facilities by the UK Government and LTA Tennis Foundation.
"We're continuing to work with hundreds of local authorities across the country to transform more park tennis courts, making it far easier to find a court and book, and ensure a range of engaging activities and free tennis sessions are available for people of all ages and backgrounds to take part in.
"It's great to see how courts like these in Salford will benefit local communities across Britain, and help provide opportunities for many more people to pick up a racket, get on court, and enjoy playing tennis."
This major investment is designed to support the Government's commitment to levelling up sports provision across the UK, where over £400 million is also being used to support the roll-out or refurbishment of multi-sport grassroots facilities across the UK between 2021 and 2025, and £60 million is being invested into local swimming pools in England this year.
The visit of the Sports Minister follows Davis Cup captain Leon Smith and players' Cam Norrie and Neal Skupski joining a family fun day at Kingswood Park in Manchester City last weekend, where they saw some of the refurbished courts for themselves and shared their tips and advice with young players to help inspire them to become Britain's Davis Cup and Billie Jean King Cup players of the future.