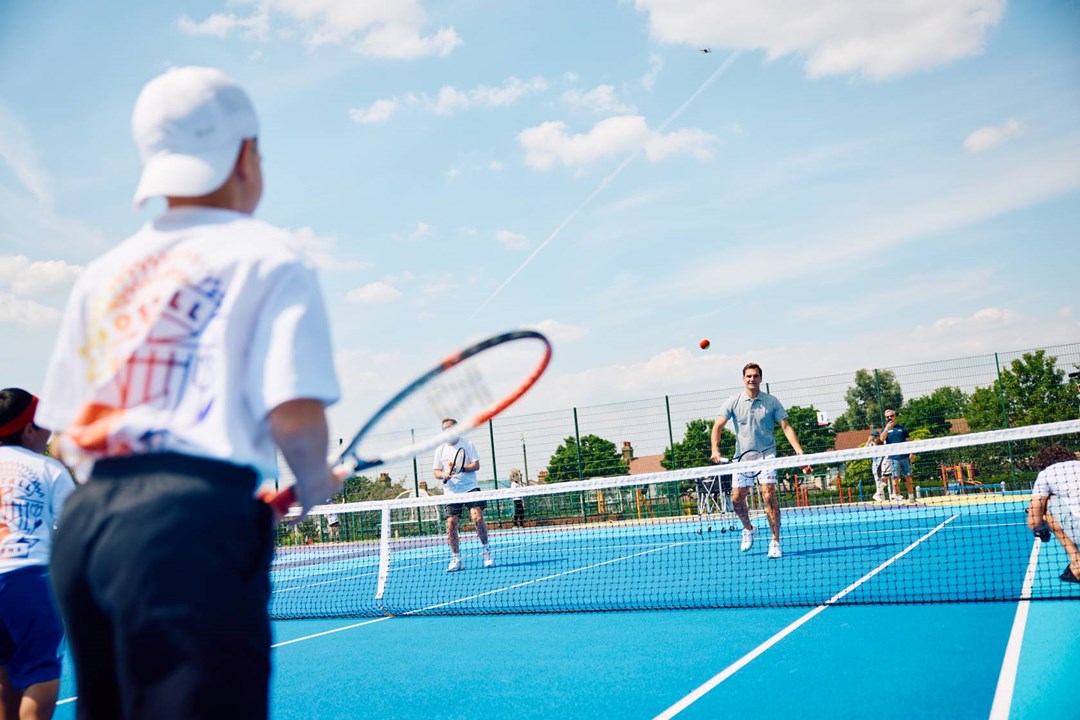 Community
Roger Federer unveils unique legacy project on Greenwich tennis courts as Park Tennis Project momentum builds
• 3 MINUTE READ
Tennis star Roger Federer visited Bostall Gardens park tennis courts in Royal Greenwich on Thursday 15 June, to unveil two tennis courts which have been painted in a unique and special design by the internationally acclaimed street art duo Low Bros, and take part in a coaching session with local school children.
The project is part of Federer's Neon Legacy initiative, aimed at promoting tennis in communities and inspire the next generation of tennis players, with artwork completed through coordination with the Royal Borough of Greenwich.
We have also been working with the Royal Greenwich to invest in and refurbish park tennis courts across the local area more widely, with five other park tennis venues receiving investment to ensure quality facilities for the local community.
This is part of a nationwide investment in refurbishing park tennis courts by the UK Government and LTA Tennis Foundation, delivered by the LTA. The Parks Tennis Project will see thousands of existing park tennis courts in poor or unplayable condition brought back to life for the benefit of communities across the country through renovation works, and improved court accessibility with new gate-access technology and booking systems.
Find out about the Park Tennis Project
Park tennis courts are vital for providing people of all ages and abilities to pick up a racket, get active, and enjoy playing tennis. They are often where many people first play the game and have higher participation rates amongst women and girls and underserved communities.
Work is well underway at parks across Great Britain, with hundreds of courts already refurbished, and many more scheduled to relaunch over the coming months.
We are also supporting local authorities and providers to ensure that all areas receiving investment deliver free weekly tennis sessions in their parks, for all ages, playing levels and experience. Equipment will be provided, meaning that people will not need to find someone to play with or their own racket.
Speaking at the event, the 20-time Grand Slam winner said: "It makes me really happy to be here in London where I have such great memories over the years - Olympics, O2 Arena and then as well at Wimbledon.
"This court is one of the most beautiful in the world and I'm so happy to give it back to the community. Tennis is such a great sport for everybody getting together and seeing each other and just hanging out as well at the court. I really hope this place is going to be a place where people love to come, the community, the neighbours, and just have the best times and create memories for a lifetime."
Secretary of State for Culture, Media and Sport, Lucy Frazer, said: "Thanks to government funding people of all ages are getting better access to high-quality tennis facilities so they can enjoy the game and get fit on good courts, no matter where they live.
"We are working with the Lawn Tennis Association to invest £30 million to level up access, build on the inspiration of tennis legends such as Roger Federer, Andy Murray and Emma Raducanu, and get more than 3,000 park courts refurbished across the country."
Tom Gibbins, LTA Tennis Foundation lead said: "The Parks Tennis Project is a game-changing investment that has already seen hundreds of unplayable or poor quality courts across Britain refurbished for the benefit of local communities.
"We want to inspire as many people as possible to pick up a racket and play on their local courts and are delighted to have such an inspirational figure as Roger Federer supporting that mission."