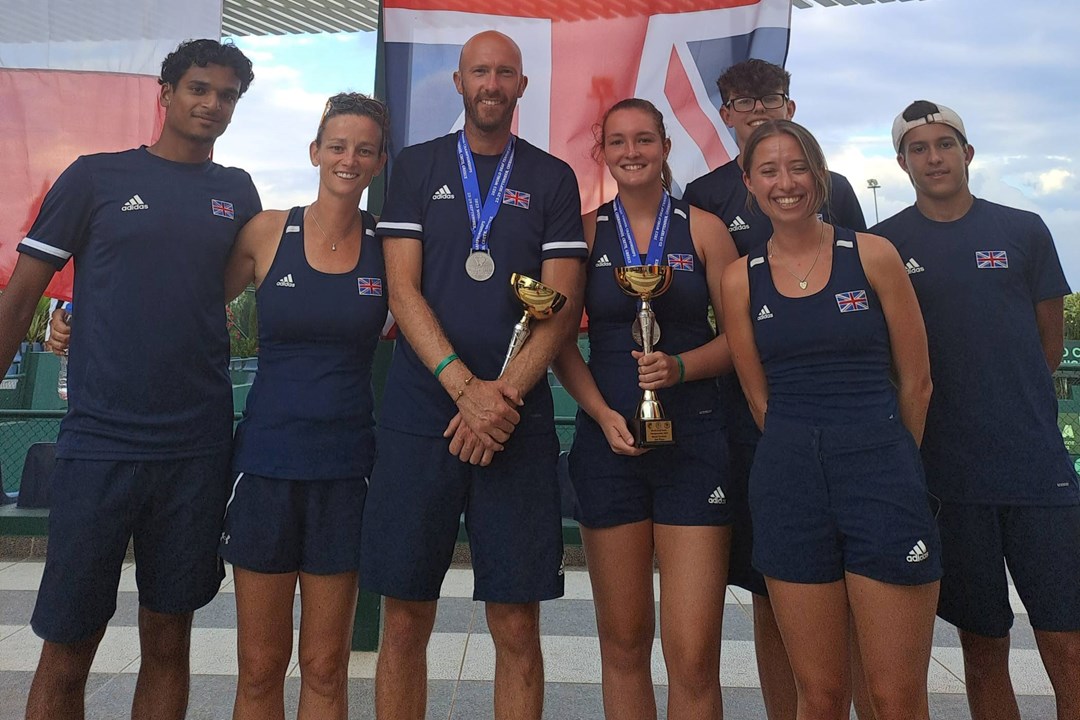 GB Teams
Phoebe Suthers and Lewis Fletcher earn mixed doubles silver medal at third World Deaf Tennis Championships
• 2 MINUTE READ
Phoebe Suthers and Lewis Fletcher have won their second successive World Deaf Tennis Championships mixed doubles silver medal after a narrow 7-6, 7-5 defeat to Czech No.1 seeds Jaroslav Smedek and Katerina Blascikova on Friday in Crete.
Suthers and Fletcher, the No.3 seeds, beat Chinese Taipei No.2 seeds Chun-Wei Wang & Chia-Wen Lin 6-2, 7-6(3) in Thursday's semi-finals to secure their third mixed doubles victory of the week, but were unable to build on a 3-0 first set lead and a 3-1 second set advantage in Friday's final.
The mixed doubles silver medal on the last day of competition in Crete completes a week when all five members of the Great Britain team came up against top seeds or subsequent medal match contenders in their own quests to reach the podium.
Esah Hayat, boys' singles gold medallist in 2015 and men's doubles silver medallist alongside Fletcher four years ago, bowed out to multiple Deaflympic champion Mikael Laurent of France in this year's men's singles draw, while Fletcher and Hayat and fellow Brits Ethan Carter and Charlie Denton saw their men's doubles campaigns come to an end against the French and Japanese partnerships that contested the bronze medal match.
Suthers saw her women's singles campaign come to an end earlier in the week against Greek No.1 seed Vasiliki Kalogeropoulou, who narrowly missed out on the women's singles bronze medal.
With Great Britian one of more than 20 countries contesting this year's World Deaf Tennis Championships, the LTA's Disability Competitions Manager Sophie Hall, Great Britain Team Manager for the third World Deaf Tennis Championships, said: "Phoebe and Lewis have done incredibly well to repeat their performance of four years ago and but for a few points here and there the outcome could have been very different.
"We are proud of all five members of the team after a challenging week. The standard of international deaf tennis improves year-on-year and we have a talented and enthusiastic young team of British players, with Phoebe returning from the World Championships as a medallist for the third time after making her debut as a 12-year-old when Britain hosted the first World Deaf Tennis Championships in 2015.
"We hope that this latest international medal will inspire lots of other young deaf people to pick up a racket and explore their potential through the LTA's deaf tennis programme."
Deaf tennis
Find out more about deaf tennis and discover how you can start playing today.