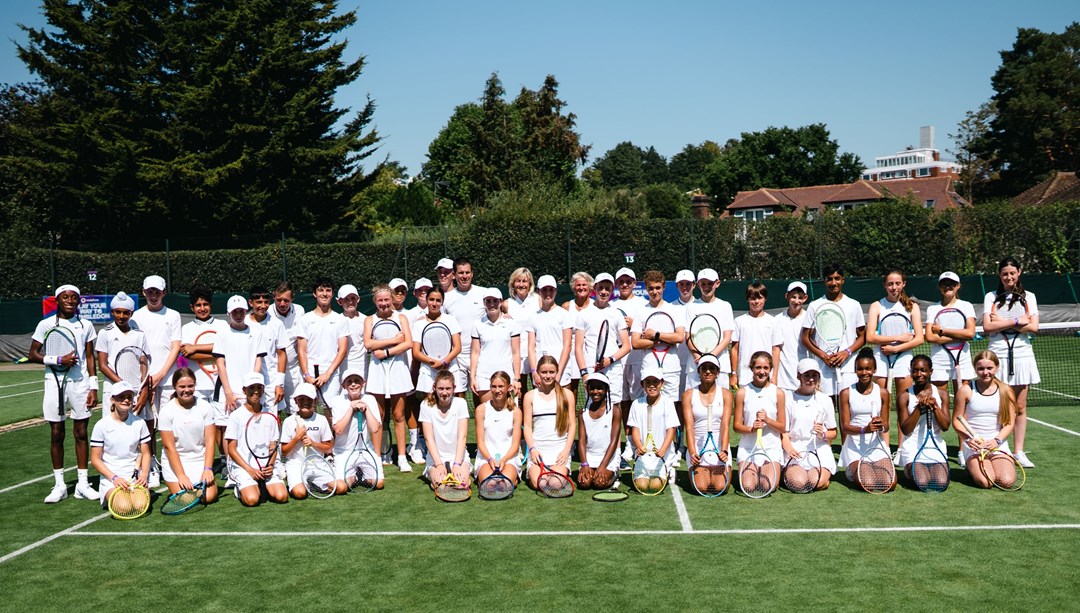 Juniors
Moxon and Griffiths headline champions at Play Your Way to Wimbledon finals
• 4 MINUTE READ
Billy Moxon and Edie Griffiths celebrated a historic Wimbledon victory this weekend, as they won the 14U boys and girls singles events at the national finals of Play Your Way to Wimbledon, Powered by Vodafone.
Meanwhile, in the first year of the doubles competition, Ryan Perkins and Raphael Tan won the 18U boys doubles, with Abi Redman and Eva Senior crowned champions in the girls doubles.
Over the last few months, more than 10,000 talented juniors have battled it out in local and regional competitions for a chance to reach the national finals. Played on Wimbledon's iconic grass courts, the finals saw the best players in the competition contest against each other in a gloriously sunny week-long event, delivered in partnership by the LTA and the All England Lawn Tennis Club (AELTC).
Champions
U14s boys singles: Billy Moxon
U14s girls singles: Edie Griffiths
U18s boys doubles: Ryan Parkins & Raphael Tan
U18s girls doubles: Abi Redman & Eva Senior
On an action-packed finals Saturday at SW19, Birmingham's Moxon eventually emerged victorious in the boys singles with a 7-5, 6-0 win over Jacob Blackler-Rose.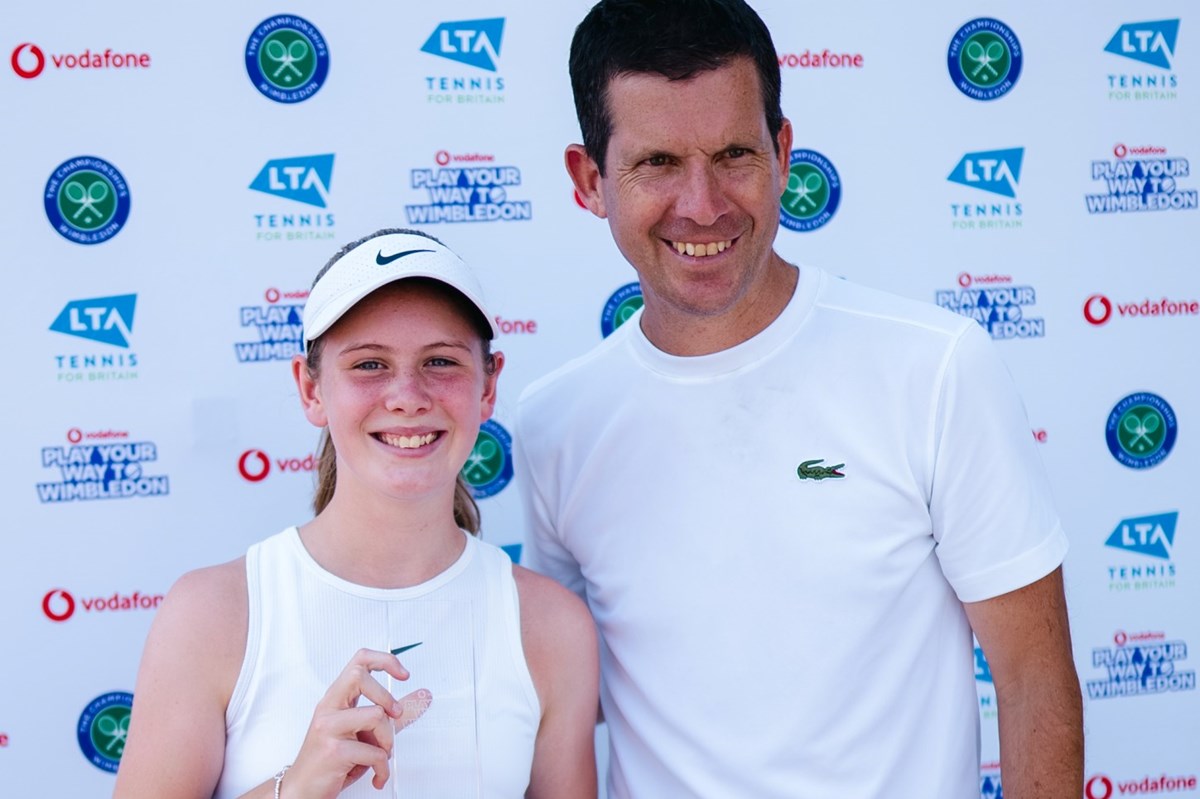 The girls singles final came right down to the wire, with Upminster's Griffiths surviving what would have been a stellar comeback from Maya Ichim, to win 6-1, 6-7, 10-8 in the deciding match tie-break.
There were straight sets victories for both sets of 18U doubles champions. Parkins and Tan didn't drop a set en route to lifting the boys doubles trophy – finishing with a 6-2, 7-6(3) win over Georgiy Lesyuk and Tristan Scurr in the final.
It was a similar story for Redman and Senior who dominated throughout the draw and ended with a comprehensive 6-0, 6-3 victory against Ellison Fisk and Olivia King.
As well as the winners, all the finalists across the week were able to immerse themselves in the true Wimbledon experience, competing in whites and touring the historic Grounds and Museum. The lucky participants were also joined by British legends Tim Henman and Laura Robson, who cheered on the players and provided valuable advice. During the event Tim Henman also put on a separate coaching clinic for those players that just missed out on qualifying for the national finals.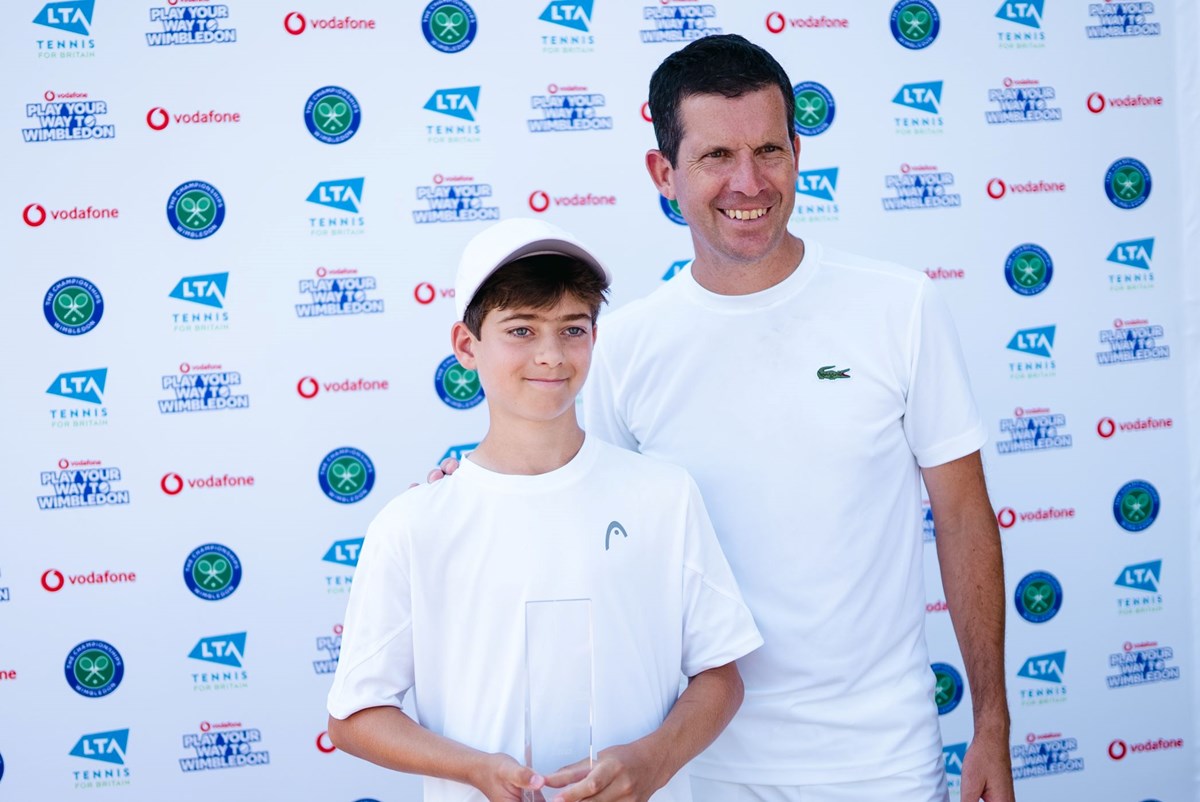 Vodafone Ambassador Tim Henman said: "It was amazing to meet some of the players this week and watch them compete to the best of their ability. Playing at Wimbledon was always an incredible experience for me, no matter how many times I did it, so I'm sure this will be a moment none of these players will ever forget."
Vodafone Ambassador Laura Robson said: "It's been such a fun week, and I've loved speaking to the players and watching their matches. I've played in Play Your Way to Wimbledon before, back when it was Road to Wimbledon, and making it to the finals is such an incredible feeling at that age. Not many people in the world get a chance to play at Wimbledon, and you can see how much it means to people."
Oliver Scadgell, Participation Director at the LTA said: "Play Your Way to Wimbledon, Powered by Vodafone is a wonderful initiative to encourage participation in tennis, and it was fantastic seeing so many young players taking part at Wimbledon this year. With the ongoing support of Vodafone and the All England Club, we're thrilled to continue our goal of growing tennis at the grassroots level and get more people involved than ever before."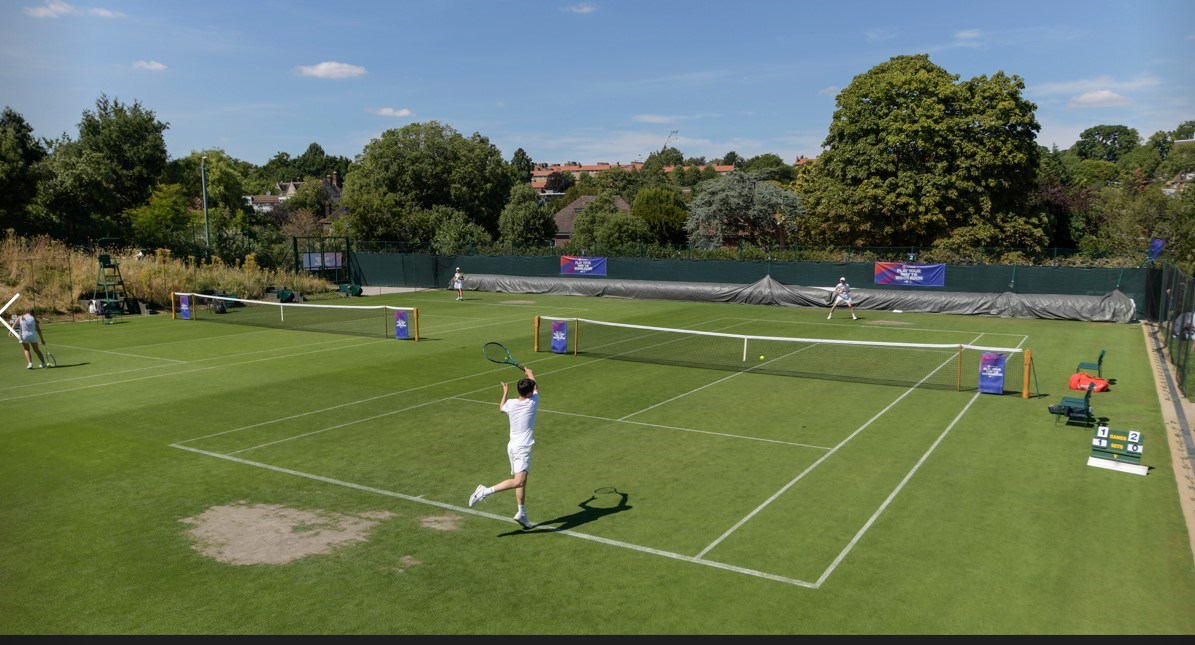 Vodafone Consumer Director, Max Taylor said: "A huge congratulations to all of the finalists. The level of tennis on display over the last week has been incredible. Through Play Your Way to Wimbledon, Powered by Vodafone we want to inspire and develop the next generation of British talent and from what we've seen this year we are confident that we are on the right track to achieving those goals."
Jamie Baker, Head of Professional Tennis and Tournament Director at the All England Club said: "We were delighted to welcome all of our county and regional winners to Wimbledon this week, and we hope events such as this will continue to inspire the next generation to play tennis. Outside of this national event, many of these players will not have had the opportunity to play on grass courts; so we're thrilled that we can provide this platform for the tennis community and create a memorable experience. This competition has hosted some fantastic players over the years, and we look forward to seeing some of this year's participants using the inspiration of Wimbledon to continue their tennis journey into the future."