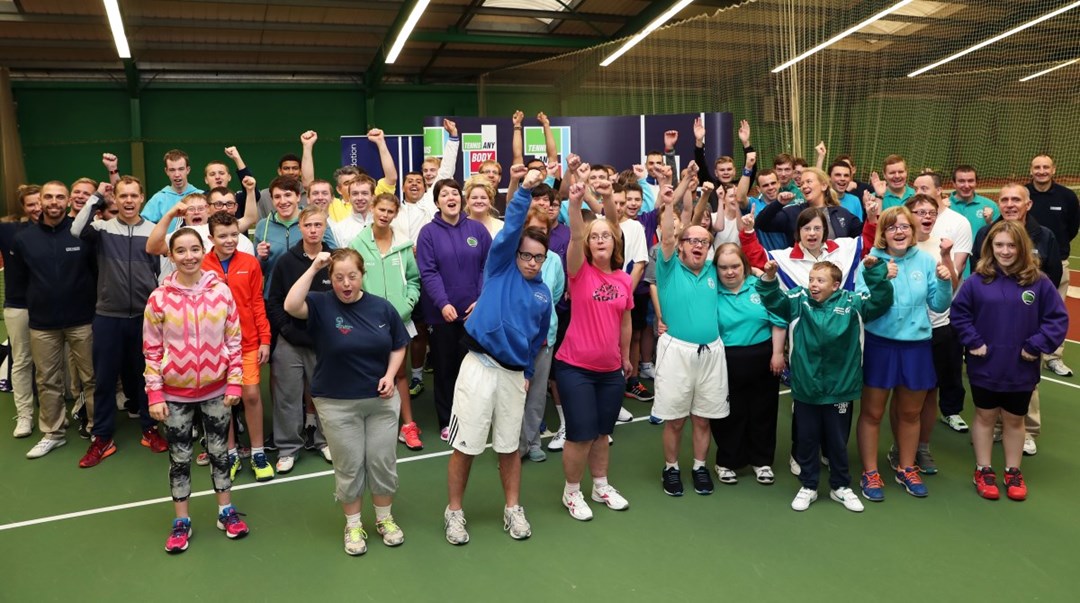 National
Medals decided at National Learning Disability Tennis Championships
• 3 MINUTE READ
Stephen Davies, Alex Hume, Emma Lindsay and Lucy Porteous all won singles and doubles gold medals at the Tennis Foundation's National Learning Disability Tennis Championships, held in partnership with Special Olympic Great Britain, over the weekend at Wrexham Tennis Centre.
Meanwhile, there were two doubles gold medals for Jack Dickson during a fantastic three days of competition featuring more than 60 players from across the country.
Stephen Davies claimed two of four gold medals for local Wrexham players, winning the men's Division 5 singles after edging his contest against silver medallist Alastair Ramsey 7-6(4) to remain unbeaten in his three matches.
Davies also partnered Laura Campbell, one of Great Britain's four gold medallists from the 2015 Special Olympics World Summer Games in Los Angeles, to remain unbeaten in both their matches to clinch the Division 1 mixed doubles gold medal.
Laura Campbell was a silver medallist behind Lily Mills in the women's Division 1 singles after Mills dropped just two games in her two matches on route to the gold medal. Meanwhile, Porteous, who was one of Campbell's teammates, last year in Los Angeles, dropped just one game across her two women's Division 2 singles matches to earn gold.
Porteous won her second gold medal of the weekend in the Division 2 mixed doubles, partnering Jack Dickson to win both of their round-robin matches comfortably. Dickson's second gold medal of the championships came in the men's doubles when he partnered Matthew Copley to remain unbeaten in their two Group 5 matches.
The men's Division 1 singles produced some enthralling matches as Special Olympics World Summer Games gold medallist Oliver Beadle denied Shain Lewis a second successive National Championships singles gold medal. Two of Beadle's three match wins came in tie-breaks, including a tense 7-6(10) win over Lewis in the contest that decided the gold and silver medals.
Alex Hume won his two gold medals in the men's Division 3 singles and men's Division 2 doubles. All three players in the Division 3 singles earned one win apiece, but Hume took the gold medal having won a higher percentage of games. Meanwhile, Hume and Robert Fisher edged two of their three doubles matches 7-5 as they remained unbeaten.
There were similarly close finishes after identical win-loss match records in the men's Division 6 singles and Division 13 singles. Benedict Tyler and Gregor Boyd both finished on two wins apiece in Division 6, despite Tyler dropping his opening match in a tie-break. However, he beat Boyd in a tie-break, 7-6(5), when they went head-to-head to earn the gold medal.
With all three players on one win apiece in Division 13, William Haynes had the better percentage of games won against games played to claim his gold medal ahead of Damon Hughes and Cameron Long.
Emma Lindsay matched women's Division 3 singles gold medallist Maria Bruce by winning all three of her singles matches in Division 4 and remained unbeaten again for her second gold medal as she partnered to Laura Wells to three wins from three contests in the women's Division 2 doubles.
Elsewhere, there were also clear-cut men's singles gold medal wins for Michael Clarke, Ryan Caven, Steven Uttley and Chris Burke, who all wrapped up three wins from their three matches in Division 4, Division 7, Division 11 and Division 14 respectively. Burke's victory saw him add another local singles gold medal to Stephen Davies's victory in Division 5.
Tomos Bevan, Matthew Fenn Torrente, Thomas Sewell and William Farrow also all remained unbeaten to make it two wins from two matches and ensure their gold medals in Division 8, Division 9, Division 10 and Division 12.
Despite three wins from three matches in their respective men's Division 1 and Division 2 singles events, Beadle and Michael Hartnett were unable to add gold in the men's Division 1 doubles and were denied by Joshua Kerr and Lewis, who won the head-to-head between the partnerships 6-2.
With Kerr and Lewis winning all three of their doubles matches, James Jennings and Rhys Parry and Damon Hughes and Mathew Wreglesworth followed suit to finish on top of the podium in men's doubles Division 3 and Division 7, respectively. Mark Cooper and Jonathan Ross both of their men's Division 4 doubles matches 6-3, 6-3 to join the list of gold medallists. Back-to-back wins for Marco Fusco and Lane Stow also earned them gold in Division 6.