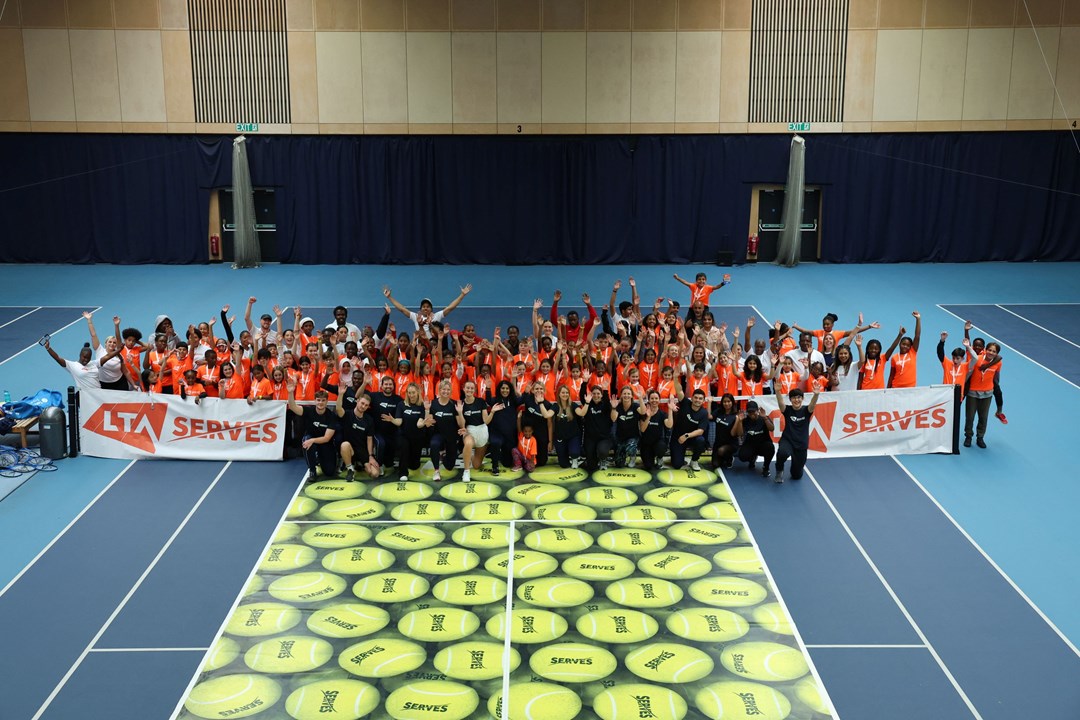 Community
The LTA Tennis Foundation funds the LTA SERVES Level Up London project to enhance female engagement in tennis
• 3 MINUTE READ
Over 100 kids from 10 LTA SERVES venues in communities across London joined together for a fun day of activities and excitement at a unique tennis festival at the Lee Valley Hockey and Tennis Centre.
The festival was the climax of the project set up just North of the Queen Elizabeth Olympic Park in Stratford, called LTA SERVES Level Up London (LUL).
The project – supported by the LTA Tennis Foundation – was established to provide more opportunities for women and girls from underserved communities to get involved in tennis. This included coaching programmes for LTA SERVES Activators and LTA Coach Mentors in London to develop their skills and give them the tools to encourage more women and girls from within their community to pick up a racket and play.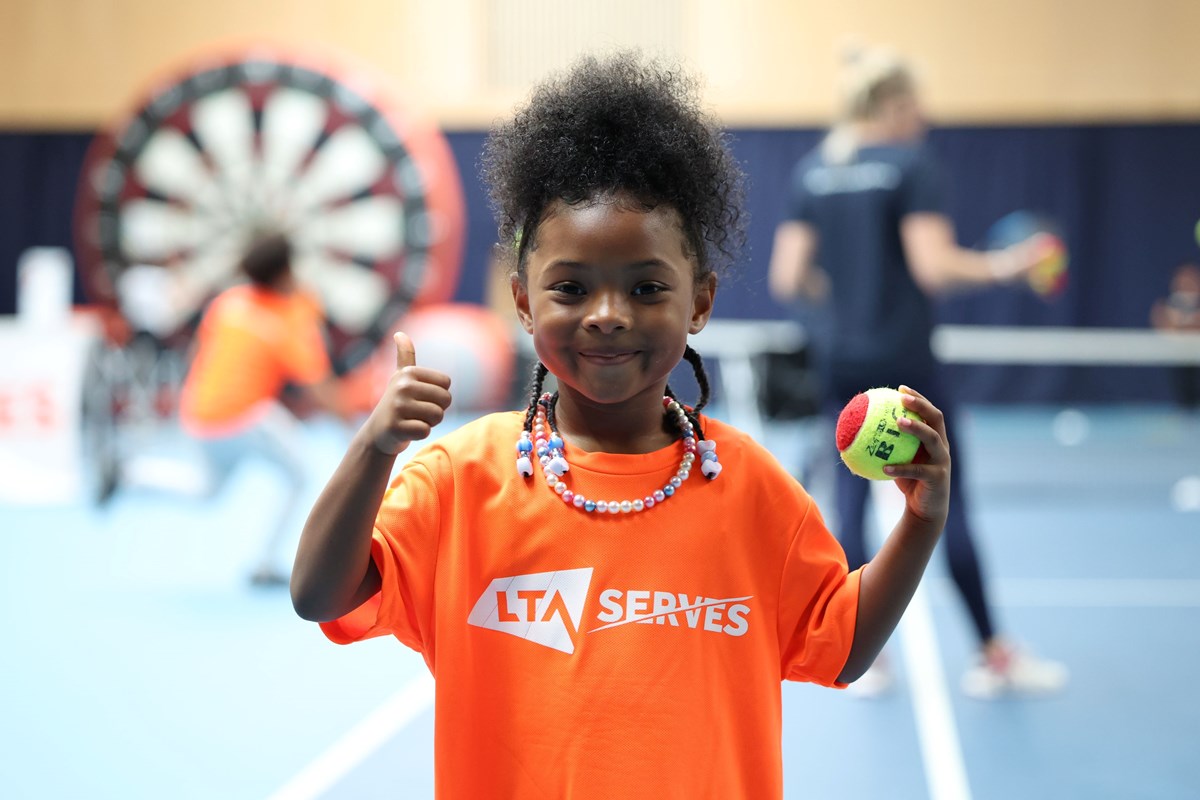 Activators and Mentors were recently welcomed to an experience day at the National Tennis Centre in Roehampton, where they had the opportunity to share ideas, learn from expert coaches and put their training into action ahead of the tennis festival at Lee Valley.
Christine Dransfield, an LTA Coach Mentor and Senior Head Coach at the Sports for Development charity Greenhouse Sports believes that the experience will help her, and her fellow coaches look for new ways to create more opportunities for those communities to play tennis.
"We were invited to spend the day at the National Tennis Centre, and they took us through the LTA SERVES programme before demonstrating the work the activators do at their venues," explained Christine. "They do some amazing work with these kids in areas of high deprivation, and after learning about the work they do, we entered discussions of how we, as mentors, can develop their tennis delivery within those areas.
"We then visited the LTA SERVES venues, with all Mentors pairing with an Activator, and we spent two hours providing advice and help where needed including ideas for small spaces, looking at links with local parks, and just discovering ways to get the kids who really love their tennis out on court.
"The sessions also included looking at ways to encourage more girls to take part in sport, whether that be through setting up girls only sessions or understanding how different activities can lead to higher engagement.
"We looked at individual, paired, and team activities, as well as team challenges that follow a similar set up to that of the festival layout: separated into different stations. So, it doesn't necessarily have to be a tennis competition as that can prove to be daunting for some."
Jordan Alloy – a new LTA SERVES Activator in East London – reiterated the project's dedication to creating a warm and welcoming setting for girls. Jordan took up the opportunity to get involved in the LUL project after receiving an offer from community-led sports charity, Access to Sports, that eventually led him to become an activator.
"I've noticed greater engagement levels from the girls since I got involved in tennis. Before becoming a Tennis Activator, I was heavily involved in coaching football and often the girls tended to feel pushed aside because the boys can get over-excited and greedy with the ball.
"Yet, in tennis there is plenty of opportunity for individual work, partner work, and group work, so they eventually come out of their shells.
"All in all, the main thing we Activators learnt during our training was how we can keep engagement levels up, keep the kids happy and just make sure everyone has a smile on their face. We want to encourage the kids to socialise, make new friends, as well as help them to become more independent."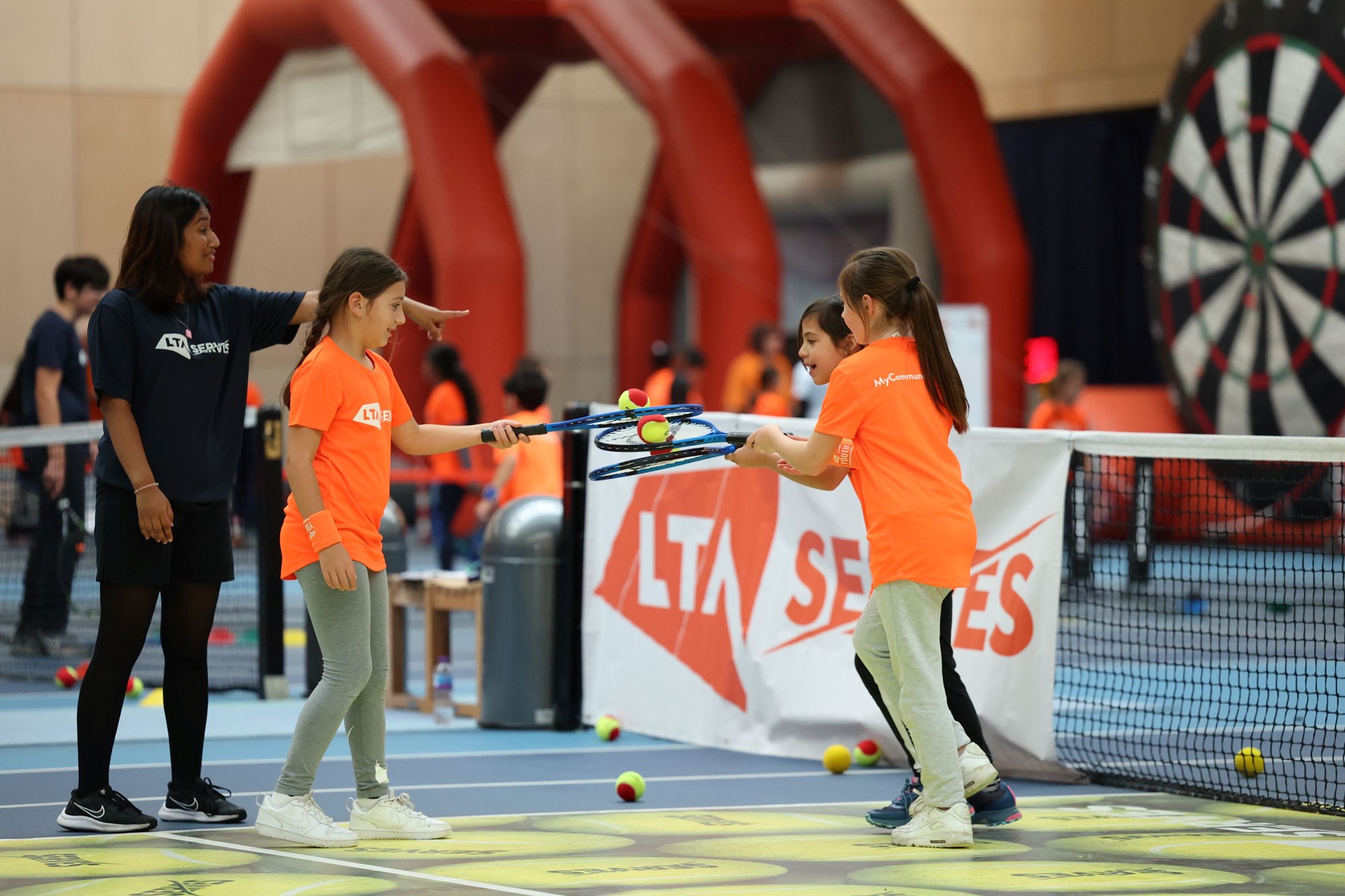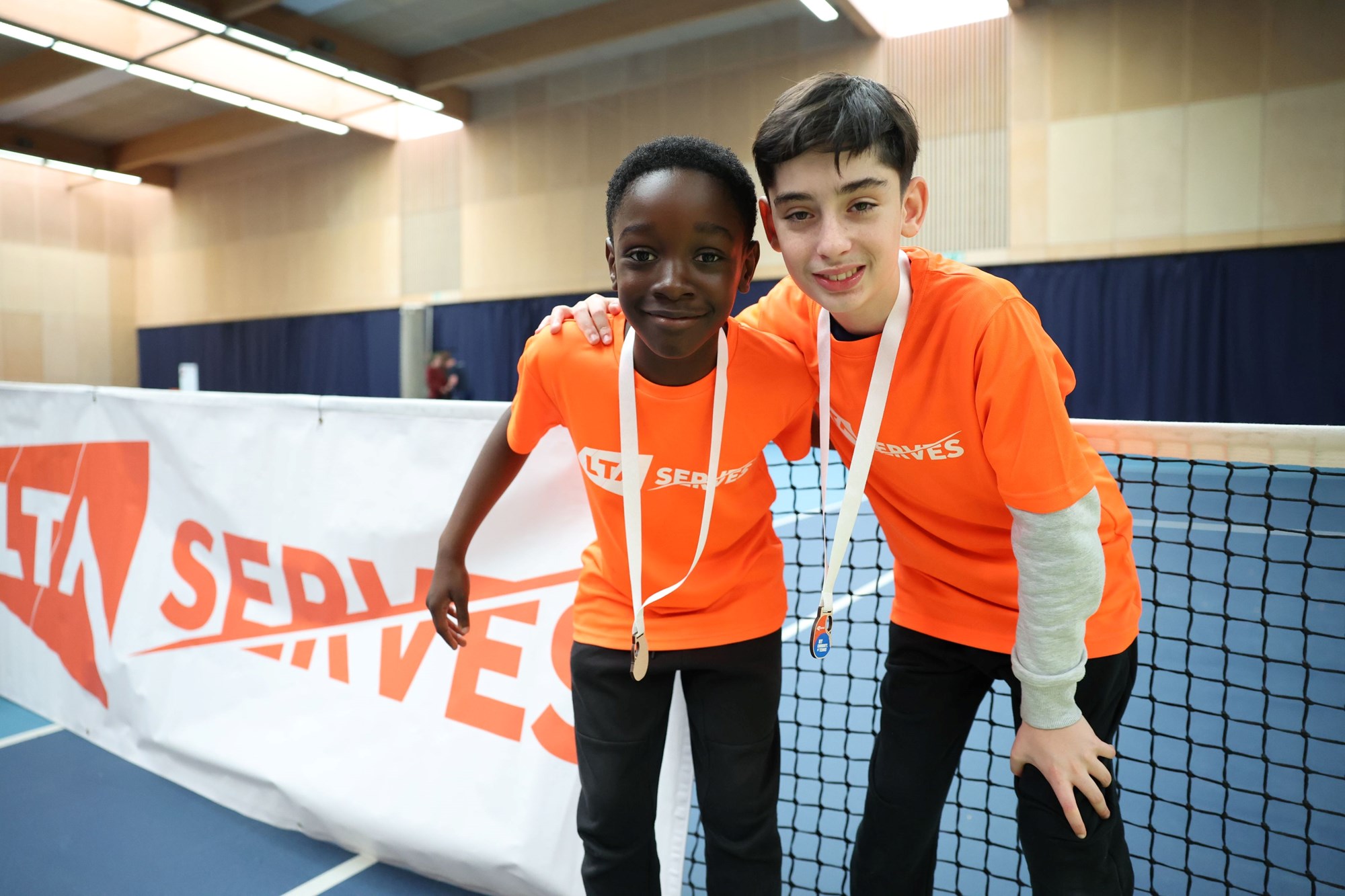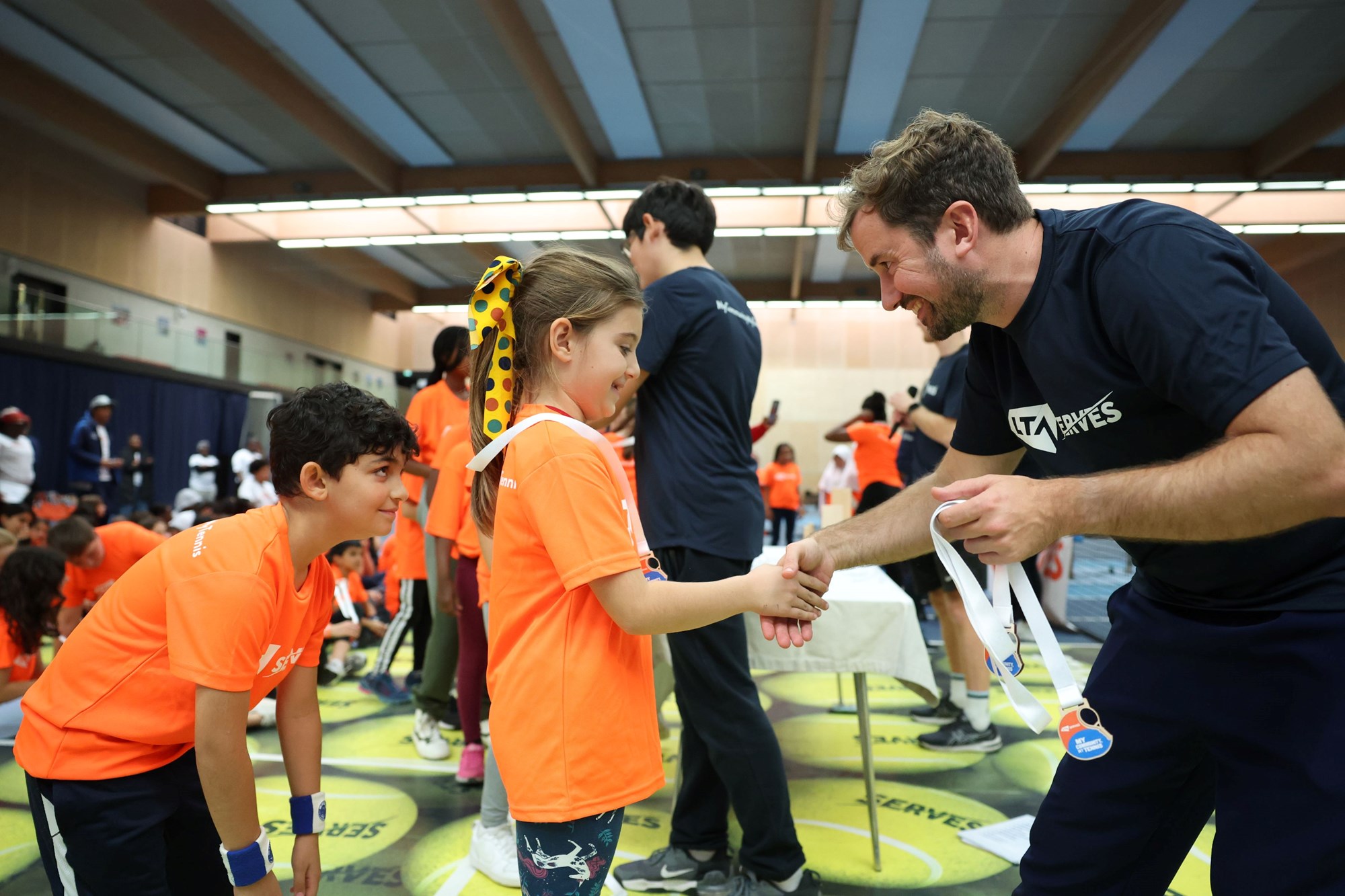 Just minutes away from the soon-to-be host venue of the 2023 Billie Jean King Cup Play-Offs, the final showcase of the LUL project left all involved in jovial spirits as the kids immersed themselves in the tennis sessions, making their way around each activity station with the LTA SERVES Activators at the wheel.
Among the activities – not to forget the elephant-sized inflatable dart board, of course - was a whiteboard that stole the show, overflowing with heartening messages from the kids as they went into detail about what tennis means to them.
'Tennis has made me see the world differently', wrote one of the young players, Areelia. While a separate posted note left anonymous read, 'when I started last year, I did not know how to hold a racket, but now I am able to play a rally. Tennis makes me feel free to be able to appreciate who I am and what I am able to be.'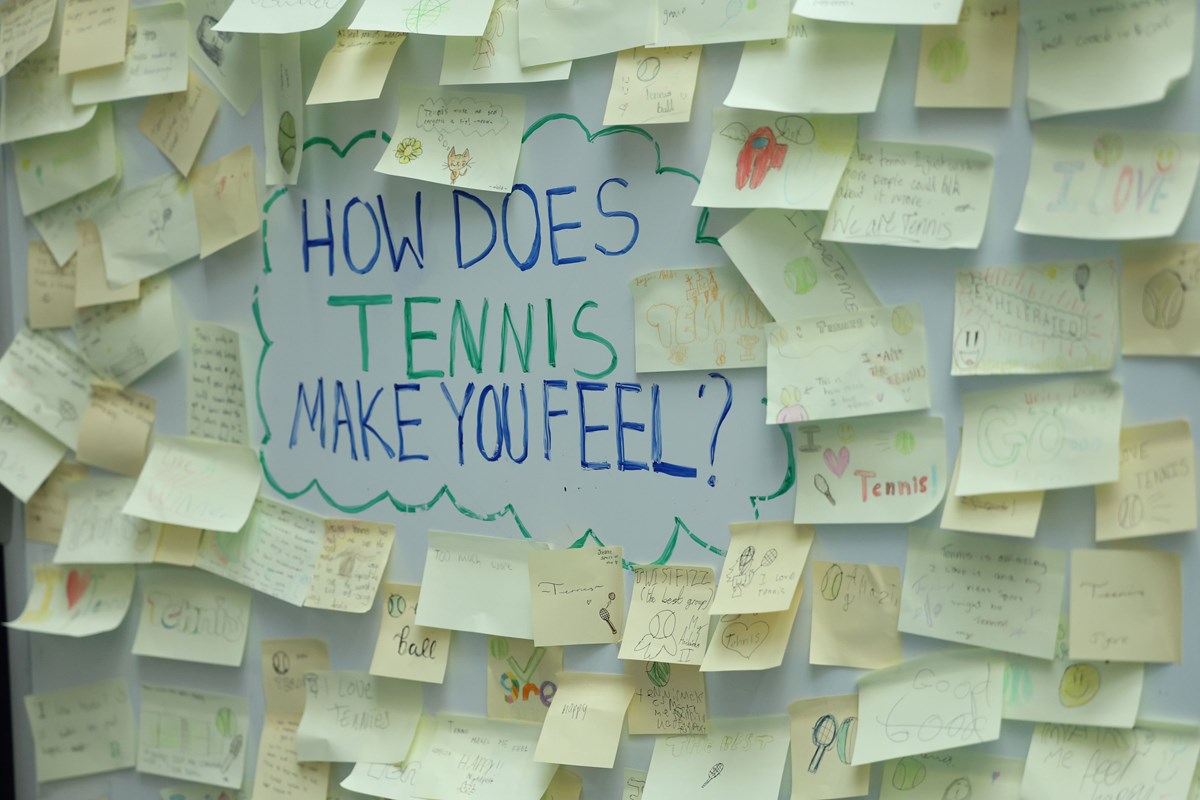 Fatima Hussain, who volunteers her time at Sports and Well-being charity, Sport at the Heart, was also among the Activators to undergo training as part of the LUL project.
"The kids are happy that tennis is even an option as some don't have the opportunity to do it at school," she said, reflecting of the impact of the programme in her community.
"It's not necessarily a sport that sees high participation levels in the areas we deliver, but after introducing the SERVES programme to our list of initiatives, some of the kids are asking for names of clubs so they can pick it up more regularly."
The LUL project came to fruition thanks to the money raised from the 2022 Laver Cup Open Practice Day held at the O2 Arena. The initiative was introduced to give back to the community through raising funds for charitable partnerships, including the LTA Tennis Foundation which announced the LTA SERVES programme to be among the grantees of its £1.5m cash boost earlier this year.
Encapsulating the core values of the LTA SERVES programme, the LTA Community Tennis Manager, Kiran Matharu said: "The ultimate goal of providing opportunities like this is to support us in inspiring a new generation to pick up a racket and get involved in tennis no matter who you are or where you're from."
The statistics from the LUL project and its subsequent event held at Lee Valley showed that over 100 kids and LTA SERVES Activators were in attendance and 65% were female, with Tennis Activators remarking their increased independence and confidence.
Tanya Woodward, the LTA London Participation Development Manager, reflected: "The launch day provided an opportunity for everyone to get to know each other with mutual learning through inspiring sessions.
"Building on the launch day, LTA SERVES Activators received personal mentoring and finally the children and the Activators came together for an inspirational Festival Event, which was a phenomenal success for everyone involved."
Find out more about LTA SERVES & our 'Breaking Down Barriers' strategy
Learn more about our award-winning sport for development programme – taking tennis into the heart of local communities and helping kids aged 4-18 get active through our sport.