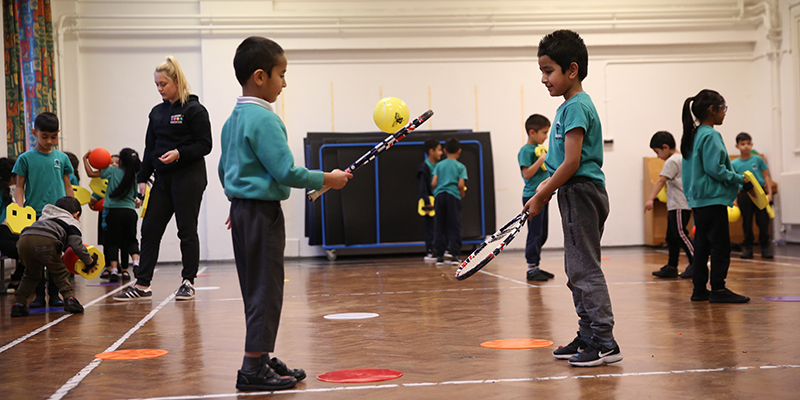 LTA Youth
Primary school content released for lockdown learning
• 3 MINUTE READ
With the nation in lockdown, many parents and carers are facing the realities of home-schooling.
To assist, we have released our LTA Youth schools content to enable children and families to learn key skills together in the comfort of their own home.
Designed to develop children mentally and physically both on, and importantly, off the court, the innovative content features active challenges and tennis-themed lessons covering subjects such as numeracy, literacy, geography and science.
'Learn and develop important character building skills'
Providing children with the chance to explore and develop five key character qualities demonstrated by tennis players: motivation, resilience, perseverance, passion and respect, the educational content would usually be used in schools to help teachers deliver tennis-themed lessons across the curriculum. But, with the nation continuing to stay at home, we have released the materials for use within the household, with any group activities able to be completed by a parent and child.
Aimed at children in school years 3-6 in England and Wales or P4-7 in Scotland, the content features five at-home challenges, which can all be completed indoors or in an outside space. With no special equipment needed, each challenge focuses on developing one key character quality, but children are also encouraged to think about other qualities they might be using throughout each challenge too. There is also a final 'personal challenge' which encourages children to develop a skill over the course of a week.
Accompanying the at-home challenges, are some fun, tennis-themed activities, where children can participate in sessions ranging from 'Game, Set & Match' (Numeracy & Literacy), to 'Tracking Rackets' (History) and even 'Court in the Clay' (Art). Each lesson features simple 'warm-up' activities which take around 15 minutes to complete.
'A great way of engaging kids'
One of the first to use the at-home resources with her children, mother of two Kylie Penn said:
"The LTA's developmental activities are great. They have not only motivated my 12 year old and 5 year old, but engaged our whole family. All of the challenges have been fun and they've certainly helped to add some variety to our days in lockdown. I would definitely recommend to friends – a great way of engaging kids in practical and emotional activities."
Tom Gibbins, Head of Education at the LTA commented:
"Personal development in primary schools is high on the agenda for Government and the content we've developed for our LTA Youth programme reflects this. As lockdown continues, we've released our educational materials to enable children and families to learn and develop important character building skills whilst staying at home. The fun activities are all easy to complete in small spaces with siblings, parents or carers and have all been designed for children to develop resilience, respect and other essential skills that children would learn on court. It's the perfect way to introduce kids to the game of tennis and inspire the next generation of players and spectators."
The primary school content released is part of LTA Youth - a programme designed for children aged 4-18 with the aim of helping more kids play and stay in tennis whatever their ability, whatever their background. Its release co-insides with the news that the LTA has been granted 'Approved Provider' status by the Association of Physical Education's Professional Development Board -recognising the LTA as both a provider of professional development and educational resources.
Fancy a challenge?
We're encouraging children and families to complete one of the five at-home challenges every day. Click here to find out more.