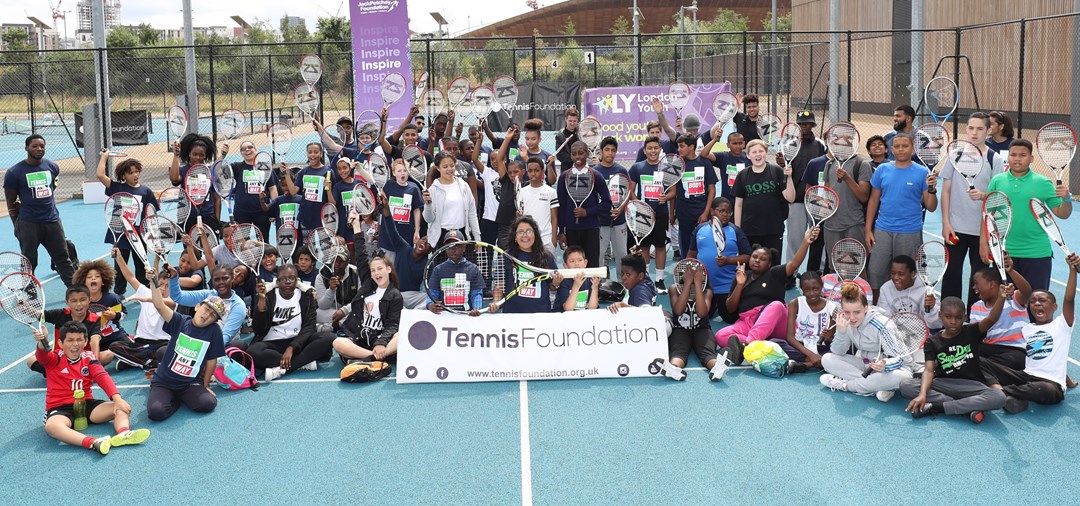 Community
London 2012 Olympic legacy lives on at the London Youth Tennis Festival
• 3 MINUTE READ
Over 80 young people from the Tennis Foundation SERVES programme competed in the London Youth Tennis Festival's Under 12 and Under 14 competition.
Young people from the Tennis Foundation's SERVES programme gathered at the Queen Elizabeth Olympic Park on 3 August to prove the positive legacy of the 2012 Olympic Games, by competing in the London Youth Tennis festival at Lee Valley Hockey and Tennis Centre.
The festival provided young people who've been playing modified tennis in their community groups, as part of the SERVES programme, the opportunity to play alongside their club mates on a traditional tennis court at the venue for the wheelchair tennis during the London 2012 Paralympic Games.
The Tennis Foundation's SERVES programme equips local community groups with the skills and equipment they need provide tennis activities for young people who would otherwise not have had the opportunity to play tennis. The programme has helped young people across the capital build their confidence and develop skills both on and off the court.
Those attending the festival included children from the North London Muslim Community Centre who are taking place in an exciting US exchange trip run by the Tennis Foundation in September when they will visit the US Open and enjoy the sights of New York.
Mike Bain, Director of Community Tennis at the Tennis Foundation said: "It's great to see so many young people from SERVES sites here today, for us it's all about breaking down the perceptions of tennis and showing that anyone can play the game, anywhere and it can be so inclusive. We want everyone to have the chance to enjoy the positive benefits that tennis can bring and today is a great example of that in practice."
Zoë Mellis Head of Sports at London Youth added: "It is more important than ever that young people have access to services that can support them to gain the confidence resilience and networks that will help them succeed in life. Participating in sports can help young people develop these skills and build these networks. We are delighted to be working with the Tennis Foundation to ensure that even more young Londoners have the opportunity to benefit from the positives impact of tennis"
One of the participants, Maisie from Peckham said: "I really enjoy playing tennis and I have had a really good day here. Tennis gets me out of the house with my friends instead of sitting indoors playing on my Ipad." Another participant on the day, Theo from Westminster House Youth Club in Peckham added: "I really enjoy playing tennis as it lets me express myself and have a good time with my friends."
As part of SERVES, the Tennis Activator course trains community champions with basic tennis organisation and delivery skills to confidently run a session in a fun and informal way. The Tennis Foundation also provide a range of dynamic and flexible resources including a permanent pop up court, alongside modified kit (soft balls, appropriately sized rackets and nets).
SERVES is run in close conjunction with national partners including London Youth, Sported, Streetgames, the Prince's Trust, Sporting Equals, London Youth and The Change Foundation, as well as Local Authorities, Children Youth Services and faith groups.