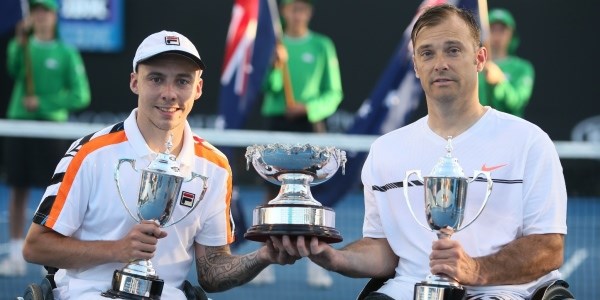 Grand Slam
Lapthorne lifts fifth Australian Open quad doubles title as Reid and Hewett reach men's doubles final
• 3 MINUTE READ
Andy Lapthorne claimed his fifth Australian Open quad doubles title on Thursday's second day of wheelchair tennis competition at Melbourne Park when he partnered the USA's David Wagner to a 6-3, 6-3 victory over Australia's Paralympic gold medallists Dylan Alcott and Heath Davidson.
It was a fine day in doubles competition for players on the Tennis Foundation's Wheelchair Tennis World Class Programme, with Gordon Reid and Alfie Hewett also guaranteeing that a Brit would be triumphant in the men's doubles final on Friday, as they will be on opposite sides of the net with their respective partners.
Lapthorne and Wagner ensured their third Australian Open title together, with two successive breaks of serve at the end of the first set and a sequence of four games in a row at the start of the second set putting them in command against Alcott and Davidson.
"I'm so pleased to win my fifth title here. Beating the Paralympic gold medallists is a very special feeling and I think I go back to world No.1 in the quad doubles rankings now," said Lapthorne, who finished 2016 as year-end world No 1 quad doubles player before Wagner moved above the Brit earlier this month.
Lapthorne still has the chance of reaching the quad singles final, too, despite a 6-4, 6-1 loss to world No.1 Alcott in their round-robin match, earlier on Thursday. After beating Wagner in his opening singles match on Wednesday, Lapthorne now plays Davidson on Friday. The top two players after the completion of the round-robin matches will go forward to Saturdays final.
In the men's doubles semi-finals Hewett and Argentina's Gustavo Fernandez made a remarkable recovery against French top seeds and Paralympic gold medalliists Stephane Houdet and Nicolas Peifer to edge a deciding match tie-break for a 1-6, 6-1, (10-7) victory. Hewett and Fernandez are still unbeaten as a partnership after pairing up for the first time to win last week's ITF 2 Melbourne Open.
"I'm very happy to have reached my first Australian Open doubles final. We both got off to a slow start and the French pair dominated some of the rallies, however I felt it was more of us making wrong decisions and unforced errors," said Hewett. "So after that set we regrouped and told ourselves to go for it, we wanted to fight for every ball and be aggressive. That's what we did. They broke down and made errors, so I couldn't be happier with our resilience and determination to fight back. Tomorrow will be a great opportunity for us, we are both going to enjoy the occasion and once again give all that we have got."
The other men's doubles semi-final proved to be a lot more one-sided for Reid and Belgium's Joachim Gerard, who defeated Maikel Scheffers of the Netherlands and Australia's Ben Weekes, 6-0, 6-1.
"I'm very happy to produce a good performance today after the disappointment of the singles yesterday. Myself and Joachim combined well today so we go into the final tomorrow with a lot of confidence," said Reid.
Lucy Shuker's hopes of reaching her first Australian Open women's singles final came to an end against world No.2 Yui Kamiji of Japan. From 3-0 down in the first set Shuker rallied to draw level with Kamiji, but the second seed went on to prevail 6-3, 6-2.
Shuker also paired up with Marjolein Buis of the Netherlands as they attempted to book a place in their second Australian Open women's doubles final together. The 2013 runners-up began well, taking four games in a row to lead Dutch top seeds and Paralympic champions Jiske Griffioen and Aniek van Koot 4-2, but Griffioen and van Koot ultimately advanced to the final 7-5, 6-2.