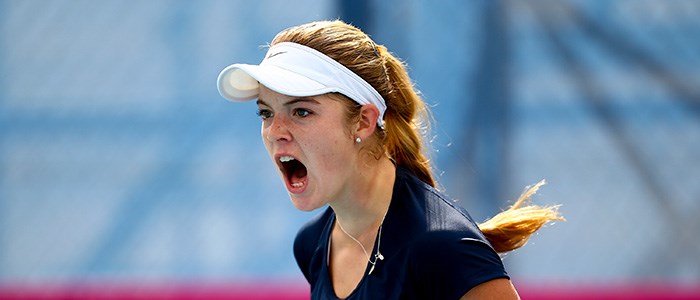 Players News
British Tennis Round-up: Katie Swan plays final at ITF Junior Masters
• 2 MINUTE READ
Aegon GB Fed Cup player Katie Swan became Britain's first ever representative at the ITF Junior Masters last week, finishing runner up in Chengdu.
The event, launched in 2015, sees the top eight ranked junior players of last year battle it out for the title and although No.1 seed Swan made it through the knockout stages without dropping a set, she lost a hard fought final to Anna Blinkova of Russia 6-4, 6-7(1), 7-6(4).
Congratulations to Manisha Foster who won her first ITF Pro-Circuit singles title at the $10,000 Sharm El Sheikh tournament last week.
The unseeded 22-year-old blasted through the field and took the title without dropping a set. She dispatched the No.1 seed in the first round and from then on didn't look back, winning the final 6-4, 7-6(4) against Oleksandra Korashvili of Ukraine.
British duo Luke Bambridge and Darren Walsh impressed in taking the F12 Futures doubles title in Memphis.
The No.1 seeds lost only one set en route to the final and eased past their opponents from Mexico, Daniel Garza and Tigre Hank, 6-1, 6-2 to lift the trophy.
There was a win for Harriet Dart in the doubles at the $10,000 ITF event in Antalya. Dart and Bulgarian partner Viktoriya Tomova had a walkover in the final, but reached that stage dropping only a single set.
Dan Cox and Swedish partner Milos Sekulic reached the doubles final at the F1 Futures tournament in Doha. The pair fought through the initial rounds taking out the No.1 seeds in the semis, but ultimately fell 6-3, 6-2 to Antoine Bellier of Switzerland and Benjamin Bonzi of France.
In Alicante, Jay Clarke and Canadian Benjamin Sigouin reached the doubles final of the Grade 1 Trofeo Juan Carlos Ferrero doubles tournament. The pair dropped only one set en route to the final, but eventually fell to the Polish team of Piotr Matuszewski and Kacper Zuk 7-6(6) 6-1.