Community
Judy Murray brings Miss-Hits to Edinburgh for Women's Sport Week
• 2 MINUTE READ
To celebrate Women's Sport Week, Judy Murray was in Edinburgh on Thursday to deliver the bespoke girls-only starter tennis programme Miss-Hits, which aims to encourage many more girls to try tennis.
32 lucky girls from St George's School for Girls, Edinburgh, got the chance to take part in the fun games and skill-building activities, along with 5th and 6th form students and teachers receiving top tips from Judy and her team about how to deliver their own Miss-Hits sessions.
Miss-Hits was created by Judy Murray in 2014 and is delivered across the UK by female coaches and teachers, in partnership with the Lawn Tennis Association. It is targeted at girls aged 5-8 years old and is a unique and exciting way to attract more young girls into tennis.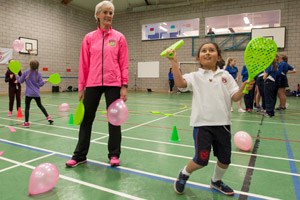 Judy Murray said: "It's been fantastic getting on court today and helping to encourage a younger female generation to give tennis a go both at coaching and playing. We need many more women coaching our sport and many more girls playing it. Miss-Hits programmes aim to make the sport more attractive to little girls and to encourage more women into coaching. We have music and dancing as well as lots of fun and stimulating activities that develop the skills you need to play tennis. First impressions are vital and by providing a positive first experience we hope that they fall in love with tennis just as I did."
Jyoti, aged 7 from St George's School who took part in the activity, said: "I had lots of fun with my friends today. We got to play with balloons and bats and learnt how to use them. I'd really like to do Miss-Hits again!"
Rob Dearing, Head of Participation at the LTA, said: "Miss-Hits continues to go from strength to strength and it is exciting to carry on supporting a programme that encourages more women to coach girls to play tennis. We are working closely with Judy to further develop the workforce delivering Miss-Hits and look forward to getting even more girls on court in the future."
Judy's Miss-Hits session coincided with Women's Sport Week which aims to raise the profile of women's sport across the UK.