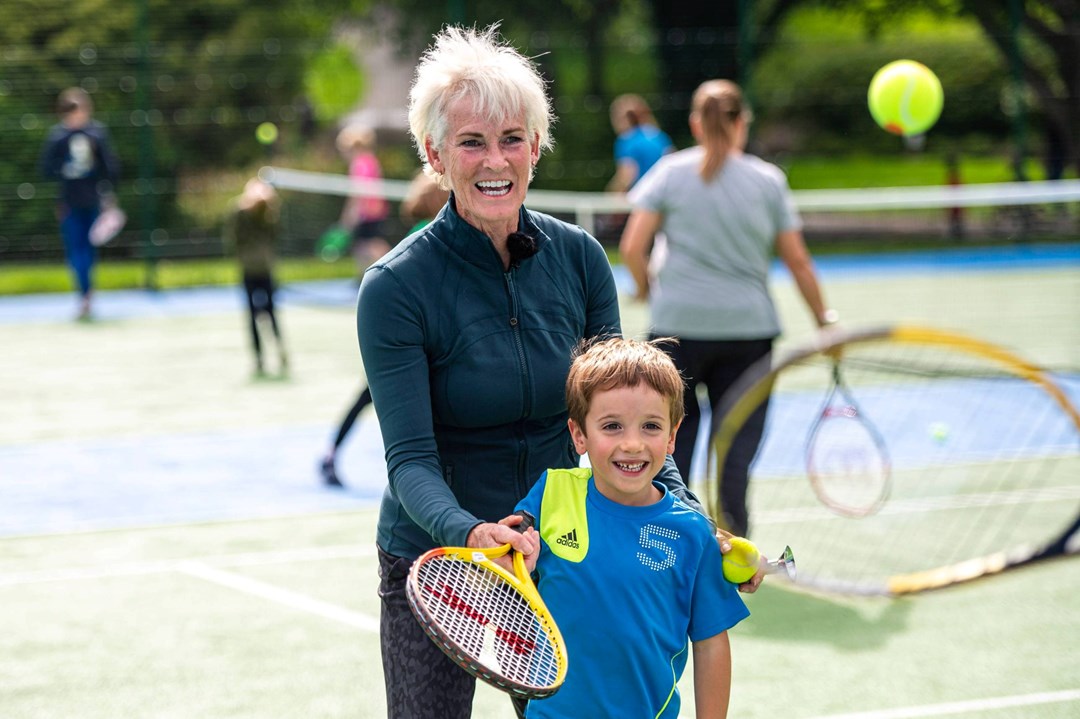 Community
Judy Murray highlights "inspiring" turnaround of park courts in Glasgow
• 4 MINUTE READ
Judy Murray OBE cut the ribbon on Saturday 19 August to officially reopen four tennis courts at Newlands Park in South Glasgow.
Following the official opening ceremony, the former Great Britain Billie Jean King Cup captain and tennis coach delivered a coaching clinic for young people.
Speaking at the event, Judy Murray OBE said: "Less than a year ago these courts lay derelict and I'm so happy to be here today to congratulate the Newlands Park Tennis Community Centre volunteers who were firstly so critical to saving the courts and who are now doing such a wonderful job to ensure they are being enjoyed by the whole community.
"Community sports facilities that are affordable and accessible are incredibly important if we are to get more people picking up a racket and playing tennis. It's great to see the benefit that the investment from the UK Government and LTA Tennis Foundation is delivering. But that's only half the job. What the volunteers here in Newlands Park have done to open these courts up to the community and provide free sessions for so many different user groups is really inspiring, and I hope we will see many more people playing tennis here, and across the country, in the coming years."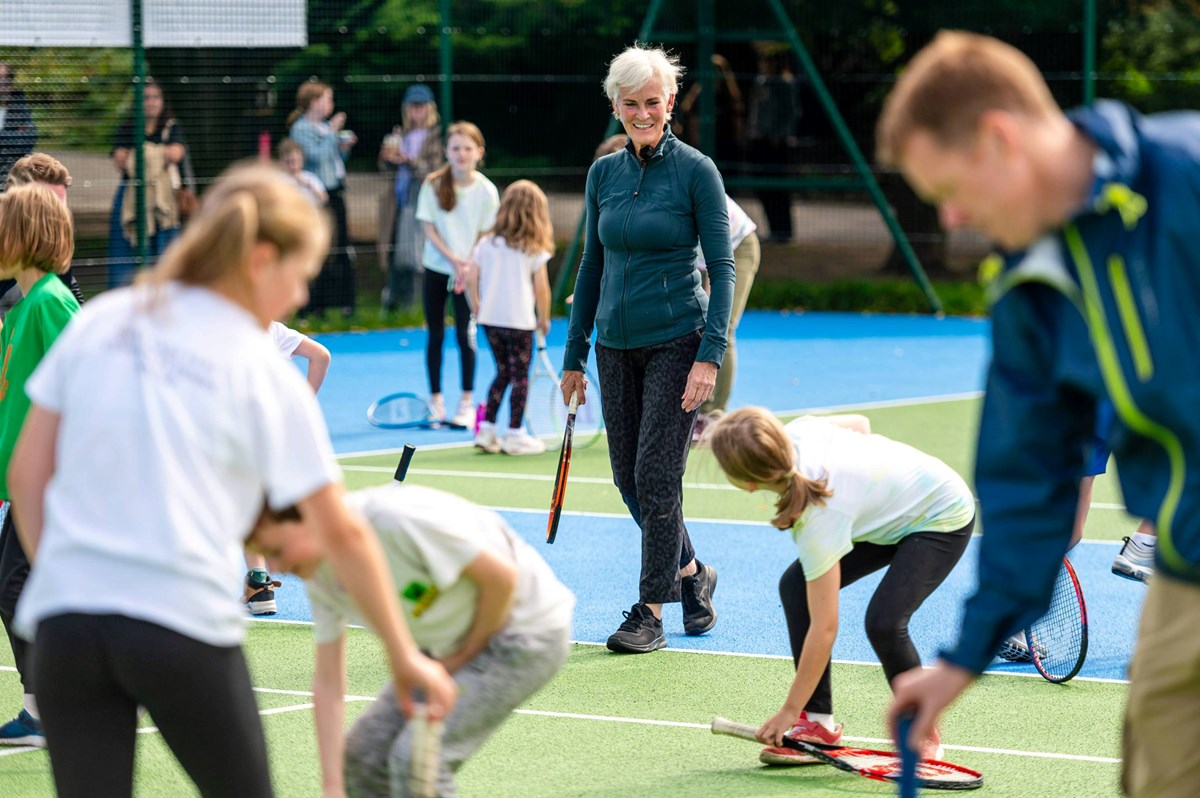 The Newlands Park tennis courts recently underwent a £146,000 renovation, managed by the LTA, and funded by the UK Government and LTA Tennis Foundation, as part of a £30million investment to transform thousands of park tennis courts across Britain.
The revitalised courts at Newlands Park have undergone a full resurfacing and repainting, to bring them back to life for use by the local community.
Since they opened to the public in June, over 300 individuals and households have taken advantage of annual membership which costs £49 for a family or household, while casual players can play for free at off peak times or enjoy the courts for a small hourly fee, ensuring that the courts can be maintained for many years to come. The community group is delivering 15 hours of free coaching sessions every week.
The Newlands Park Community Tennis Centre has been established as a not-for-profit by the Friends of Newlands Park and is aiming to grow tennis locally.
Newlands Park Community Tennis Centre Chair, Jamie MacDonald said: "We are delighted to welcome Judy Murray to open the courts at Newlands Park in recognition of her lifelong commitment to growing the game in Scotland. Judy has been an inspiration to so many in Scottish tennis and her unwavering passion for making tennis more accessible has inspired me and the many volunteers at Newlands Park.
"Our commitment is to make tennis truly accessible by offering a wide range of activity, much of which is free, that breaks down many of the barriers often associated with sport. Since opening only 8 weeks ago, we have introduced weekly sessions for families, LGBTQ+ players, Glasgow Association for Mental Health, children with additional needs as well as weekly social tennis sessions, children's coaching and more. We are grateful to our supporters such as Western Tennis Club, and their sponsors, and other generous funding partners for helping to fund this.
"All of this would not be possible without the resurfacing of these courts, for which we are hugely grateful to the LTA. Their Park Tennis Project has the potential to be a catalyst for a generational upturn in participation and we hope our extensive, accessible tennis programme can contribute to this."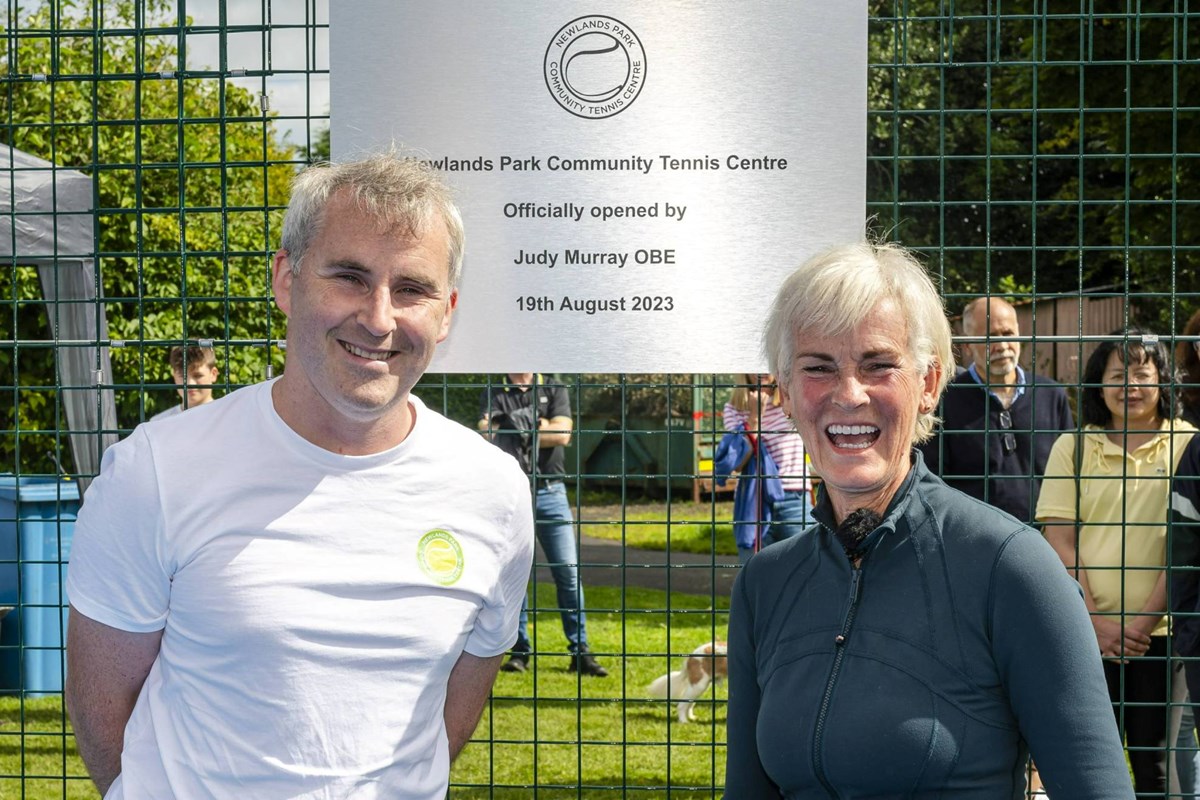 UK Government Sports Minister Stuart Andrew said:"We are committed to levelling up access to sport which is so important for the nation's physical and mental health. The UK Government and the LTA are working together to deliver thousands of refurbished park tennis courts across Great Britain, supported by £30 million of investment including in Glasgow's Newlands Park.
"These improved tennis facilities will give the community many more opportunities to get active, and offer younger players the chance to emulate the success of the Murray dynasty."
Investment into parks is one way in which we're working to open tennis up across Scotland, as part of wider work in partnership with Tennis Scotland. The LTA, Tennis Scotland and sportscotland are also delivering the £15million Transforming Scottish Indoor Tennis fund to provide more year-round community accessible tennis provision. Oriam, Scotland's Sports Performance Centre at Heriot-Watt University's Riccarton Campus, has benefitted from this fund with new indoor tennis courts scheduled to open later this year.
LTA Park Investment Delivery Manager Stuart Maidment said: "The upgraded courts at Newlands Park are a prime example of how this transformational investment in park tennis courts by the UK Government and LTA Tennis Foundation is opening up tennis in Scotland and across Britain.
"Existing park courts like this have been identified for renovation not just because they will have the biggest impact on participation, but because they will help grow tennis in communities where tennis hasn't traditionally been popular.
"We're really excited to continue to support the momentum that has been built by the volunteers at Newlands Park and to keep working closely with them as they continue to engage the local community in tennis."
The Newlands Park courts are bookable on the LTA online booking system with digital gate access systems installed across sites, to make finding, booking and getting onto court as easy and secure as possible for tennis players across the country. Find out more information about the Newlands Park Community Tennis Centre.