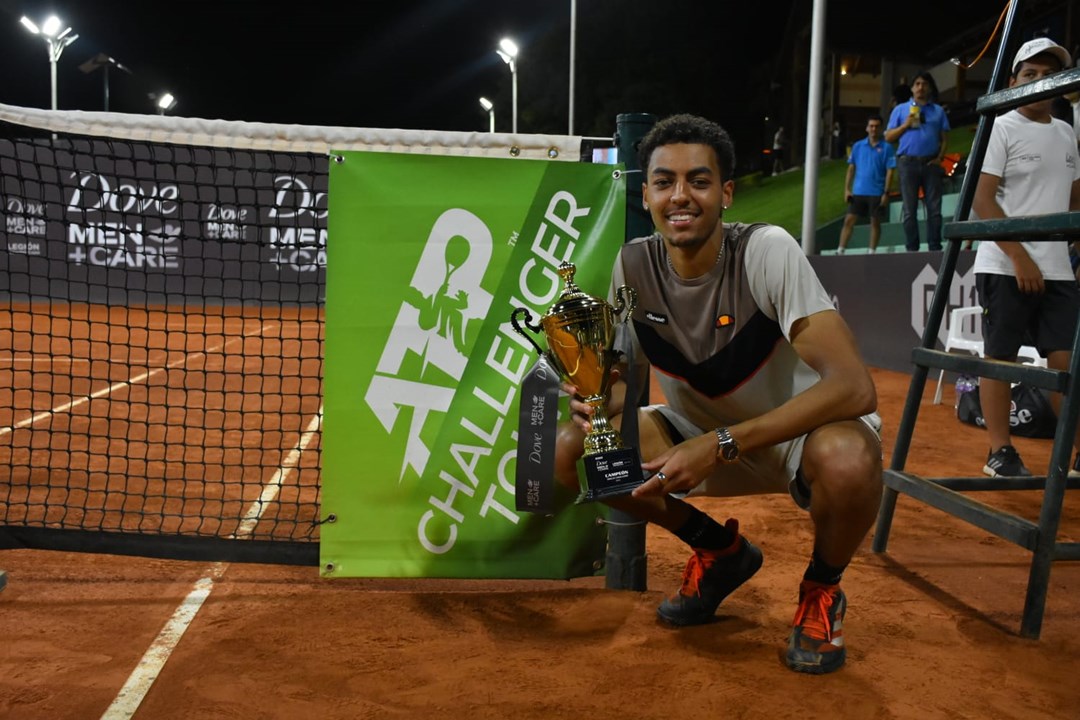 Players News
Jubb claims first Challenger title while Jones, Little & Maloney lift ITF doubles trophies
• 3 MINUTE READ
Catch up on the latest from the Brits on tour as four players won titles in Bolivia, France and Tunisia.
Paul Jubb broke new ground this weekend, lifting his first ATP Challenger title at the Santa Cruz de la Sierra Challenger in Bolivia.
The 22-year-old Brit produced a near perfect week of tennis to win his maiden trophy without dropping a set across the week – finishing with a 6-3, 7-6(5) win over Juan Pablo Varillas, currently ranked over 170 places higher than Jubb.
Even more impressive, Jubb becomes the first Brit to win their first Challenger title on clay since James Ward at Sarasota in 2009.
First round – 6-2, 6-4 vs Naoki Nakagawa (JPN, WR: 520)
Second round – 6-2, 6-3 vs Juan Bautista Torres (ARG, WR: 358)
Quarter-final – 6-3, 7-6(4) vs Hernan Casanova (ARG, WR: 315)
Semi-final – Daniel Dutra Da Silva (BRA, WR: 322)
Final – 6-3, 7-6(5) vs Juan Pablo Varillas (PER, WR: 119)
Jubb – who is supported by the LTA's Pro-Scholarship Programme – is set to rise to a new career high next week inside the top 250, when the ATP rankings are updated.
"I'm really happy to have won my first Challenger title - your first ones are always your best," said Jubb.
It's a nice confidence boost for me going on to whatever comes next and hopefully it's a good stepping stone in the right direction towards my goals.
"Now it's important for me to push harder, get my head down and keep striving for more. It's a nice moment to cherish for now but I've got to get back to work, keep improving and hopefully get some more good results."
His South American tour continues this week after he was entered into the main draw at the Pereria Challenger in Colombia. He will take on local wild card Matteo Gomez in the first round, with a potential second round match against top seed Facundo Bagnis.
Jubb is an ambassador for our LTA Youth programme - tennis courses for children aged 4-18, packed full of fun games and dynamic training.
Jones & Little continue doubles success in France
British doubles duo Ben Jones and Daniel Little captured their first M25 title together this weekend in Toulouse.
The win marks their first title this season and third as a team in total – adding to a pair of trophies from the 2021 M15 Sharm El Sheikh events.
Jones and Little staged a brilliant comeback to defeat French top seeds Arthur Bouquier and Martin Breysach 3-6, 6-4, 10-7 in the semi-final, before going on to beat second seeds Theo Arribage and Luca Fernandez 7-5, 6-4 in the title decider.
Maloney crowned doubles champion in Tunisia
21-year-old Eliz Maloney and Lithuanian partner Andre Lukosiute won their second ITF doubles title of the year at the W15 Monastir.
Maloney - who also reached the quarter-finals of the singles - an Lukosuite battled through a tight 6-4, 5-7, 10-7 win over Yasmine Mansouri and Nina Radovanovic in the semi-finals, before getting a walkover in the final.
It was a great week on the ITF World Tennis Tour for Charles Broom as well, who finished runner-up in both the singles and doubles (partnering Britain's Henry Patten) at the M25 Calabasas.