GB Teams
Great Britain seal third place at the Billie Jean King Cup Juniors by Gainbridge Finals
• 2 MINUTE READ
Great Britain were one of the standout teams at this year's Billie Jean King Cup Juniors by Gainbridge Finals – finishing the week in third place out of 16 nations.
The team – led by Mingge Xu, Hannah Klugman and Hephzibah Oluwadare and captained by LTA Women's National Coach Katie O'Brien – reached the semi-finals at the Junior World Cup of tennis, before closing out the tournament with a victory in the third/fourth place play-off.
"We had two really competitive singles matches in the semi-finals, but the Czech girls were just a little better on the day," said O'Brien.
"It's been a fantastic team effort to reach the semis, especially on clay. We've had a great week on and off the court and it's fantastic to finish third with a win over Spain.
"Regardless of the outcome, the girls will have taken so much from this week and am sure will all aspire to represent in the Billie Jean King Cup itself one day."
The team were supported by the LTA's performance coaching staff, alongside Tennis Scotland's Strength & Conditioning Lead Coach David Rodriguez Diaz, who played a big role in the players physical preparations throughout the week.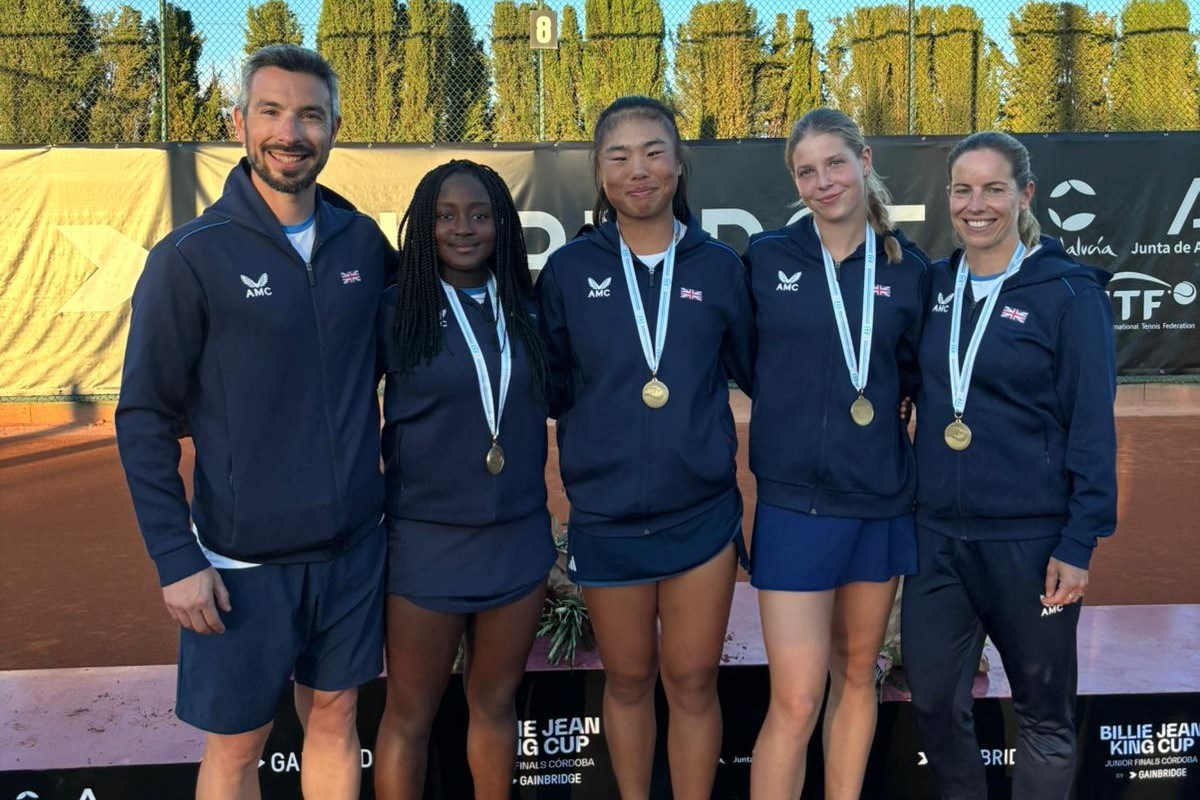 It was a dream start to the week for Great Britain in Group 2, up against Brazil, Argentina and Kazakhstan. With two players currently ranked inside the junior world top 20, and thanks to some brilliant singles and doubles performances from Oluwadare, the Brits came through their three opening matches unscathed – winning nine of nine rubbers and dropping just one set along the way.
In the same week that the Lexus GB Billie Jean King Cup team faced Sweden at the Copper Box Arena in London, it was only fitting the junior side would meet the Swedes in the quarter-finals as well.
14-year-old Klugman opened the tie with a hard-fought victory Lea Nilsson – holding off a comeback to win 7-6(4), 1-6, 6-2 – before Xu secured the Brits place in the semis, beating Nellie Taraba Wallberg 6-2, 6-1.
On they progressed to face the 2021 champions Czech Republic in what promised to be a tough challenge on the Spanish clay. Despite a gutsy performance from the British team, both Xu and Klugman lost 6-4, 6-4 to Laura Samsonova and Alena Kovackova respectively.
While disappointed not to make the final, there was still work to be done for the European Summer Cup runners-up as they took on home-favourites Spain in the third/fourth place play-off.
The British team went on to finish the week on a high note – beating Spain 2-0 to secure third spot. Facing the Spaniards on their home ground and on their favoured surface, Klugman kicked off with a 2-6, 6-3, 6-4 win over Lorena Solar Donoso and Xu closed out the competition by defeating Charo Esquiva Banuls 7-6(6), 6-4.