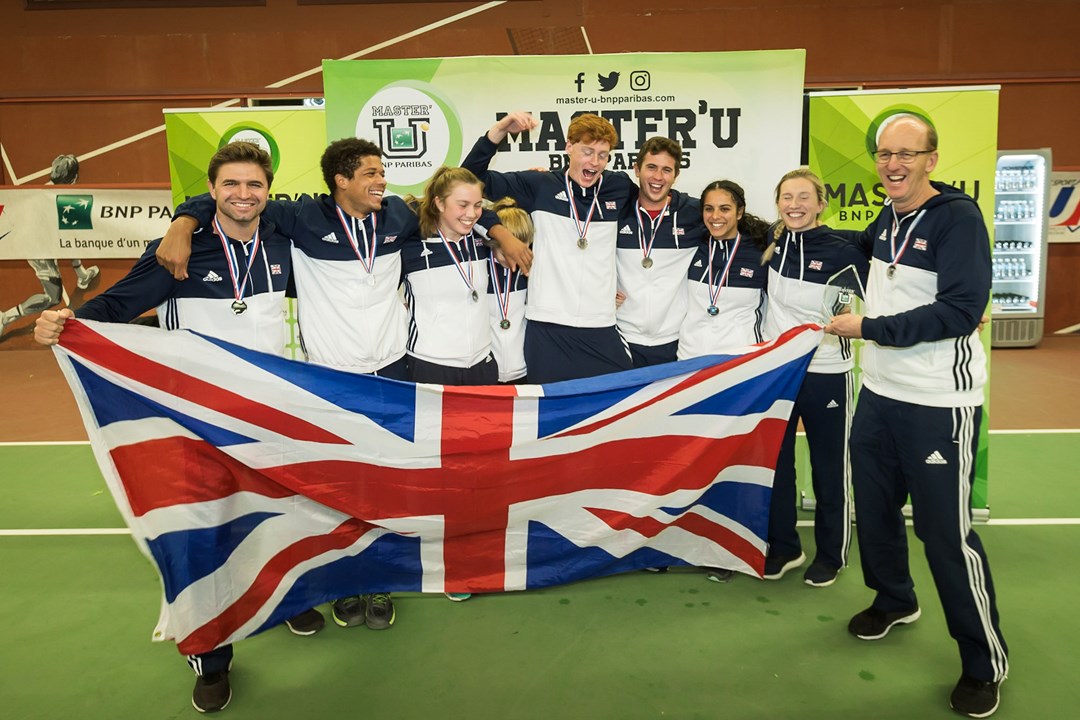 GB university team take 2018 Master'U silver medal
• 5 MINUTE READ
Day 3 - GB take silver to cement status as a world leader in university tennis
British hopes of a second Master'U title will have to wait until 2019 as defeat to the USA saw the British Tennis university team settle for the silver medal. That medal is the third in three years for the team at what is the world's biggest annual student tennis tournament, following on from their bronze in 2016 and gold last year - cementing Great Britain's growing reputation as one of the leading nations in the world for university tennis.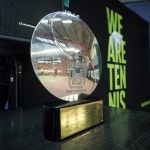 The British team had gone in to the final on the back of six straight main draw wins since they took bronze two years ago. Prior to 2017 no British team had ever reached a Master'U final, in contract to their opponents with the USA having dominated the event before GB took the gold last year.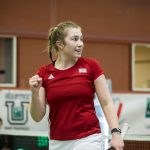 The final score of 4-1 to the USA could easily have been the other way round had a few crucial points gone the other way on a day of tight encounters that saw the GB students show both class and courage to lay down a real challenge to their USA counterparts. After defeat for Laura Sainsbury in the opening match, University of Sussex's Isaac Stoute looked like he could level the tie in taking the first set of his match. The USA turned things around though to go 2-0 up.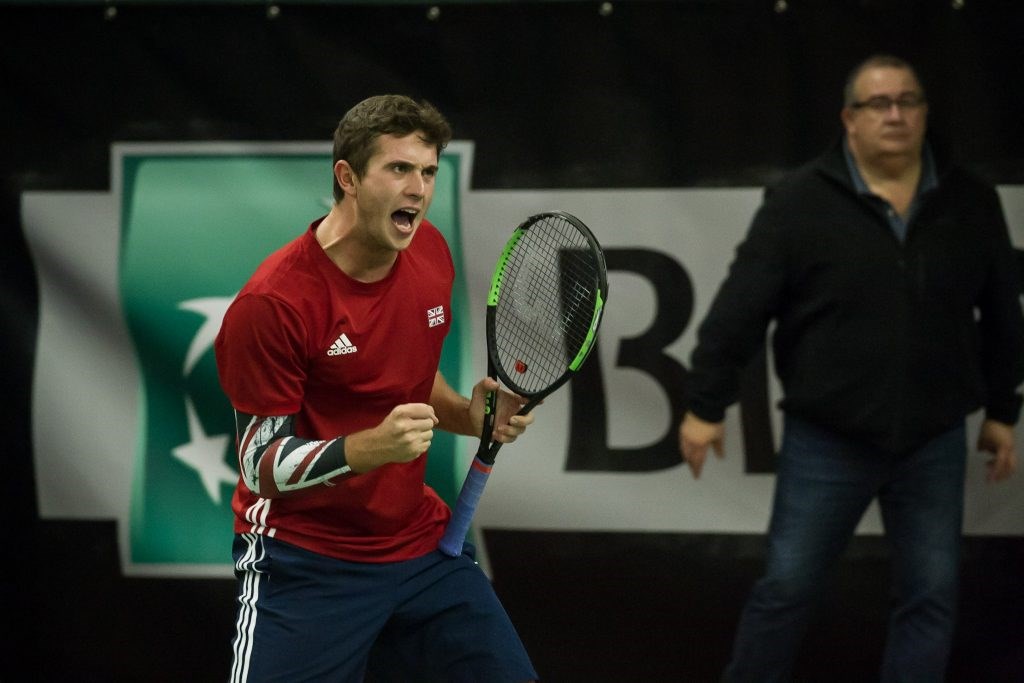 GB hit back as the University of Sirling's Maia Lumsden added to her reputation as one of the bright prospect of British tennis with a brilliant straight sets win against a quality opponent. Jack Findel-Hawkins was then involved in another epic encounter, but an agonising tiebreak defeat meant the British team would have to win all three doubles matches to defend their title.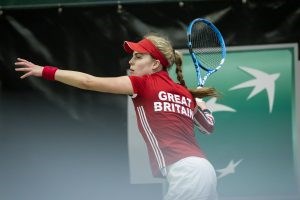 Lumsden teamed up with Sainsbury to storm to a set lead without losing a game. A much tighter second set saw the British duo have match point opportunities but the USA hung on to take the match to a tie break. The momentum had turned, but Lumsden and Sainsbury did not let the title go easily, evoking hopes of a remarkable comeback from 9-4 down in the tie break before the USA claimed the gold after a 10-8 win.
Results:
Great Britain 1-4 USA
SAINSBURY, Laura (GBR) lost to LAHEY, Ashley (USA) - 4-6, 4-6
STOUTE, Isaac (GBR) lost to HOLT, Brandon (USA) - 6-4, 1-6, 4-6
LUMSDEN, Maia (GBR) beat MATEAS, Maria (USA) - 7-5, 6-3
FINDEL HAWKINS, Jack (GBR) lost to CROWFORD, Oliver (USA) - 3-6, 7-6(3), 6-7(4)
LUMSDEN M (GBR) / SAINSBURY L (GBR) lost to MATEAS M (USA) / HART J (USA) - 6-0, 6-7(7), 8-10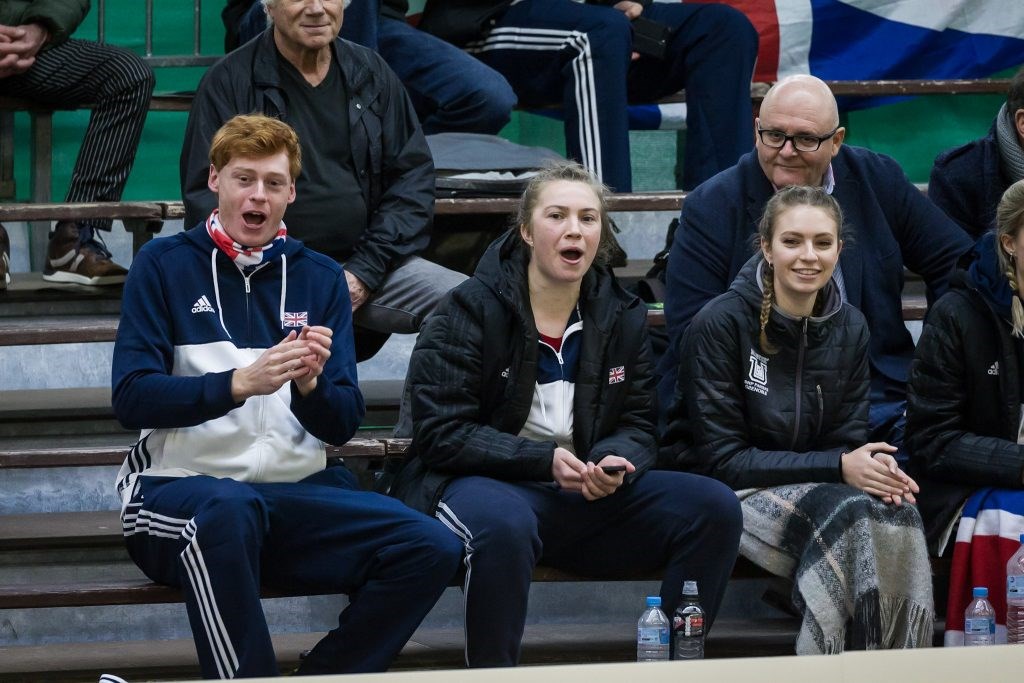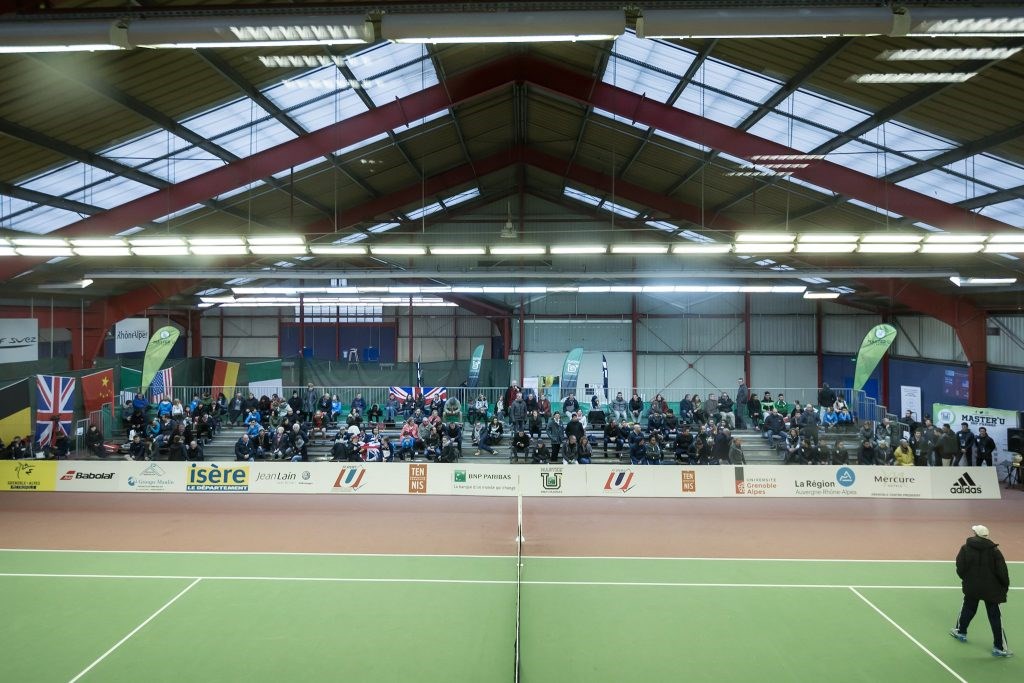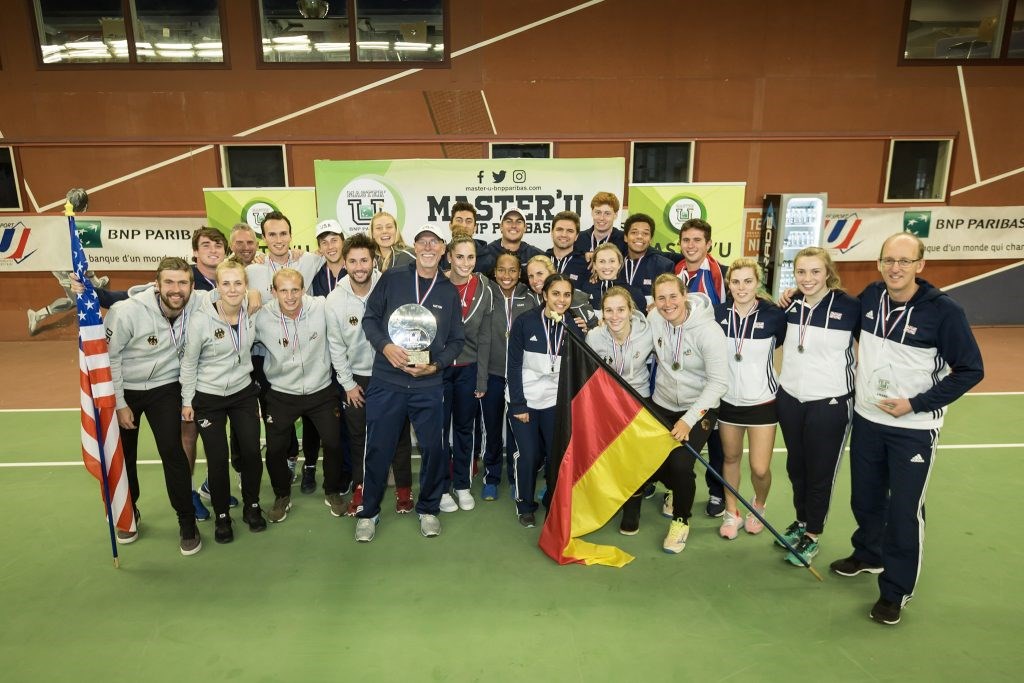 Day 2 - Saturday success as GB see off a strong German team to earn final place
Defending champions Great Britain will be playing in the Master'U BNP Paribas final once again this year after defeating a strong German team 4-1 in Saturday's semi-final.
The GB university team had been looking to take the momentum from their brilliant comeback against France the previous day into the tie against an experienced German side. The University of Sussex's Isaac Stoute did just that, getting the day off to a perfect start with a straight sets win. A repeat final appearance looked like it would be within touching distance as University of Nottingham's Manisha Foster won her opening set, before the German's hit back to level the tie.
Devon's Jack Findel-Hawkins then put in a brilliant performance to gain a victory over his higher-ranked opponent in three sets, with the in-form Maia Lumsden surviving a German fightback to put the GB team 3-1 up after the singles. That left the Brits needing just one more win from three doubles matches to earn a place in the final, with Findel-Hawkins combining with University of Bath's Ben Jones to do just that at the first attempt.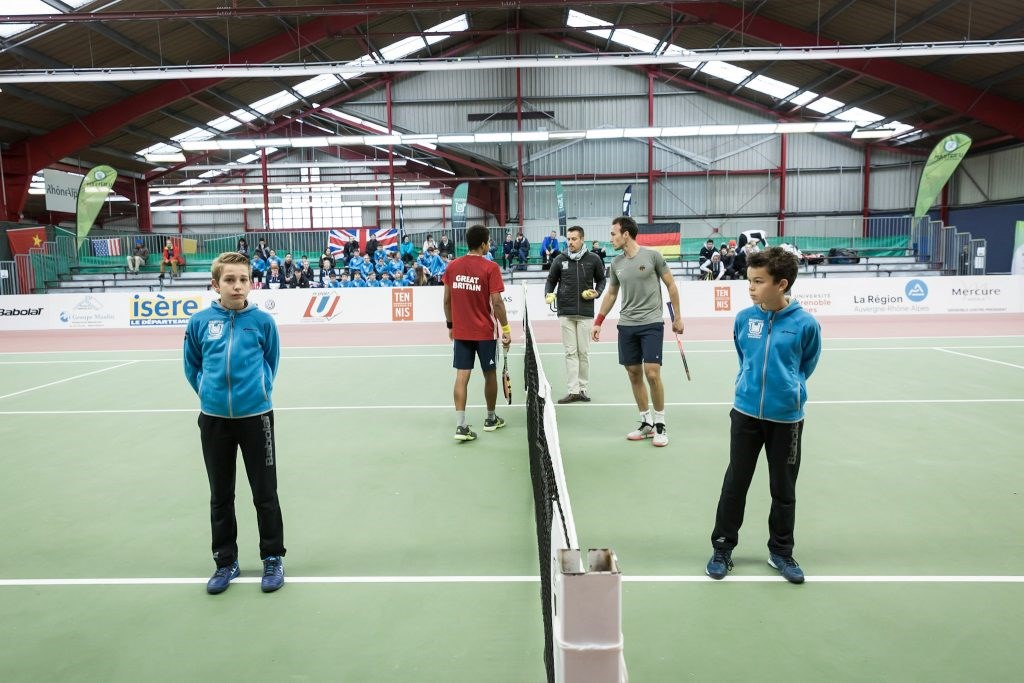 The final will be a repeat of the 2017 edition, with the British team taking on the USA as they aim to emulate their historic feat from last year.
Results:
Great Britain 4-1 Germany
STOUTE, Isaac (GBR) beat RAAB, Demian (GER) – 6-4, 7-5
FOSTER, Manisha (GBR) lost KIMMELMANN, Julia (GER) – 6-7(4), 1-6, 1-6
FINDEL HAWKINS, Jack (GBR) beat NEGRITU, Christoph (GER) – 7-6(4), 4-6, 6-3
LUMSDEN, Maia (GBR) beat HEISEN, Vivian (GER) – 6-1, 2-6, 6-2
JONES B / FINDEL HAWKINS J (GBR) beat WALTERSCHEID-TU N / NEGRITU C (GER) – 6-2, 7-5
DAY 1 - GB stage brilliant comeback to defeat hosts France
Great Britain produced a stunning comeback in their opening match of the tournament to defeat France and earn a semi-final tie against Germany, with University of Stirling's Maia Lumsden and University of Bath's Ben Jones on his Master'U debut both helping Britain to put points on the board from the two matches they were each involved in.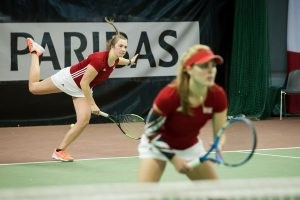 The defending champions had received one of the toughest draws they could have against the hosts, and the tie lived up to that billing. France won the opening two singles matches to take an early 2-0 lead and put the pressure on the British team, but a comprehensive win for Maia Lumsden looked to have turned the tide. However, an agonising defeat for Jack Findel-Hawkins with both sets going to a tiebreak left Great Britain needing to win all three doubles matches to progress.
Brilliant wins in the men's and women's doubles saw the tie levelled, before Ben Jones and Manisha Foster teamed up to seal the win in the mixed doubles.
GB now face Germany in the semi-finals after the latter's comfortable win over Italy. Last year's beaten finalists USA take on Ireland in the other semi-final after their wins against Belgium and China respectively.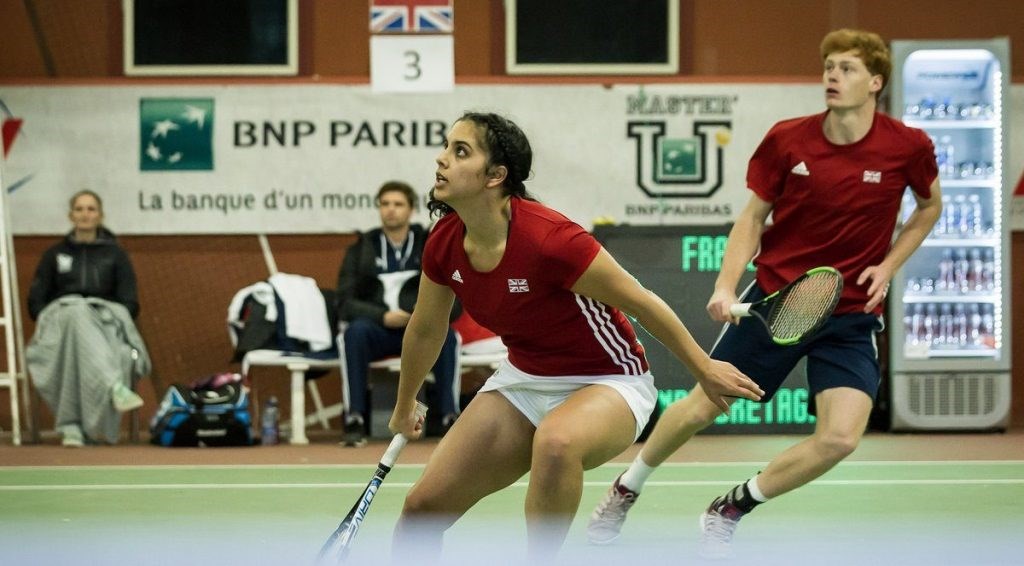 Results:
Great Britain 4-3 France
FOSTER, Manisha (GBR) lost to SALAS, Emmanuelle (FRA) - 3-6, 3-6
STOUTE, Isaac (GBR) lost to EON, Julien (FRA) - 5-7, 3-6
LUMSDEN, Maia (GBR) beat FAYOL, Clemence (FRA) - 6-2, 6-0
FINDEL HAWKINS, Jack (GBR) lost to CAYRE, Paul (FRA) - 6-7(4), 6-7(4)
JONES B / FINDEL HAWKINS J (GBR) beat COCOUVI R / CAYRE P (FRA) - 6-2, 7-5
LUMSDEN M / SAINSBURY L (GBR) beat MARGAUX O / SALAS E (FRA) - 6-2, 6-1
FOSTER M / JONES B (GBR) beat ORANGE M (FRA) / COCOUVI R (FRA) - 6-1, 6-4
PREVIEW
Six university students have been selected to represent Great Britain at this month's Master 'U BNP Paribas event in France, the world's biggest annual university tennis team tournament. The event, which will be held from 29th November to 2nd December in Grenoble, France, will showcase British university tennis on a world stage as team GB look to defend the historic title they won for the first time last year.
Great Britain will once again be taking on some of the best university tennis players in the world as teams from Belgium, China, France, Germany, Ireland, Italy and the USA are all set to compete.
The GB players tasked with defending the title are:
Manisha Foster (University of Nottingham)
Laura Sainsbury (University of Nottingham)
Maia Lumsden (University of Stirling)
Jack Findel-Hawkins (University of North Florida)
Isaac Stoute (University of Sussex)
Ben Jones (University of Bath)
The team selected by BUCS (British Universities & College Sport), will be managed by the Tennis Foundation's Universities Manager, Alistair Higham, alongside University of Bath's Barry Solo (Team Coach) and Julie Blackwood (Team Psychologist).
Prior to 2017, Great Britain had never reached the final at the tournament. Lumsden, Duncan and Findel-Hawkins were part of the team which pulled off a 4-2 victory over the defending champions USA last December, after beating China 7-0 in the semi-final.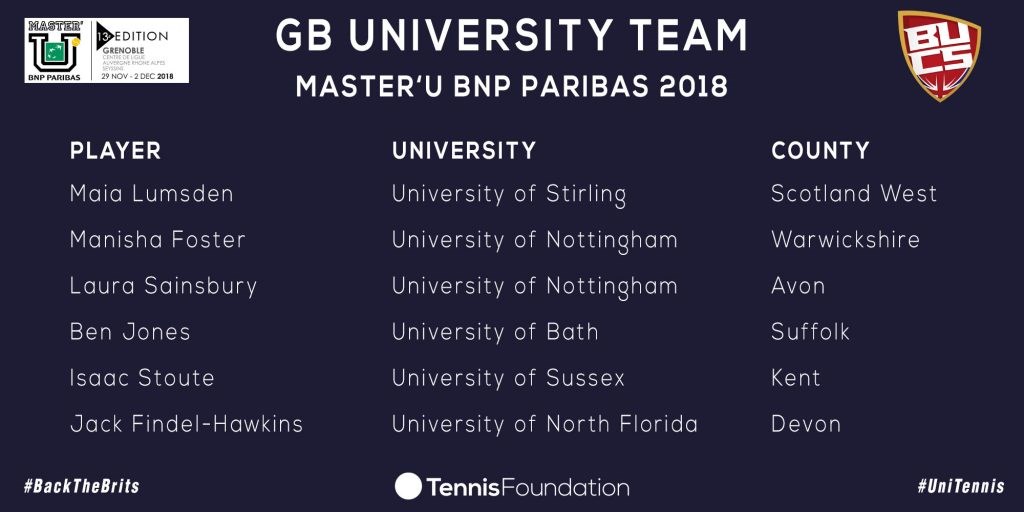 DAILY UPDATES
We'll be bringing you daily updates from Grenoble as Great Britain's student team take on the best university players in the world at the Master 'U BNP Paribas event. The competition is the world's biggest annual university team tennis tournament - and Great Britain are the defending champions having defeated the might of the US collegiate system to win the title for the first time ever in 2017!
Each tie is best of 7 matches: 2 women singles, 2 men singles, 1 women doubles, 1 men doubles and 1 mixed doubles.